Sports
Akshay Karnewar Bowls With Both Hands? His Bowling Action In Irani Cup Has Left Netizens Amazed
Akshay Karnewar continues to win hearts in the Irani Cup, as his bowling action has taken the nation by surprise. He is ambidextrous, meaning both his hands are equally functional.
He even stunned the umpires, when he said they he would be bowling with his right hand, after having bowled with his left hand just a little while back.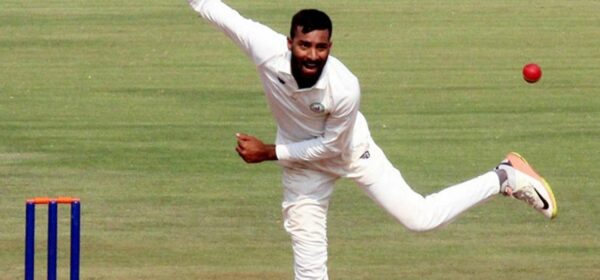 His talent came to light on the opening day of the Irani Cup, as he switched hands between the overs and efficiently trapped Shreyas Iyer in front of the wicket.
Clearly, this has left netizens amazed. In fact, they're questioning as to why Akshay has not been given a chance in the national team:
#1
The bus driver's son from Yavatmal who stunned Sachin Tendulkar and Rohit Sharma—and will forever stump umpires and commentators. #AkshayKarnewar pic.twitter.com/Paprjl7d44

— churumuri (@churumuri) February 13, 2019
#2
Heard of #AkshayKarnewar
He plays for Vidarbha.
He's ambidextrous. Bowls left arm spin and right arm off spin.
Is this the future?

— Santr0 (@Santro3011) January 16, 2016
#3
Did u know @faizfazal n both arm spinner #AkshayKarnewar have some personal issues that's why chance is not getting to AK #VidarbhaCricketJasoos

— Sarvesh Surana (@sarvesh_surana) March 18, 2018
#4
Bring unauctioned #KKJiyas in team or give chance to #AkshayKarnewar and stop experimenting with batters @RCBTweets @imVkohli #RCB #PlayBold

— Harshit Sharma (@its_happybuddy) May 2, 2016
#5
Spinning the ball with both hands ! Real "Talent" ! Hope he gets Noticed by @BCCI #Akshaykarnewar pic.twitter.com/1p533rhY68

— X'treme Nationalist (@AshirwadJoshi) January 19, 2016
#6
The ambidextrous #AkshayKarnewar shocks and impresses everyone with his left-right show 🙏#IraniCup #Vidarbha pic.twitter.com/PSi1sORny5

— Rooter – India's Favourite Live Sports App (@RooterSports) February 13, 2019
#7
Ambidextrous bowler #AkshayKarnewar a topic of discussion in visitors' dressing roomhttps://t.co/4SJeNbIksE pic.twitter.com/o3NiLbyLFd

— CricketNDTV (@CricketNDTV) September 14, 2017
This is amazing, we hope he receives the attention he deserves.
Share Your Views In Comments Below