Bollywood & TV
Alia Bhatt Wore 'Speak Up For Animals' Sweatshirt But Carried A Leather Bag, Hypocrisy Much?
Bollywood celebs getting trolled on social media platforms is nothing new as many times these celebs are mocked for their dressing style or for any statement made by them but there have been instances when few Bollywood celebs have been slammed for hypocrisy as well.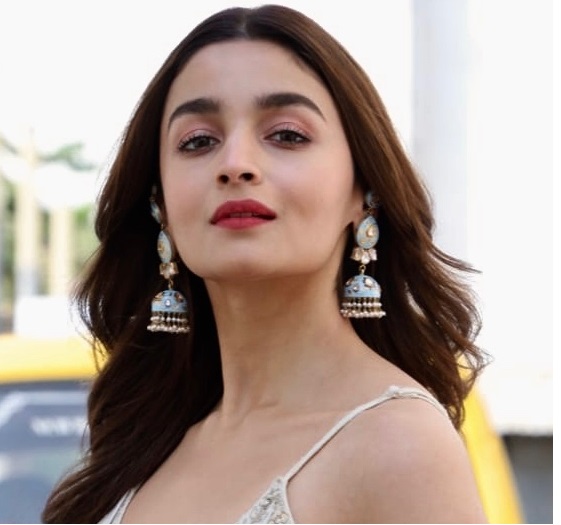 The level of popularity of a celeb can be understood by the number of commercials or endorsements they have in their kitty but the big question is whether these celebrities even use those products which they endorse. Well, many fans of these celebs start using some products just because they are endorsed by their favourite celebs but majority of the times, the celebs are not interested in anything else other than money and few of them don't even mind doing ads for liquor, tobacco or other harmful products.
If you remember, some time back, Alia Bhatt appeared in the popular comedy show, The Kapil Sharma Show in which she refused to have a sugary drink because sugar is not good for health but at the same time, she was getting featured in the advertisements of a brand which sells soft drinks. These soft drinks contain good amount of sugar and they are very harmful for health but Alia Bhatt was endorsing them and she was trolled mercilessly back then.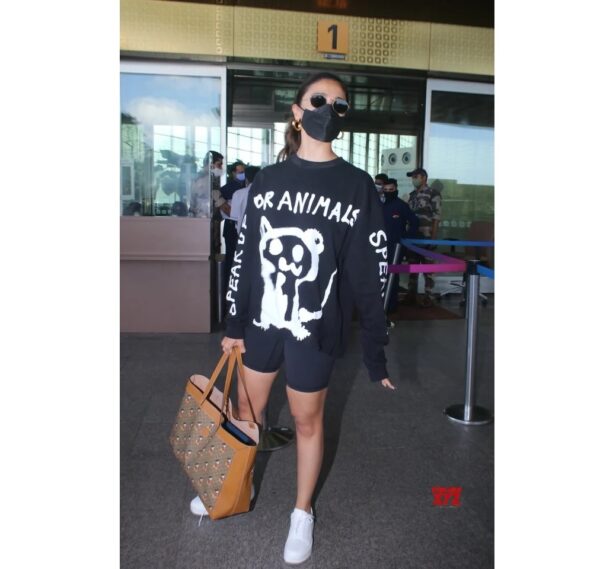 Now the actress is once again getting targeted after an old photo of her goes viral for all the wrong reasons. In the image, Alia Bhatt is seen carrying a Gucci bag and she is wearing sweatshirt with "Speak Up For Animals" written on it. Now if you are not able to understand why the "Brahmastra" actress is becoming an object of mockery and ridicule, it's for the bag she is carrying which is made of 100 percent leather.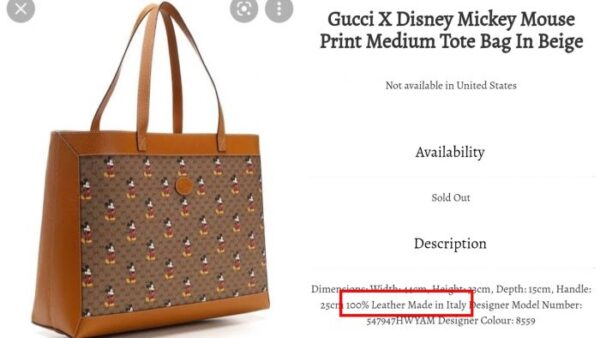 The photo was posted in a Reddit group with complete details of the bag and soon the Redditors started asking questions regarding Alia Bhatt's intelligence, seriousness and honesty towards a cause.
Alia Bhatt carrying a leather bag while wearing a "speak up for animals" sweatshirt 😂
by u/MaalUHave in BollyBlindsNGossip
Here are some selected reactions: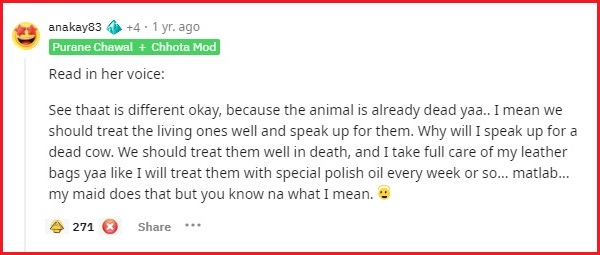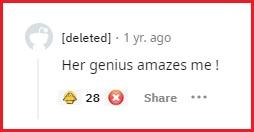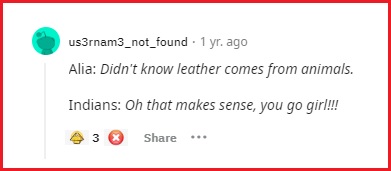 On the work front, Alia will be seen next in "Rocky Aur Rani Ki Prem Kahani" in which she will be working with Ranveer Singh, Dharmendra, Shabana Azmi, etc. The movie has been directed by Karan Johar and it will release in July 2023.
Well, this is not the first time that Alia Bhatt is getting trolled and just like the previous times, it won't affect the actress in any manner too. What do you say?