Bollywood & TV
Alia & Her Mom Gave Gyaan On Cracker-Free Diwali As Crackers Disturb Animals, Got Heavily Trolled
Diwali is around the corner and many people, especially celebrities, are coming up with the best wishes on social media. However at one fell swoop, some of them ask people not to burn firecrackers and celebrate Diwali with lots of Diyas and lights instead.
One of them is Soni Razdan, mother of Bollywood actress Alia Bhatt! She took to the micro-blogging site Twitter and asked people to celebrate a cracker-free Diwali as she is of the opinion that crackers pollute the environment. At the same time, she says that the noise created by the burning of firecrackers disturbs pets and animals we love a lot.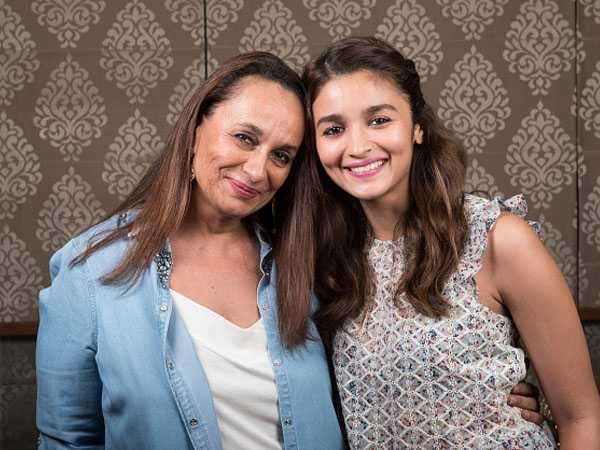 This is what Soni Razdan said in a video message:
"On behalf of the Asif Bhamla foundation, I would like to wish you all a very very happy and safe Diwali. Please don't burn firecrackers and help in polluting the environment, instead help to unpollute the environment by not burning firecrackers. And also firecrackers are very disturbing to pets and the animals that we all love so let's just have a really cool Diwali with lots of Diyas, lots of lights, lots of love and laughter but no firecrackers. Happy Diwali."
Let's have a Happy Green 'firecracker free' Diwali ! @Asifbhamlaa @UNEnvironment MOEFF #BamlaFoundation #GreenDiwaliPledge #FirecrackerFreeDiwali pic.twitter.com/F87pU30bwp

— Soni Razdan 🎭⭐️🎬 (@Soni_Razdan) November 1, 2018
Click here to watch this video directly on Twitter
Alia Bhatt shared the post with caption, "Super mommy! #bhamlafoundation ❤️"
Super mommy! #bhamlafoundation ❤️ https://t.co/p52oGx8FzC

— Alia Bhatt (@aliaa08) November 3, 2018
Twitterati didn't like this gyaan from Soni and Alia and called them hypocrites. Users asked as to why they don't spread the message of blood-free Eid or why they don't give this gyaan for the rest of the year when crackers are burnt in marriages, New Year, Christmas and so on.
This is how Soni and Alia got mercilessly trolled:
#1
Ur mom is as uneducated n idiot as u r … Turn off ur AC .. stop using car n promote public transport … These pollute environment 24×7 365 days in a year … Understood perverts

— kunal anand (@kunalblues) November 4, 2018
#2
Why should muslims preach on how Hindus should celebrate Deepawali. Why don't u preach muslims not to kill bakra on eid.

— Hindus United (@120croreHindus) November 4, 2018
#3
Which animals you are talking about? Only the animals you pet or also those you kill for your feasts??

— MaNyNaMeSiHaVe (@IaMSuPeReHeI) November 3, 2018
#4
Why u all hypocrites only care for dogs during Diwali ? Other animals are not living beings. Stop eating non-veg and spare other animals too

— Kunal (@kunalc20) November 3, 2018
#5
Aap New year ya Christmas pe nahi aati Aunty 🤣🤣🤣🤣

— Shankar ❤️ (@gorishankaryad1) November 3, 2018
#6
Yes and I guess your momma was hiding when they were killing animals durin Bakrid? That's a very safe and clean way of celebrating right Alia….ab toh hum double dhamaka karenge….

— Armywalachora (@Ram35hNair) November 4, 2018
#7
I wonder when these hypocrites come out and say meatless eid.. killing poor and innocent animals is a bigger sin then polluting enviornment… pollution se yaad aya they stay in AC 24*7 and use SUVs to travel… #HypocriteBollywood

— छोरा गुड़गाम्मे आला (@chorazamindarka) November 3, 2018
#8
mommy ko bloodless Eid ka campaign krne ko bhi bol deti…. #hypocriteBollywood

— VyomKesh Bakshi (@shashi_seeker) November 4, 2018
#9
Why there was no such warning educative meaningful message by you & your mother during your festival.🤔🤔🤔

— R.A.V.I.® (@hifiveravi) November 4, 2018
#10
— Alok Agarwal (@AlokAga73108084) November 3, 2018
#11
So for eid you will cut cake shapped like a goat

— For_better_Mumbai (@imanmolpednekar) November 1, 2018
#12
I have one question here why on Diwali only everyone come with cracker free agenda and rest of year it's fine.. please be kind to explain.

— Rashi Goel (@RashiGoel01) November 1, 2018
#13
Madam,
Please come forward for " GREEN BAKREED" when people are colouring roads and street by blood of innocent goats & beefs….

— Satendra Singh (@raju_rieter) November 2, 2018
#14
Stop killing goats on Eid. Here they are scared means there they die 🙄🙄🙄

— Ramya (@Ramykrish) November 4, 2018
#15
How about spreading the Gyaan on Bakri eid? Blood free is somuch better rite? @aliaa08 hypocrites are u Bollywood people

— #PKCult (@MenTooIndia) November 4, 2018
#16
Have you wished 'Happy Green no animal Killing Eid' ???
Then only wish the same for Diwali. Otherwise give lecture to your children

— Girish Shinde (@GirishShinde2) November 1, 2018
What do you have to say in this regard? Let us know your views.
Share Your Views In Comments Below