News
Amid Heavy Rains In Bengaluru, Twitter Poured In Memes As City's Roads & Posh Areas Waterlogged
Bengaluru, the Indian city which is famous for being the IT hub of the country is currently in news for all the wrong reasons as majority of the city is waterlogged after heavy rains.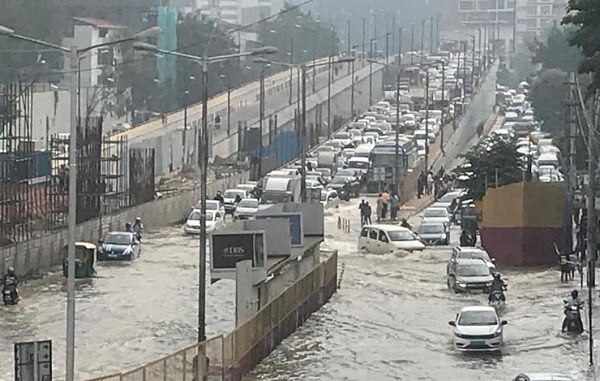 Though Bengaluru is known for its pleasant weather, currently its citizens are living under very tough conditions as there is no electricity and no drinking water supply in many areas (Kormangala, Whitefield, Bellandur, HSR Layout, Sarjapur, etc.) of the city.
#Bengaluru: Water level is yet to recede in the upscale Divyasree 77 East in Yemalur (#Marathalli).

Price of property here is Rs 8 crore upwards!

Residents leaving for safer places 👇#bengalururains @NammaBengaluroo @WFRising @NammaWhitefield @BLRrocKS @TOIBengaluru pic.twitter.com/qv3wMf8JdN

— Rakesh Prakash (@rakeshprakash1) September 6, 2022
Many videos are getting circulated on the social media platforms in which roads, posh societies, etc. can be seen submerged in water. The office going people are facing a lot of problems as they can't take leave because the work will get affected and it is taking 2-3 hours for them to reach office. In fact in few videos, it can be seen that tractors and JCBs are being used for transport purposes.
#bengaluru innovation Hub for a reason 💜#bengalururains #monsoon #BBMP #BellandurFloods #Bangalore pic.twitter.com/GTQs8HvSKt

— Govind Kumar (@hey__goku) September 5, 2022
If that was not enough, even boats are used in some areas for the purpose of providing necessary items such as milk and grocery to people.
#Bengaluru: Sarjapur Road flooded again on Monday following Sunday night rain. Milk, groceries and essentials were supplied through boats to the residents. Some residents evacuated the houses with luggage. #bengalururains pic.twitter.com/m4KRNUhlM7

— TOI Bengaluru (@TOIBengaluru) September 5, 2022
Some people are of the opinion that the nature is giving it back to the citizens of Bengaluru as they have occupied the space of lakes of the city.
The message is crystal clear. "You occupied our space. Now we have come back." Said by all lakes in Bangalore (crying)#Bangalore #bangalorefloods #bangaloreweather #bangalorerain #bangalorerains #bbmp #SarjapurRoad #Sarjapur #sarjapura #BellandurFloods #bellandur pic.twitter.com/ElrpPQlon8

— 🇮🇳RJ_Ramesh🇮🇳 (@weather_rj) September 5, 2022
As per the reports, the IT companies of Bengaluru have incurred losses to the tune of Rs. 225 crores due to waterlogging and rain and the Chief Minister Basavaraj Bommai has promised that he will discuss with the management of these companies as to what they want should be done next.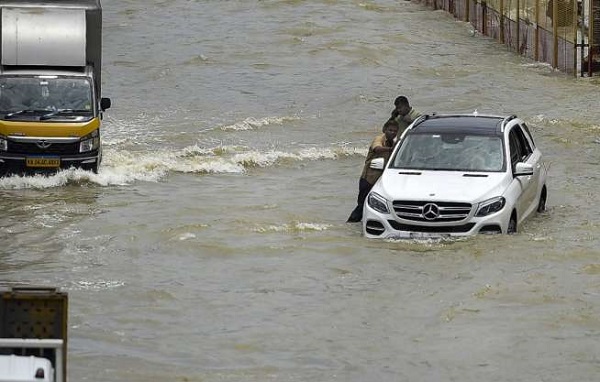 However, there were many who didn't miss the chance of having fun by creating memes and jokes. Here are some selected ones:
#1
"Ya bro but even the floods in bangalore are way better than Bombay" – overheard today

— Tanmay Bhat (@thetanmay) September 5, 2022
#2
Coding is not enough to get a job in Bangalore. You also need to know swimming@peakbengaluru pic.twitter.com/LTCRRss0S0

— Nikit Bhandari (@NikitBhandari) September 5, 2022
#3
https://twitter.com/yashjain2804/status/15668295497482936324
#4
Whenever I say my office is in Eco Space, Bellandur.

My friends :#BengaluruRain #bangalorerains pic.twitter.com/24lvu2euaQ

— Tweet Potato (@newshungree) September 7, 2022
#5
All the #unicorn #millionaire #startup founders in Bangalore right now. #bangalorefloods #bangalorerains #Bangalore #bangalorestartups #unicornstartups #founders pic.twitter.com/INc6V3usHd

— Besharam ladka (@BesharamLadka) September 5, 2022
#6
Come to Bengaluru they said. It's a world-class startup hub they said. pic.twitter.com/13G0Tcwyh9

— Caleb Friesen (@caleb_friesen2) September 5, 2022
#7
In Bangalore, instead of the bus getting you to office, you have to get the bus to office. #bangalorerain pic.twitter.com/bAnKlHl89O

— Dale Vaz (@dale_vaz) September 5, 2022
#8
pov: dating in bengaluru pic.twitter.com/Vn9zhQVeFo

— Jagdish Patil (@jagdishpatil02) September 5, 2022
#9
Meanwhile in Bellandur, Bangalore. You don't get flat below 2 crores in this society. pic.twitter.com/cugDXGZoio

— The Educated Moron (@EducatedMoron) September 4, 2022
#10
People of Bangalore today 😭😭 pic.twitter.com/4U3iKXM3ki

— Nimo Tai 🇮🇳 (@Cryptic_Miind) September 5, 2022
#11
This is how #Bengaluru people will travel to work in the future.

This will be fastest way to reach office.

Can someone invest in this idea?

It's sarcasm…#BengaluruRain pic.twitter.com/rXp6dx1P9g

— Iftekhar इफ्तेखार افتخار (@iftekharbidkar) September 6, 2022
#12
Meanwhile new joinee in Bangalore – pic.twitter.com/xQkraTtMHR

— Narundar (@NarundarM) September 5, 2022
#13
Bangalore people on social media explaining how the city has the best weather pic.twitter.com/H9rjMwqEnW

— Sagar 🇮🇳🇦🇫 (@sagarcasm) September 5, 2022
#14
Guess #Bengaluru is the only city in the world 🌍 where every single house is not just "Sea-Facing"…it is actually "Within The Sea"…#bengalurufloods #BengaluruRain #Shame #ITHub #Venice pic.twitter.com/Rihbgt0RjD

— Ankit (@kit_sharma) September 5, 2022
#15
Bengaluru enthusiasts waking up on a Monday inundated with no electricity pic.twitter.com/86M2Pkz68L

— Shushka Bob's Burgers (@bigdeekenergyy) September 5, 2022
The government and other departments are working pretty hard to handle the situation and hopefully things will get better soon.
Share Your Views In Comments Below