Bollywood & TV
Amitabh Bachchan Slammed On Twitter For His So-Called Funny Tweet On Bat Entering His House
The COVID-19 pandemic has brought the world on its knees as more than 2 lakh people have lost their lives while around 30 lakh have been confirmed as infected worldwide. It is being said that coronavirus has originated from the Wuhan province of China from a market where the meat of exotic animals is being sold. As per some reports, this virus has been transmitted from bats in humans and is contagious in nature.
As the bats are being held responsible for this virus, many people have started hating this animal which is not good for wildlife conservation. Recently, the legendary actor Amitabh Bachchan who is also pretty active on social media made a post on the micro-blogging site Twitter in which he told followers how a bat entered his house on the 3rd floor and then he was ousted after a lot of difficulty. In order to add some humour in his tweet, Big B also wrote that corona is no leaving them.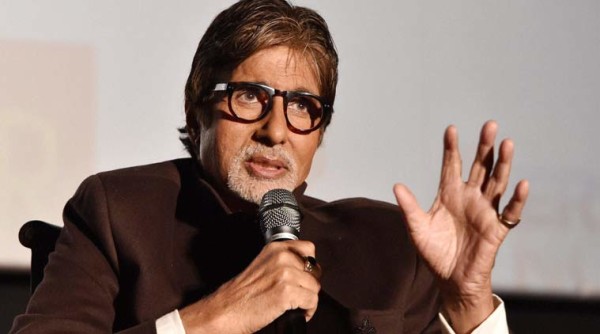 Here is what he tweeted, "T 3510 – Ladies and gentlemen of the Jury .. news of the hour .. BREAKING NEWS .. would you believe it ..A Bat , a चमगादर has come into my room .. in Jalsa .. on the 3rd floor .. in my Den .. badi mushkil se use bahar nikala .. Corona peecha chodh hi nahin raha  !!!"
T 3510 – Ladies and gentlemen of the Jury .. news of the hour .. BREAKING NEWS .. would you believe it ..
A Bat , a चमगादर has come into my room .. in Jalsa .. on the 3rd floor .. in my Den .. 😯😯
badi mushkil se use bahar nikala ..
Corona peecha chodh hi nahin raha !!!

— Amitabh Bachchan (@SrBachchan) April 25, 2020
Despite the fact that there was nothing serious in this tweet and Amitabh Bachchan was just trying to be a little funny, his tweet did not go well with many Twitter users and they asked him to be a little concerned towards bats. While one user asked Big B not to demonize bats, another netizen forwarded him a link which imparts knowledge about bats and also clears many myths regarding them.
This is how Twitter users expressed their displeasure over the tweet of Senior Bachchan:
#1
Not in good taste sir. You have millions of followers. Still we don't have exact process of human virus spillover. Demonising bat is last thing we want. Things we know for sure; They are pollinators. They help in pest control. Please revisit it.

— Parveen Kaswan, IFS (@ParveenKaswan) April 25, 2020
#2
We understand that you have a bit of humour in your tweet. But not all your followers will be able to understand that. We keep hearing that people have started to vilify this animal& some stray incidents of violent acts have already been reported.We already have enough to deal 🙁

— Sudha Ramen IFS 🇮🇳 (@SudhaRamenIFS) April 25, 2020
#3
Sir
This tweet will doom a species. #BatsAreNotCorona
U hv always spoken #ForWildlife#Bats r imp in ecosystem
They predate on insects,r prolific pollinators of imp crops,disperse seeds.Their coping mechanism with viruses gives templates to research disease
Plz undo the damage

— JAYOTI BANERJEE, IFS (@jayotibanerjee) April 25, 2020
#4
Sir, over 60 scientists have released a press statement that bats don't spread COVID-19. I've had bats visit, switch off lights and fans, they find their way out. Bats are amazing and important ecologically, and a lot of researchers are working on dispelling myths about them. pic.twitter.com/kwVT4KC33Q

— Bijal Vachharajani (@bijal_v) April 26, 2020
#5
Sir, bats do not spread coronavirus. You may think that this is a humorous thing to say, but for an already misunderstood and maligned species, this could cause a lot of trouble. Please read this press release, which is backed by science. pic.twitter.com/bT5QvnOj6N

— Radha (@MissGoobe) April 26, 2020
#6
I doubt if you will ever read this, but in the off chance you do, I urge you to not malign wildlife, especially during this unprecedented crisis. Coronavirus won't spread from bats. Our stupidity and disrespect of Nature will. Pl don't spread hate.

— Seshadri K S (@KSSeshadri) April 26, 2020
#7
Mr Bachhan, the disfavour you've just done to Bat conservation with this utterly uniformed tweet of yours, is extremely unfortunate. Pls dont make it harder than it already is for the conservationists working tirelessly to preserve our wildlife. Ashwika (wildlife filmmaker)

— Ashwika Kapur (Ash) (@AshwikaKapur) April 26, 2020
#8
Sir, we are innocent! Please don't quote us, your words are powerful to influence 'सोच' of millions. @siddisimple @OrnithophileI pic.twitter.com/PPh6wJwnhx

— Tushar Shinde (@tusharshinde212) April 26, 2020
#9
Sir , they are harmless. Your expression in the tweet may send wrong signals and more fear. Kindly read this https://t.co/6Y7yru9wx3

— Geetanjali Dhar (@geetanjalidhar) April 25, 2020
#10
It's quite shameful that a quiz show host is taking to social media to spread misinformation. Here's a simplified comic starring you and a bat on #kaunbanegacrorepati to educate you. pic.twitter.com/ndFiSVh0e0

— Green Humour (@thetoonguy) April 26, 2020
#11
Disheartening to hear this from your side Sir. You are held in high esteem globally, and whatever you say leaves a mark. Let that mark not be a scar.
Regards.

— Akash Kumar Verma. (@verma_akash) April 25, 2020
If we talk about the condition of India in regard to the coronavirus pandemic, more than 850 have succumbed to the disease while around 27.5K have been found infected with it.
Stay at home and maintain social distancing to stay safe!
Share Your Views In Comments Below