Brands
Amul Has The Best & Most Creative Take On Indian Army's Yeti Tweet. Twitter Can't Stop Praising
The social media is a great place to show creativity and connect with a large mass in a very short span of time. In other words, it won't be wrong to say that talent gets its true appreciation, fame and recognition in the virtual world as the message reaches hundreds and thousands of people shortly.
For the same, a number of brands are taking resort to social media sites to promote their products or create pun at the current viral topics. When talking about taking hilarious jibes at trending topics, how can we forget to mention Amul!
There is no doubt that the person who handles the official Twitter account of Amul cooperation is really very creative and has a good sense of humour. We have seen that Amul has a wonderful take on almost every matter of social and national importance and now they have picked up the subject of Yeti for the new poster.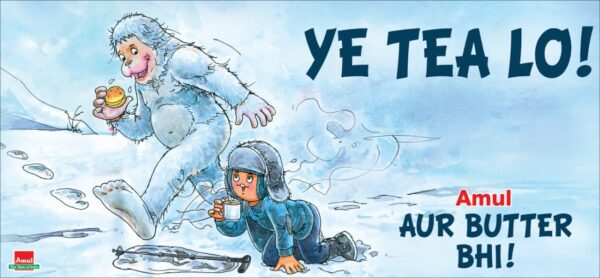 Yes, you read it right! Amul's recent poster shared on the micro-blogging site Twitter shows a snowman with the Amul girl. The punchline reads, "Ye Tea lo! Aur butter bhi!", while the caption reads, "#Amul Topical: Strange footprints found by Indian Army in the Himalayas!"
Check out the tweet:
#Amul Topical: Strange footprints found by Indian army in the Himalayas! pic.twitter.com/5a6fmEVe2T

— Amul.coop (@Amul_Coop) May 2, 2019
Twitterati loved Amul's creative take on the matter. Here are some of the applauding tweets:
#1
ये ती लो!!! Wow. Amul

— Prashant Mishra🇮🇳 (@Pmishra43) May 2, 2019
#2
My love ❤ for Amul products have just multiplied with these ads. Kudos to the entire Amul team behind these ads. We ❤ Amul ❤ India.

— Chowkidar VinitS (@CAVinitShah) May 3, 2019
#3
Damn. Hats off to your creativity, man.

— Saurabh Nautiyal (@100rabh_9tiyal) May 2, 2019
#4
You are a Rockstar of #Advertising and focused #branding . Years of consistent social messaging, I doubt any company in the world does this. And so beautifully always you manage it without creating controversy. Kudos !! A true #Indian brand with a heart!

— Deepak Nambiar (@DPKNAMBIAR) May 3, 2019
#5
Give that person a pay rise who makes these intelligent cartoons i have been admiring these adds for long now give him a lead now

— VINAY TIWARI (@VINGAME) May 2, 2019
#6
so cute….🤗🤗
even I think after seeing this #Yeti will come to us😅

— raj (@raj_kabira) May 2, 2019
#7
Who is behind Amul's Wordplay from years… such a genius…!

— Ritz (@looneyzone) May 2, 2019
#8
Best take on the issue even men in uniform would have smiled

— Chowkidar K.P.Nagarajan (@UnagK) May 2, 2019
#9
Best creative team in the world. 🥇🏆

— True Patriot 🇮🇳 (@AnkolaEkta) May 3, 2019
#10
Witty Ye-Tea 😉
Amul Cool 😍👍

— (@GirijaDave) May 3, 2019
If you have no idea what this poster wants to convey, let us tell you that a mountaineering expedition of Indian Army found huge footprints on the snow which only a snowman or Yeti can have. Indian Army shared this incident on Twitter and also told about the region where they found the footprints, adding that Yeti was sighted in that region in the past.
While many netizens were not able to understand as to why there was only one footprint, the others talked about the times when they actually came to hear about Yeti for the first time. The concept of Yeti is not new for the Indians as Bollywood has already made a movie on this subject which was titled as "Ajooba Kudrat Ka".
How did you find Amul's take on Yeti? Let us know.
Share Your Views In Comments Below