Bollywood & TV
Amul's Tribute To Ranbir Kapoor's "Sanju" Is Creativity At Its Best
There is no denying the fact that an advertisement is the best way to catch people's attention and interest. If a brand wants to survive in the market, it's very necessary for it to keep the advertising or promotional game up as this is a vital part of marketing strategy.
The most important quality for the same is creativity and relating the ad to the trending topics and Amul is simply the best at it.
Be it highlighting any burning issue like fuel hike or praising something good, Amul has always come up with amazing ads that are obviously applauded by people all across the country. Social media is especially a big fan of Amul's creative memes and there is no wonder that all its ads go viral in no time.
Amul has won hearts of people with its awesome creative skills many times. Remember how it celebrated the success of Salman Khan starrer "Tiger Zinda Hai"?
#Amul Topical: Bollywood's latest blockbuster hit! #HappyBirthdaySalmanKhan pic.twitter.com/a2tncViFgB

— Amul.coop (@Amul_Coop) December 27, 2017
Now it has once again paid tribute to a Bollywood movie that is running successfully in the theatres and has already broken many records on the box-office. Yes, you guessed it right! We are talking about Ranbir Kapoor starrer "Sanju" which is the biopic of Bollywood actor Sanjay Dutt and showcases various stages of his life.
The tagline of Sanju's poster is "One Man… Many Lives" and Amul has come up with its own version in its new meme with text, "One Butter. Many Dishes."
Check out the meme: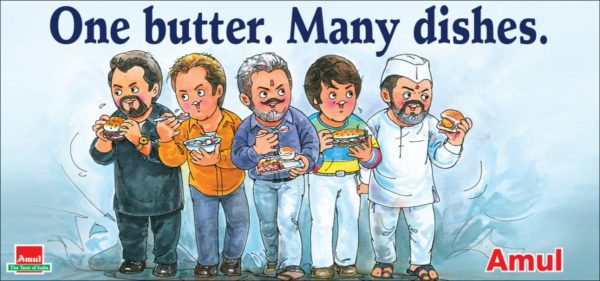 Amul shared it on the micro-blogging site Twitter with caption, "#Amul Topical: The success of Bollywood movie, Sanju…"
#Amul Topical: The success of Bollywood movie, Sanju… pic.twitter.com/5ILNo7XsXN

— Amul.coop (@Amul_Coop) July 2, 2018
Twitter just loved the creative ad and this is how people reacted:
#1
Bole toh ek dum mazza aagya mamu

~circuit

— ImLnn👼 (@Im_lnn) July 2, 2018
#2
Amul cartoonist is one of the best
Creativity at it's finest

— Sushrut Sharma (@sushrut_20) July 2, 2018
#3
….good one👍 Bharat …as always timely sync'd 👌

— ajaybrahmasingh (@ajaybrahmasingh) July 2, 2018
#4
Superb.! @Amul_Coop you just nail it everytime.!🙌🏻

— Yash Gangawane (@yv_gangawane) July 2, 2018
#5
Wittiest best 😂

— Amit#26 (@amit_26_) July 2, 2018
How did you find Amul's tribute to "Sanju"? Let us know.