News
Anand Mahindra Shared Heart-Touching Video Of An Indian Soldier & It Will Bring Tears In Your Eyes
The whole country is still mourning for more than 40 Indian bravehearts who lost their lives in the unfortunate Pulwama incident. There is no denying the fact that we are able to enjoy our lives freely and sleep peacefully because of the Indian soldiers who fight the enemies and guard the borders, even in the toughest situations.
Indian soldiers deserve a lot of respect and gratitude from our side and it is the duty of each Indian to make sure that their families don't face any problem if they get martyred. But the sad truth is that most of the times, we have failed to fulfill our duties. Nevertheless, now a change can be felt in the attitude of not just the government but also common public.
The social media has played an important role in making people realise their duties towards Indian soldiers and a video has been shared by Anand Mahindra, the chairman of Mahindra group, which clearly depicts the mood of the nation.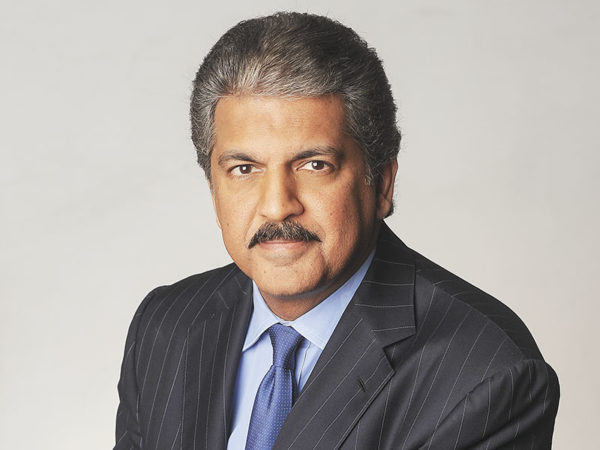 In this video, a soldier who is dressed in plain clothes enters a restaurant for having food but while taking out handkerchief from pocket, his wallet gets dropped on the floor. One of the waiters sees the wallet lying on the floor and picks it up but before handing it to the man, he sees his ID and gets to know that he is from Indian Army.
The food is served to the soldier and then the waiter tells the restaurant owner that the person having food is an Indian soldier. When the soldier finishes the food and asks for the bill, the waiter gives him a piece of paper with a note which reads,
"It's an honour to serve those who serve the nation.
Jai Hind!"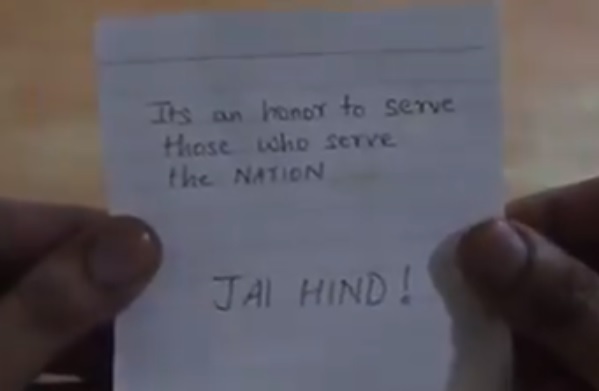 Subsequently, everyone present at the restaurant salutes the soldier. In the meantime, the patriotic song "Saare Jahan Se Achchaa" is also played in background.
Here is the video which will bring tears in your eyes:
This video describes the mood of the nation today. One of reverence for the people in uniformed sevhce. But more importantly, one that asks everyone to spread LOVE and Generosity. This is India. Jai Hind. pic.twitter.com/rujtsLun11

— Manoj Kumar (@manoj_naandi) February 18, 2019
Click here to watch this video directly on Twitter
Anand Mahindra shared it on the micro-blogging site Twitter with caption, "Indeed, and I RT this in complete agreement with your emphasis on goodwill and generosity…"
Indeed, and I RT this in complete agreement with your emphasis on goodwill and generosity… https://t.co/13R7txrbGg

— anand mahindra (@anandmahindra) February 18, 2019
Twitterati loved it & this is how they reacted:
#1
After a 24 hrs tiring shift in the ICU ….this video produced the apt amount of adrenaline I need to go back and serve for the betterment of the society …. Indian defence force has inspired me to serve my country in my own little way #jaihind

— Dr. Pratyasha Khound (@KhoundDr) February 18, 2019
#2
True sir no amount of money can return the sacrifice for the motherland Jai Hind.. salute to the brave soldiers…

— Kaushik Ravi Sharma (@ravirsharma1993) February 18, 2019
#3
We are thankful to our Jawans for keeping our borders safe. When we start accountability from Government ? Who didn't accept the request for air lifting ? As an industrial house with operational excellence, Sir, ask where was the defect ? Who dropped the ball ? #PulwamaAttack

— Change is in the air ! (@BapuplzComeBack) February 18, 2019
#4
This actually brought tears in my eyes.. Excellent

— Bharat (@Bharat08540402) February 19, 2019
#5
It is time show gratitude by saying "Thank you for your service"@adgpi @IndianAirforce_ @CPMumbaiPolice @crpfindia @BSF_India
THANK YOU FOR SERVICE

— Sanjay Menon (@99ea6b2d6375442) February 19, 2019
#6
Beautiful video with a strong message. Jai Hind. Always with army 🙏

— Syam Kumar (@SyamBharat_) February 18, 2019
#7
Ah sare Jahan say acha tune brings tears in eyes…It's pride our Pride …

— VthYou🇮🇳 (@VthYou) February 18, 2019
#8
Fantastic
This is how you show your patriotism.
Not by asking only singling out Kashmiri non Hindus to DM you and crying wolf.

Blatantly ignoring Hindus and descriminating against them and being divisive

— Rupakala Kamath (@RupakalaKamath) February 18, 2019
#9
How s the JOSH ?

HIGH SIR !

JAI HIND

JAI HIND !
🇮🇳

— शब्द ऋतू (@wanage_virendra) February 19, 2019
We are sure that you too must be having tears in your eyes! Salute to our brave Indian soldiers! Jai Hind!
Share Your Views In Comments Below