Automobile
Anand Mahindra Shares Video Of "Pure Gold Ferrari Car", Starts A Debate On Twitter
Owning a car used to be a great thing in the past but nowadays buying a car is not a big deal as people get car loans very easily. However there are still some parameters which a person keeps in mind while choosing a car and these parameters are – the car's price, its average, how many people it can accommodate, etc. Nevertheless, there is a segment of customers who buy cars for maintaining their status and they don't mind spending a huge amount for it. Moreover, usually they also love to have sports and luxury cars to add to their lavishness.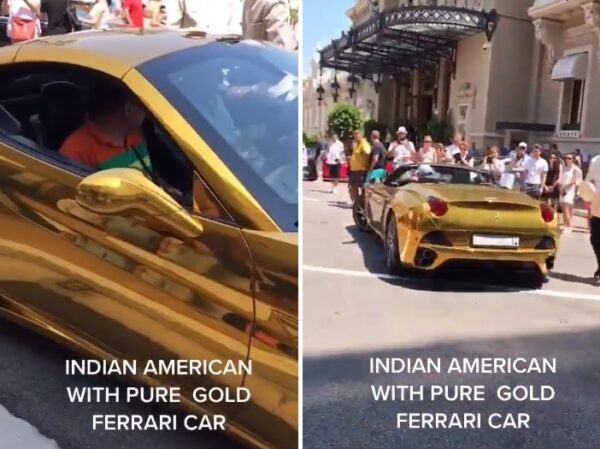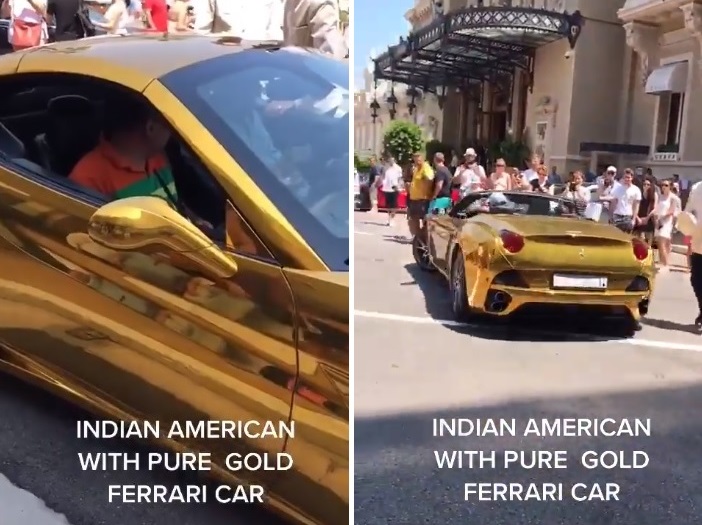 One such rich person has taken his love of having a sports car to the next level by owning the gold version of Ferrari car. A video is going viral on the Internet in which an Indian-American individual is seen flaunting his golden Ferrari in public and the crowd is capturing the beauty with their smartphone cameras.
A note in the video reads, "Indian-American with pure gold Ferrari car" and the video has also been shared by the chairman of the Mahindra Group, Anand Mahindra.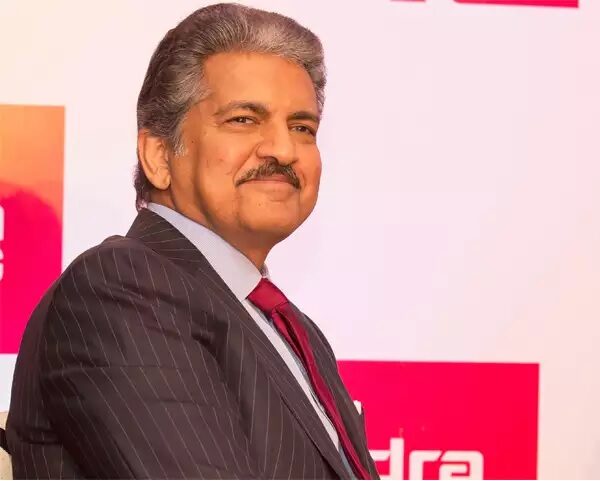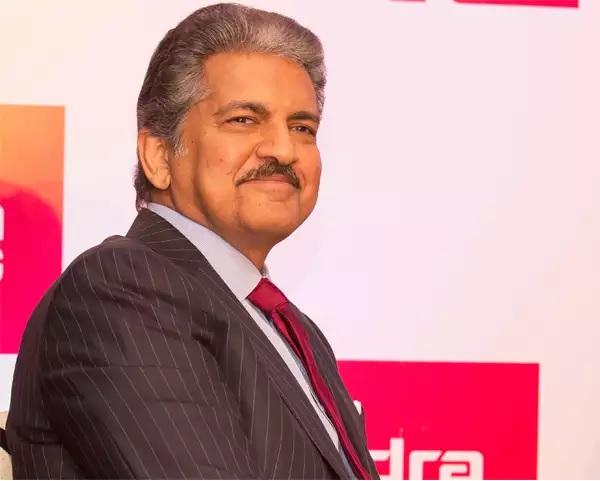 Anand Mahindra is pretty active on the social media networks, especially on the micro-blogging site Twitter, and is known for sharing some great things with people but this time he seems to be a little upset with the owner of the Italian car Ferrari. While sharing the video, Anand Mahindra wrote, "I don't know why this is going around on social media unless it is a lesson on how NOT to spend your money when you are wealthy…"
Watch The Video:
I don't know why this is going around on social media unless it is a lesson on how NOT to spend your money when you are wealthy… pic.twitter.com/0cpDRSZpnI

— anand mahindra (@anandmahindra) July 19, 2021
Click here to watch this video directly on Twitter
While some online users agreed with Anand Mahindra who himself heads automobile companies, there were several others who pointed out that it is not necessary for the car to be gold-plated because many people also use gold vinyl for this purpose. In fact, few netizens shared the photos of golden cars which they have seen on the Indian roads and here are the selected reactions:
#1
It isn't made of gold. It's wrapped in a 3M or Avery Dennison Gold Chrome Vinyl wrap. The cost of wrapping the entire car woul be anywhere between USD700-2000.

Also, I am amazed how you, Mr. Mahindra, aren't aware of vinyl car wraps!!!

Example: https://t.co/p519AoeemK

— Bhavin Gala (@bhavingala) July 19, 2021
#2
Money can buy a lot of things, it cannot cure stupidity.

There should be a program which educates rich investors about ways to earn happiness by spending it wisely.

— 𝙅𝙖𝙮 𝙈𝙖𝙠𝙬𝙖𝙣𝙖 (@jay_mak1) July 19, 2021
#3
Who can tell the wealthy how not to spend money??

The other day I saw a video of a wedding ceremony with ₹ 14 Cr decoration having only 50 guests 😳😏

— Dr Charuhas (@charuhasmujumd1) July 19, 2021
#4
All that glitters is not gold!! Many do car wraps in gold and other fancy colours. https://t.co/NsbhULC2Zk

— Neeraj Sharma (@Neeraj_Sharma_) July 19, 2021
#5
Tacky, looks like a chocolate bar wrapping.
Money cant buy you class 🎶 https://t.co/LajztjFxgD

— Ascend (@jungian_soul) July 20, 2021
#6
@anandmahindra it is obnoxious display of wealth.. https://t.co/4qs7NSXhTQ

— Santosh Sali (@SaliSantosh) July 20, 2021
#7
Without money people enjoy this type of exclusive car pic.twitter.com/SPuHqbpeNJ

— Sanjay Kumar (@SanjayK65669712) July 19, 2021
#8
Lol… If it's actually gold, I am trying to imagine what would be the situation of the owner finding a few scratches on car.. 10 gm kam ho gaya 😂😂

— Rohit P. Shirke 🌐 + 🛠️ = 👨🏾‍💻 (@rohit_p_shirke) July 19, 2021
#9
Here is a local version of it on streets of Mumbai.
Pretty sure it's not hold though. pic.twitter.com/p5TTCX95VT

— MumBoy (@save_our_mumbai) July 19, 2021
#10
Can't imagine how much would a dent cost on this https://t.co/aHrYZOmhd7

— Siddhartha Srivastava (@cruzeronmove) July 20, 2021
#11
i would like to bump into this car and then pay repair from my insurance for two reasons 1) i want to punish Insurance company for robbing me with huge premium 2) after bump i expect this car's dent material/gold would struck to my car body which i can scratch later and sell that

— BePositive🇮🇳 (@Vik58770356) July 19, 2021
#12
Here's one in Noida. I took this picture on July 4, 2016. pic.twitter.com/qJfFstwqFi

— Himmat Rathore 🇮🇳 (@himmat01) July 20, 2021
#13
What is the wrong Side in it Sir,
They r not forcing society for business&profit,Power like Bad Corporates&Politicians.

That is their passion/interest/dream.
They r enjoying their life.

They came out means
they might be living amap Leagal life&they might have enough money.

— B V Prasad Reddy (@bvprasadreddy) July 21, 2021
#14
His money, his life, his rules !
Why should anyone have an opinion at all on how someone else should or should not spend their money ! https://t.co/bd5pCzoQrd

— VT-VLO (@Vinamralongani) July 20, 2021
#15
@anandmahindra This is showing world of rich and famous. You will see in Dubai same cars with gold but what you are saying is right if you have money you should know how to spend it right. https://t.co/8UxtYxTRmH

— Vikas Kapoor (@Vikskpr) July 20, 2021
Well, all that glitters is not gold! Do you think that this car is made of pure gold? Are you going to get your car covered with gold vinyl after seeing this?
Share Your Views In Comments Below