News
Angry Twitter Slams Tourists Crowding Mussoorie's Kempty Falls With No Mask Or Social Distancing
The Internet and social media sites have been flooded with photos of tourists flocking at hill stations such as Manali, Nainital, Shimla, Mussoorie, etc. in huge numbers and this has certainly increased chances of the third wave of COVID-19 as tourists are not following the COVID-19 protocols properly.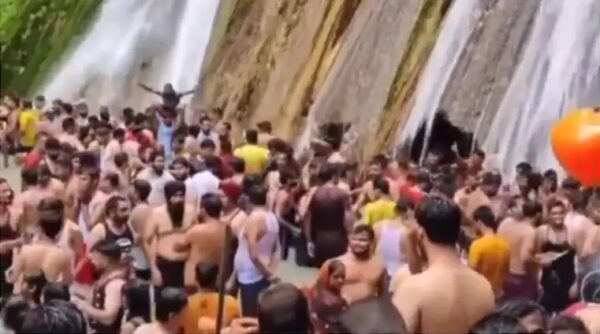 Recently, videos and photos of hundreds of tourists at Kempty Falls, Mussoorie, went viral and it won't be wrong to say that these stuffs have made many people scared. In these pics and clips, the unmasked tourists are seen taking bath in Kempty Falls and we really don't need to mention here that they are not following any COVID-19 protocol, such as wearing masks, maintaining social distancing, etc.
Hundreds of maskless tourists throng Kempty Falls in Mussoorie #ThirdWave https://t.co/AvouNKNXn6

— Shiv Aroor (@ShivAroor) July 8, 2021
Here is the video:
Remdesivir Dedo, Bed Dedo, Oxygen Dedo!😒pic.twitter.com/Cm92gjhF3k

— ADV. ASHUTOSH J. DUBEY🇮🇳 (@AdvAshutoshDube) July 7, 2021
Twitter users were annoyed, upset and scared at such behaviour of people and that too after seeing that how many people went through hell during the second wave of COVID-19 as a huge number of persons lost their lives because of non-availability of beds in hospitals, lack of oxygen supply and medicines, etc. The online users have mercilessly slammed these tourists as they are playing an instrumental role in bringing the third wave (if it comes) and then those who are following all the COVID-19 protocols will also suffer because of them when lockdown will be imposed again.
This is how furious netizens reacted over it:
#1
What sort of rubbish is this?

— Vin Nair (@vinsinners) July 8, 2021
#2
Now when the 3rd wave will come who is to be blamed, currently there is no election rallies, or kumbh mela. We as citizen also don't understand our responsibilities then we open our mouth to blame government. These type of people are called pade likhe gawaar.

— Gaurav Gangwar (@Gauravgangwar36) July 8, 2021
#3
How do these people even enjoy in such overcrowded places. I shrink even at the thought of a strangers wet sweaty body touching mine 🤢

— Ashutosh Bhatt (@roguedoga) July 8, 2021
#4
Sab government ki galti hai.
Government he sab kre hame kuch nhi krna.

This is clear invitation. Aagya 3rd wave bhi

— Big Bull🇮🇳 (@mecheer_) July 7, 2021
#5
Fools like this will bring in the 3rd wave & ppl like me who have stayed home for the past 1.5 years for the most, avoiding non essential travel, following covid appropriate behavior with double mask etc will be punished again with a lockdown. Is there no end to this? https://t.co/4dUDmRBvsg

— Rashmi Rao (@rrao74) July 8, 2021
#6
डॉ गुलेरिया जी सही कहते है कि तीसरी लहर जरूर आएगी और ये इन लोगो के कारण ही आएगी जो घरो में रह कर बोर हो गए है।
इनको पता होना चाहिए कि डेल्टा प्लस के सामने वैक्सीन की शक्ति कमजोर नज़र आरही हैं

— Citizen of India (@citizen5106) July 7, 2021
#7
Guys ready to abuse modi and government where is my oxygen, medicine modiji dawai do

— Nitin Mishra🇮🇳🇮🇳 (@DrNitinMishra2) July 8, 2021
#8
And then they will shout Modiji ne to thik se Corona handle kiya hi nhi😡😡😡

— Shilpi Shrivastava 🇮🇳 (@itsShilpiS) July 7, 2021
#9
Are we preparing for the 3rd wave? Please be responsible citizens. Virus is still around us. 🙏🏼 https://t.co/dmMrMVZYA4

— Jonnalagadda Murty (@jvrmurty) July 8, 2021
#10
Welcoming third wave with open arms @DeepikaBhardwaj

— Shivam Mittal (@OSivoham) July 8, 2021
#11
And today's noticeable jump frm 36 k to 45k cases 🤦 for some moron's idea of fun everything gonna screwed 😶

— Neha Biswal (@NehaBiswal4) July 8, 2021
#12
We don't learn from past. Only thing we do consistently is blame everyone around for our faults.
मोदीजी जल्दी 5 🌟 हॉस्पिटल बनाए। हम सब tourist सीधे हॉस्पिटल आयेंगे 🤪

— Little Ayesha (@LittleAyesha2) July 8, 2021
#13
What can any health minister or government do if people themselves are so reckless nd irresponsible?

— Lotus (@LotusBharat) July 8, 2021
#14
These people are bringing it upon themselves but it's not their fault it's government fault. Government is responsible for everything. They will tweet SHAME ON YOU MODI. We can't take responsibility of ourselves and our families but we want government to take care of 130cr people

— Sakshi Singh (@Sakshi_Singh21) July 8, 2021
#15
I asked one of my friends in Delhi ..has traffic started again ?
He said no..delhi is peaceful..traffic shifted to shimla, massoori , manali😀
People are so busy preparing for 3rd wave..

— Ananth Kumar (@anantkkumar) July 8, 2021
Almost all the states of India have eased the restrictions and have also allowed people from another state to travel without RT-PCR report and this all is certainly increasing the tourist rush to a great extent. Temperature is pretty high in north India nowadays so many people from north Indian cities are heading towards the hill stations and these tourists places are completely packed with no hotel rooms available and streets crowded to the maximum.
Hopefully, people will get some sense soon and we won't have to face the third wave.
Share Your Views In Comments Below