Bollywood & TV
Anil Kumble Graced Virat & Anushka's Mumbai Reception & Twitter Is Overjoyed
The wedding of Indian cricketer Virat Kohli and actress Anushka Sharma was one of the biggest news of the year 2017. Needless to say, it was a great & pleasant surprise for the couple's fans.
Virat and Anushka got married on December 11 in Tuscany, Italy, and they gave two receptions for their relatives, friends and colleagues; the first one was held in New Delhi on December 21 while the other was in Mumbai which took place yesterday (December 26) at St. Regis.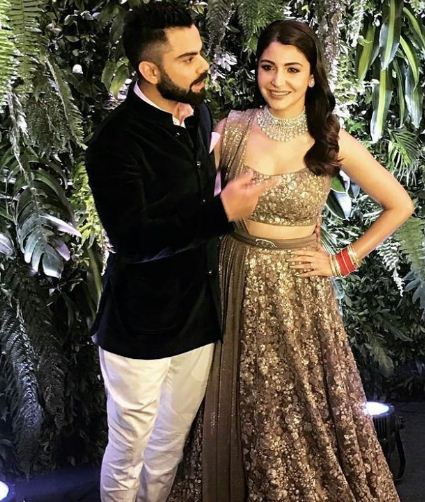 Many eminent personalities, such Amitabh Bachchan, Shah Rukh Khan, Abhishek Bachchan, Aishwarya Rai Bachchan, Sachin Tendulkar, MS Dhoni, Zaheer Khan, Sagarika Ghatge, A R Rahman, Priyanka Chopra, Rekha, Kangana Ranaut, Madhuri Dixit Nene and others graced the grand reception but what shocked everyone was the presence of former Indian cricketer and national coach Anil Kumble.
Anil Kumble attended the event with his wife and this gave enough fodder to Twitterati to have a field day.
Anil Kumble was the coach of Indian cricket team but he quit his post, making it clear that his style of working was not liked by some people in the team and his indication was towards the captain Virat Kohli. After Anil Kumble left his job, Virat was criticised a lot because everyone thought that he has done it purposely for making the seat vacant for former Indian cricketer Ravi Shastri.
However, it seems that both Virat and Anil Kumble like to keep their personal and professional lives separate and this is how Twitter reacted over Anil Kumble's presence at Virushka's reception:
Kumble is a legend:
When you attend your ex's wedding….

Kumble legend!#VirushkaReception pic.twitter.com/PggyTAGbjG

— Kushal Phatarpekar (@kushalp06) December 26, 2017
Nice gesture on Kohli's part:
so much has happened throughout that champions trophy that maybe shouldn't have happened but nevertheless, great to see Kohli has invited Kumble to this great occasion #VirushkaReception

— Naveen Samy (@ImNsamy) December 26, 2017
Humanity first:
Anil Kumble at #VirushkaReception

Because Humanity 1st 💖 💖@anilkumble1074 😘 😘 pic.twitter.com/5u6KfFwamm

— Msd's Pradip(2ndMsd) (@PradipMsd7) December 26, 2017
Eh?
Virat Kohli invited Anil Kumble to his reception because he wasn't satisfied with the photographers in his wedding and 1st reception #VirushkaReception

— Pankaj Jaiswal (@iampj007) December 26, 2017
Right though:
One thing I'm sure of !
Anil Kumble n Virat Kohli have fought a lot less than what media made it look like ! 🙌

— Ashritha (@imashritha) December 26, 2017
Unexpected yet great:
Anil Kumble attending Kohli's reception party! Unexpected, but it would be a great news if they have sorted out their tiff! #Virushka

— Maruf Shaikh (@marrufff) December 26, 2017
Is it so?
https://twitter.com/hari_durairaj/status/945681776361345024
Is Anushka the reason?
How Anushka Sharma cajoled Virat Kohli into extending peace move with Anil Kumble with invitation to reception. (am sure the story will be written soon)

— Whistling Dogs (@shikarisambhu) December 27, 2017
Can't believe it!
Anil Kumble is in the house, would you believe it?? 😍😂#VirushkaReception

— Prajakta Bhawsar (@ViratsFangirl18) December 26, 2017
It's true for many people:
From cricketers to Bollywood stars, everyone graced the occasion of Virat and Anushka's wedding reception in Mumbai.
However, what thrilled me was the presence of former India head coach, Anil Kumble at the function.

— Gautam Sodhi (@GautamSodhi1) December 27, 2017
Where are haters?
Anil Kumble is also there 😂😂😒😒
Where r the haters who think that Virat is a petty person who keeps grudges ?
Inspite of so much of hatred n criticism he never uttered a word against him😏

— Viratian Forever (@yashi_singh18) December 26, 2017
LOL 😀
https://twitter.com/sreevani95/status/945712533767299072
What do you have to say in this regard? Let us know.
Share Your Views In Comments Below