Sports
Anuja Patil Gets Out For Obstructing The Field. Twitter Is Divided
India got defeated by Bangladesh in the Asia Cup finals yesterday. The match was a nail-biting one and till the last ball, it was worth seeing who will win.
In every match, some or the other controversy happens; in yesterday's match, it was Anuja Patil's run-out. Yes, there was a debate surrounding "Obstruction of field" rule. In the 9th over, Anuja Patil and Harmanpreet Kaur were batting.
There seemed to be a mix-up between the two; Anuja returned to the crease and there was a slight change in her direction. The fielder tried to throw the ball on the stumps, but it hit Anuja's leg. She returned to the crease & got safe.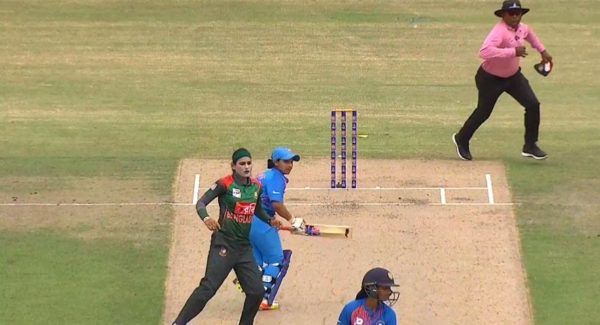 Bangladesh appealed that Anuja had obstructed the field. There were many replays & after that, 3rd umpire gave her an out.
Here's the ICC rule;
37.1.1 Either batsman is out Obstructing the field if, except in the circumstances of 37.2, and while the ball is in play, he/she wilfully attempts to obstruct or distract the fielding side by word or action. See also Law 34 (Hit the ball twice).
Click here & watch the video on Hotstar from 3:25 to see this dismissal

Twitter is divided over this decision; some feel that the decision was wrong.
How did this happen?
How the Fuck on this earth that Anjuja patul runout can be considered as obstructing the field 😱🙏 #INDWvsBANW

— చందుగాడు (@Chandann9999) June 10, 2018
Not out!
That was not out common #anujapatil #softsignal

— Roushan 🇮🇳 (@roushan93) June 10, 2018
Are you kidding?
#INDvBAN are u kidding me anuja patil ? U cannot out like that 😾 #AsiaCup #AsiaCupfinal

— SAHIL SABHARWAL 🇮🇳 (@sahil_sabharwa) June 10, 2018
Yahi baaki tha?
Out by obstructing the field.. yahi dekhna baaki reh gya tha #INDWvBANW #AsiaCupFinal

— Zeeshan (@zshamsi34) June 10, 2018
This is rare!
Anuja Patil has been declared out obstructing the field in the Asia Cup 2018 final
Rare dismissal#INDWvsBANW

— Sarang Bhalerao (@bhaleraosarang) June 10, 2018
Now that you watched the video, what do you feel? Was the decision fair enough?
Share Your Views In Comments Below