Bollywood & TV
Anupam Kher Gets Trolled For Saying He's Heartbroken As Himachal Man Couldn't Recognize Him
Anupam Kher is undoubtedly one of the finest actors of the present times and he is also among those few Indian actors who have worked in Hollywood movies and earned the tag of an international actor.
The actor who made his debut in Bollywood with the movie "Saaransh" in 1984 was enjoying vacations in Himachal Pradesh recently and during a morning walk, he happened to meet a local who was not able to recognize the actor. However, the person whose name is Gyanchand tried to make Anupam Kher feel better by saying that he knew him but couldn't remember his name.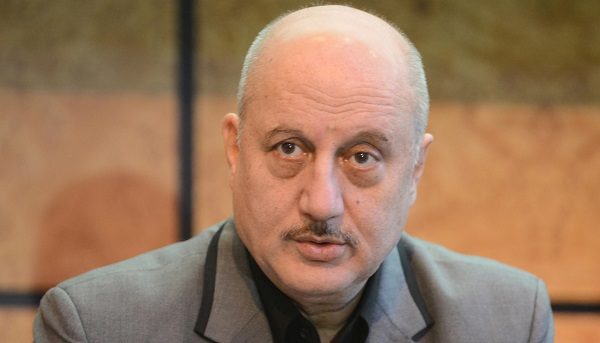 Anupam Kher shared the video of this incident on his official Instagram handle with the caption, "Reality Check I always proudly announce to the world that I have done 518 films. And I presume that everybody (at least in India) knows me. But #GyanChand ji very innocently shattered my confidence. He had no idea who I was. It was funnily heartbreaking and yet beautifully refreshing! Thank you my friend for helping me keep my feet on ground! 🤣😂😍 #KuchBhiHoDSaktaHai #LifeIsBeautiful #Innocence #Hilarious"
Here is the post:
Click to watch this video directly on Instagram
There is no denying the fact that Anupam Kher is certainly one of the most loved actors of the Indian film industry but it is also true that there are many people in our country who don't have the time to watch movies or TV as for majority part of their lives, they are busy earning livelihood for themselves and their family members.
The Padma Bhushan awardee actor also posted this video on the micro-blogging site Twitter:
मैं हमेशा गर्व से कहता हूँ कि मैंने 518 फ़िल्में की हैं।और मैं ये मानकर चलता हूँ कि कम से कम हमारे भारत में तो सब मुझे पहचानते ही होंगे। लेकिन शिमला की नज़दीक की पहाड़ी के पास वाले ज्ञानचंद जी ने मेरी ये ग़लतफ़हमी दूर कर दी।वो भी कितनी मासूमियत के साथ! देखिए और ज़ोर से हँसिये।😂 pic.twitter.com/tK3uxHuUm2

— Anupam Kher (@AnupamPKher) June 24, 2021
While some people praised Anupam Kher for his generous and down to Earth nature and for reacting so beautifully even after the man couldn't recognize him despite the fact that he is a well-known celebrity, few others slammed him for thinking the whole nation would know him even when he has not done anything for such people. Few people also brought light on the fact that people from small area are busy earning their bread and butter and they seldom watch movies so it's pretty natural for them not to recognize celebrities.
Here are some of the selected reactions:
#1
आपको सैल्यूट सर, इतनी सादगी, इतना अपनापन और इतनी प्यारी मुस्कान,हर किसी के लिए सम्मान एक सेलिब्रिटी होकर भी रखना बहुत बड़ा बड़प्पन व महानता है।फिल्मों में हर किरदार में श्रेष्ठ अभिनय रहा है आपका।सामाजिक जीवन मे भी एक्टिव होना बहुत अच्छा लगता है सर,हमेशा स्वस्थ व मुस्कुराते रहें

— Tarun Soni Tanveer (@hindilekhanicom) June 24, 2021
#2
This is a perfect example of your simplicity & elegance as well Sir , because celebs are generally found to stay away from ppl, but your down to earth nature proves that you are a true soul Sir……God Bless

— Milan (@Milan08679593) June 24, 2021
#3
आपकी प्रतिक्रिया भी कितनी मासूमियत से भरी है !! आपके जैसे व्यक्तित्व को नहीं जानना और नहीं पहचानना, उसके बावजूद आपको निराश नहीं बल्कि उत्साहित कर कर गया। आपको कोई आश्चर्य भी नहीं हुआ, बल्कि आपने इसे अधिक रोचक बना दिया। पूर्वाग्रह आपको छू भी नहीं पाया।

— Rajvansh Keshri (@Rajvansh_Keshri) June 24, 2021
#4
@AnupamPKher किसी ग़लतफ़हमी में है आप.. मेट्रो city के लोग आपको जानते होंगे .. ग़ाँव के किसान मज़दूर जोकी 50% से ज़्यादा लोग है आप तो क्या अमिताभ बच्चन को नहीं पहचानेंगे.. आपने 518 फ़िल्मों में से 500 में साइड roles kiye hai.

— JEEVAN KUMAR (@jvnyds) June 25, 2021
#5
Public to #AnupamKher after Shimla man didn't recognise him🤣😂 pic.twitter.com/1jxwvRvgJz

— Ruthless Truth (@ruthlesstruth01) June 25, 2021
#6
The zeal for getting recognised is actually very funny by these actors, politicians. Once was having lunch at India habitat centre and a well known politician was seated in the next table. He kept looking at me, maybe expecting I will go and greet him. I pretended not to see him

— Rajesh Gupta (@Rajeshguptablog) June 24, 2021
#7
जिस तरह भीम को अपनीं शक्ति पर अभिमान हो गया था
तब भगवान ने हनुमान जी को भेजकर जब वो (हनुमान जी की पुछ नहीं उठा सकें) उन का अहंकार नष्ट किया
आप के साथ भी ऐसा ही हो गया
इतनी फिल्मों के कलाकार को नहीं पहचाना ऐ तो गुगली हो गई 😂😂😂

— Keshav Singh (@KeshavS45) June 24, 2021
#8
When you take yourself to much seriously…Now he is thinking himself more superior and act in public like a Oscar winning actor. #AnupamKher #thursdaymorning pic.twitter.com/JcuQ98iOeb

— 𝐆𝐚𝐮𝐫𝐚𝐯 𝐮𝐩𝐫𝐞𝐭𝐢 (@UpretiOfficial) June 25, 2021
#9
आप फिल्ममे काम करते है इसका मतलब ये नही की हर कोई आपको जाने पहचाने वो आपका काम है और उससे आपका उदरनिर्वाह होता है.
फिलमोमे काम करने वाले हर शक्स को यही लगता है की वो एक स्टार है और उन्हे कही भी किसी पहेचान की जरुरत नही लेकिन आज ये बात गलत साबित कर दि है ज्ञानचंद जी ने.. 🙏🏻

— Nileshkoli24 (@Nileshkoli241) June 24, 2021
#10
काश हमारे देश का हर नागरिक ज्ञानचंद जी जैसा होता तो जो खुद को सेलेब्रिटी समझते हैं वो सचमुच चुल्लू भर पानी में डुब मरते

— हरीश तिवारी (@HarishT60564927) June 24, 2021
#11
Anupam kher after Anupam kher coming to
running 2222 steps. Know, no one gives a f
even if he has done 518
Movies. pic.twitter.com/UkXDDutXW1

— Devashish | देवाशीष (@DevashishGuptaa) June 25, 2021
#12
Gajab bejati hai yaar 😂😂🙏🙏

— Anushrey Rana (@AnushreyRana) June 24, 2021
#13
Why people will know you? Have you done anything for Himachali's?

— Mehboob Akhtar (@Mehboob34404272) June 25, 2021
#14
Public to Anupam Kher…#AnupamKher pic.twitter.com/Y7NNZqkghB

— Shant (@move123456789) June 25, 2021
#15
जरूरी नहीं है कि हर किसी को हर कोई पहचाने है क्यों क्योंकि उनकी जरूरत है उनका काम उनका परिवार होता है ना कि मूवी देखना सिनेमा देखना किसी को पहचानते हैं या किसी नहीं पहचानते हैं धन्यवाद अनुपम खेर जी मेरी बात अगर आपको बुरी लगी इसके लिए मैं क्षमा चाहता हूं🙏

— RAMSUNDAR SHAU (@RAMSUNDARSHAU) June 25, 2021
What is your take on it? Let us know.
Share Your Views In Comments Below