Bollywood & TV
AR Rahman's Daughter Was Trolled For Wearing Burkha. She Slammed Haters In A Hard-Hitting Post
AR Rahman is one of the most talented musicians of India and his popularity is not just limited to the country only but he is very popular at the International level as well. He is one of those few Indians who have won an Oscar and recently, he attended an event to celebrate 10 years of movie "Slumdog Millionaire".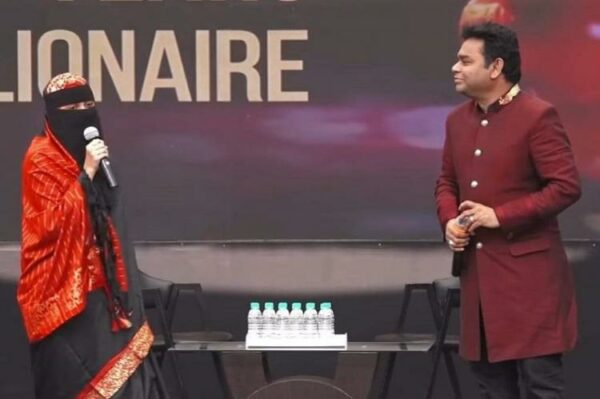 However, social media users started trolling AR Rahman and his daughter, Khatija for the manner in which the latter was dressed. Khatija attended the event with her face covered while Rahman's wife and another daughter were seen without burkha.
The netizens thought that Khatija was compelled to dress like this but the musician gave them a perfect reply by sharing a photo featuring his wife and daughters with Nita Ambani.
He captioned it, "The precious ladies of my family Khatija, Raheema and Sairaa with Nita Ambani ji #freedomtochoose"
Here's the pic: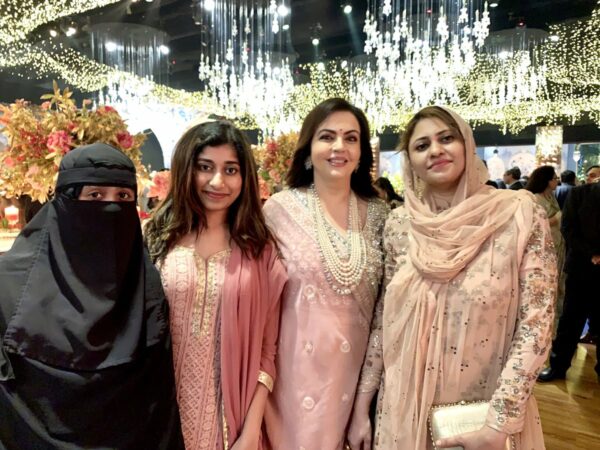 Check out the tweet:
The precious ladies of my family Khatija ,Raheema and Sairaa with NitaAmbaniji #freedomtochoose pic.twitter.com/H2DZePYOtA

— A.R.Rahman (@arrahman) February 6, 2019
Khatija has also reacted on this matter as she takes to social media to tell people that she was not made to wear burkha by her father and he is not a double standard person as some of the social media users are alleging. According to her, it was her choice to wear a veil and she is a mature adult who makes her choices in life. She further requests people not to pass judgements without knowing the exact details.
Here's what she wrote:
"The recent conversation of myself on stage with my dad has been doing the rounds although I didn't expect such an overwhelming response. However, there were certain comments which said that this attire is being forced by my dad and that he has double standards. I would like to personally clarify to my followers and my non followers on Instagram that the attire I wear of the choices I make in my life does not have anything to do with my parents. The veil has been my personal choice with complete acceptance and honour. I'm a same mature adult who knows to make my choices in life. Any human being has a choice to wear or do what he/she wants and that's what I've been doing. Hence, kindly don't make your own judgements without understanding the exact situation. #freedomofchoice"
Check out the post: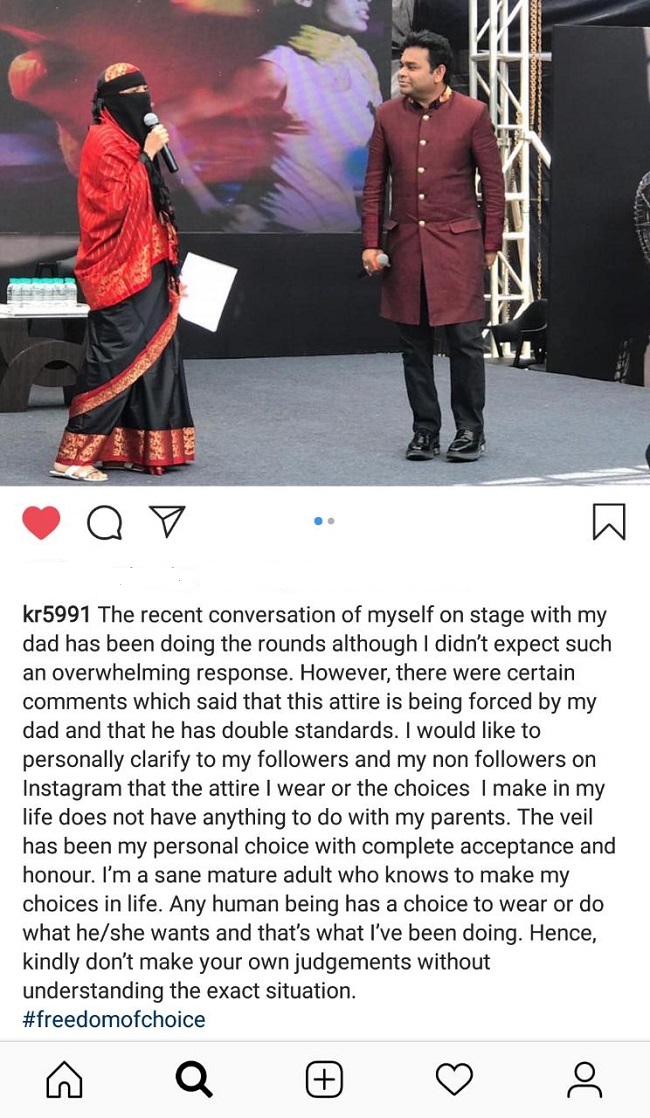 Earlier, Khatija was praised for the speech that she gave at the event about her father and talked about the changes that came after Rahman won the Oscars. She said that her father's humility matters the most for her and he didn't change a bit after winning the award but he did start spending less time with the family because of his work.
Trollers need to learn how to mind their own business instead of just targeting anyone without knowing precise details. What do you say?
Share Your Views In Comments Below