Bollywood & TV
Arijit Singh Pune Concert Tickets Priced At Upto Rs 16 Lakhs, Twitter Goes WTF
Arijit Singh is one of the most loved and most popular singers of the Indian film industry and his fans love it if they get a chance to hear their favourite singer live and for this purpose, they don't even mind getting a dent in their pockets. The tickets of his live performance are quite costly but still his shows are fully packed and you will be shocked to see how much people pay to hear him in live performances.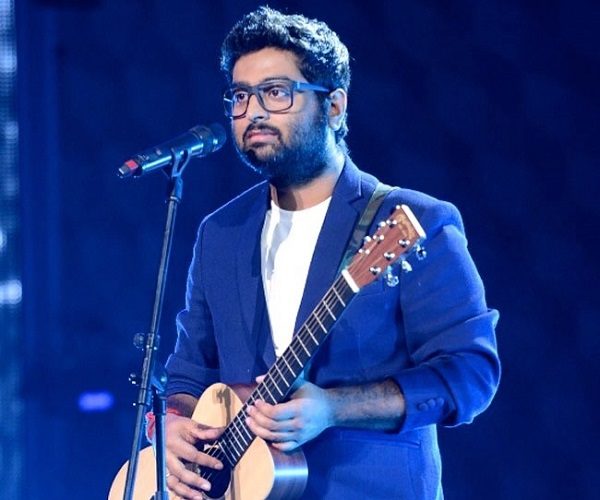 Recently, a Twitter user shared a screenshot of ticket prices of a live show which will take place in January 2023 in Pune and the prices of tickets start from Rs. 999 and go upto Rs. 16,00,000.
The venue is divided in various zones:
The least expensive being the Bronze – a standing area for which a person needs to pay Rs. 999,
Then there is Silver – another standing area priced at Rs. 1999,
Gold which is a seating area, first come first serve basis priced at Rs. 4999,
Platinum Left and Platinum Right – both are seating, first come first serve basis priced at Rs. 6999,
Diamond Left and Diamond Right – both are seating, first come first serve basis priced at Rs. 8999.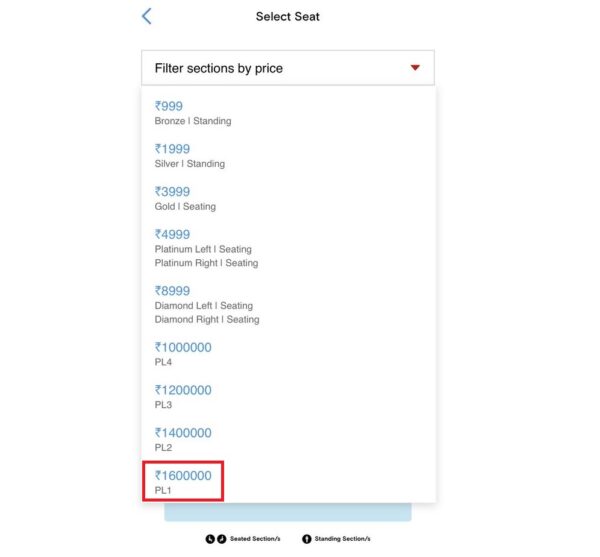 The most expensive zone is Premium Lounge which is divided into 4 sections and it comes with the facility of unlimited food and premium liquor. The price of PL4 is Rs. 10 lakhs, PL3 is priced at Rs. 12 lakhs, PL2 is priced at Rs. 14 lakhs and PL1 is the most expensive costing Rs. 16 lakhs.
The Twitter user shared the ticket prices with the caption, "I love Arijit Singh but I won't be spending so much".
i love arijit singh but i won't be spending so much😭 pic.twitter.com/kYdfNq2po8

— sh // sarah's day ❤️ (@midnightmmry) November 24, 2022
The tweet soon went viral and the reactions are certainly hilarious:, here are some selected reactions:
Who is paying 16 lacs yo go there and cry for Channa Mereya?

— shashank (@Theshashank_p) November 24, 2022
10 lakh mai toh arijit ko khud mere ghar aake gana chhaiye😭

— Darshan⚡ (@mostlyhigh) November 24, 2022
9k se direct 10 lakh.
13 year old se banwaya tha kya ticket pricing.

— Tarik khatry (@tarik_khatry) November 24, 2022
16 lakh me Arijit k padosh me chota sa ghar leke usko roj sunn skte hai.

— Humma_says🧸 (@HMojanidar) November 25, 2022
bhains ki aankh , gane sunne k 16 lakh. kaun se rayees hote h ye, arijit inki god me baithkar gata hai kya

— Pratap (@SPratapyS) November 24, 2022
16L mai apna khud ka ek arijit peda krdunga

— Shivam (@itsshivamsaxena) November 24, 2022
Ise acha 10-20k ka one time investment karke Accha sa sound system ya headgear na lele, sabhi songs pe singer k concert jese feel aayege. Bethe, sote, dodte.. Xyz…

— Dhruval Joshi  (@TheDhruval) November 26, 2022
16 lakhs mein hamare ghar mein aakar gaana sunana chaiye

— lomls day (@ishqbulaavaa) November 24, 2022
Roone ke liye 16L toh koi na spend kare

— butterchicken (@butterrchicken_) November 24, 2022
Yahan spotify premium ke paise nahi hai arijit ki concert k liye kaha se lau

— isHaHaHa (@hajarkagalwa) November 24, 2022
This is on organisers. Stadium were filled and all tickets were booked. Now they are cashing in by adding seats and raising prices. Still good to see a singer getting such amount like Bollywood stars.

— suga chagamer (@SidharthTiwary3) November 24, 2022
Are you going to pay this much for a live concert?
Share Your Views In Comments Below