Entertainment
Arjun Patiala Honest Review: Varun is Hilarious, Diljit's Innocence Will Win Your Heart
Claimed to be the 245th Policewali picture Arjun Patiala is a light-hearted spoof film which is one of his kind. This genre has never been experienced much in Bollywood till date but it is interesting to watch.
The story of Diljit Dosanjh, Varun Sharma, and Kriti Sanon starrer Arjun Patiala is quite simple. Diljit's Ajun is a cop of the fictional town of Ferozepur in Punjab who aims for reducing the crime rate in his area and to an extent he is successful. Varun (Onidda Singh) is Arjun's sidekick and constable and follows him like a shadow and together they are like Batman and Robin.
The duo loves girls and whiskey above all and is happy with their usual life until Kriti (Ritu Randhawa) appears as a journalist and Arjun falls for her instantly. Ritu comes to the town to report on goons.
MLA Prapti Makkad (Seema Pahwa), also referred to as 'Property Makkar' is the villain of the area. Sakool (Mohammed Zeeshan Ayyub) is also a negative character in the movie.
The film cannot be taken seriously as every now and then someone released the fourth wall and starts talking to the camera. Sunny Leone has a cameo in the film and she does not leave an impact on the audience. However, her item number lingers on your mouth a little longer.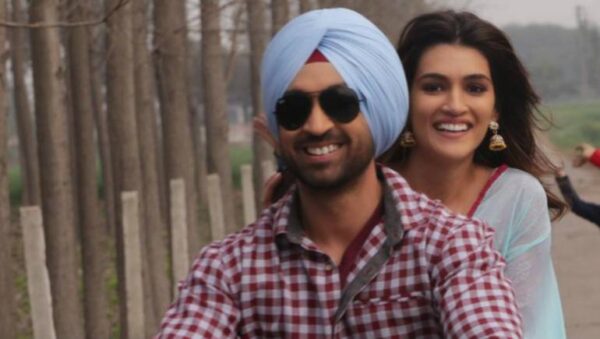 The writing and directing in the first is somehow okay but it turns childish in the second half. Diljit's innocence is the essence of the film and he fits into the character. Kriti has too little to do on screen after her few dialogues.
The only fun element of the flick is Varun who will make you laugh at his own expense. His hilarious backstory, the reason behind his name and his broken heart, everything is laughable. So many girls have broken his heart that he has given up on love and has settled for a buffalo and calls her his lady love. This might sound bizarre but it looks hilarious on-screen.
All in all, if you have nothing to do this weekend you can go and watch Arjun Patiala with family and come out with your mood lightened.
Share Your Views In Comments Below