Bollywood & TV
As Per Fans, This Is The Best Bollywood Actor Among The Three Khans
Bollywood is unimaginable without the three Khans and it won't be wrong to say that they have contributed a significant share in its success as the most reputed film industry after Hollywood.
Yes, we are talking about none other than Shah Rukh Khan, Aamir Khan and Salman Khan, each of them has a huge fan following and their fans are more than crazy to do anything just to get a glimpse of their favourite actor.
The fans of all the three Khans have been fighting over the best one, especially on social media, but couldn't reach any conclusion.
Aamir Khan is called Mr. Perfectionist as he keeps on doing scenes until he himself is satisfied and people hardly find any flaw in his acting. Shah Rukh Khan is known as the King Of Romance and there is no denying the fact that every Indian girl must have dreamed of him as her hero in some phase of life. Salman Khan has the image of a Dabangg actor who can do just anything, like a superhero.
RVCJ conducted a poll on the micro-blogging site Twitter to know the opinion of our audience as to which Khan is the best in terms of acting skills.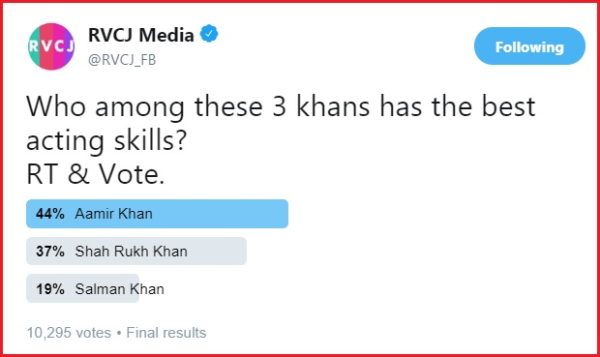 Talking about the results, 44% people voted Aamir Khan as the best actor while 37% think that Shah Rukh Khan is the best while 19% voted in favour of Salman Khan.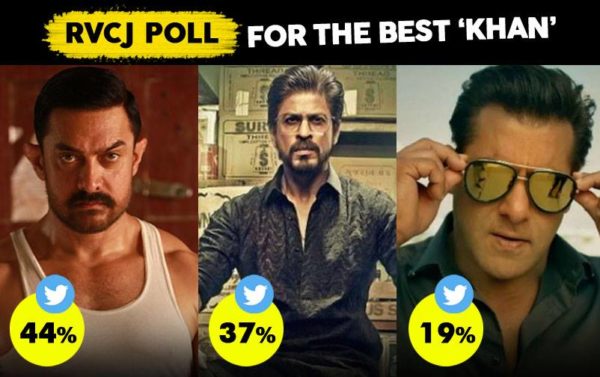 Here's the poll:
Who among these 3 khans has the best acting skills?
RT & Vote.

— RVCJ Media (@RVCJ_FB) July 25, 2018
Do you agree with Twitter or have a different opinion? Let us know your views.
Share Your Views In Comments Below