Humour
As Virat & Anushka's Daughter Vamika's Pics Go Viral, Fans Troll Cameraman With Funny Memes
The famous power couple Virat Kohli and Anushka Sharma has always maintained that they don't want their daughter Vamika to be clicked by media and for this purpose, they have also made requests to media houses in the past. However in the third and the final ODI against South Africa, the broadcaster SuperSport showed Anushka and Vamika during the live telecast of the match. Anushka was seen holding Vamika in her hands and they both were cheering for Virat Kohli who scored a brilliant half-century in the match. Soon the photos of Vamika were published by some media houses and they also started getting circulated on the social media networks.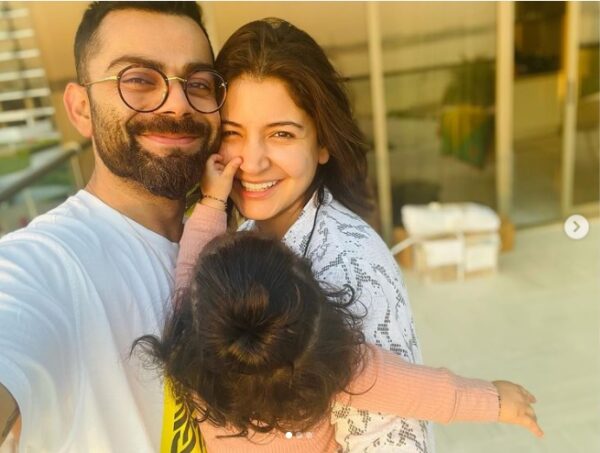 After that, Anushka Sharma took to her Instagram story and posted a statement in which she wrote that they were caught off-guard as they weren't aware that the camera was on them and their previous request related to privacy stands the same.
The text on the post read, "Hi guys! We realise that our daughter's images were captured at the stadium yesterday and widely shared thereafter. We want to inform everyone that we were caught off guard and didn't know that the camera was on us. Our stance and request on the matter stay the same. We would really appreciate it if Vamika's images are not clicked/ published for reasons we have explained earlier. Thank you."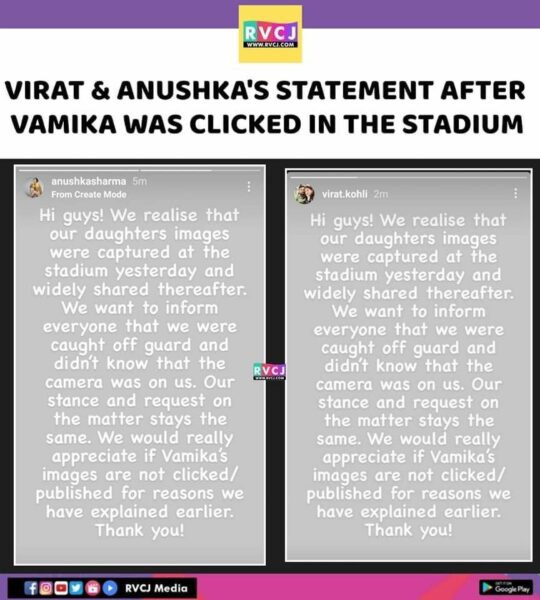 Later on, the same text was posted by Virat Kohli as well and some social media users thought of having fun by posting memes and jokes in this regard and by trolling the cameraman who captured Anushka and Vamika.
Here are some selected reactions:
#1
Cameraman focuses his lens at #vamika 's face during #SAvIND match

Meanwhile Anushka Sharma#AnushkaSharma pic.twitter.com/aQAo0JVsfe

— ABHI TWEETS ☻! (@THEBLITHABHI) January 23, 2022
#2
Galti se mitake beta#SAvsIND #Anushka #vamika pic.twitter.com/vpq154Atbs

— JuiceSprite Boobrah 🇮🇳 (@Yorker_Gawd) January 23, 2022
#3
Cameraman who showed Vamika :#INDvsSAF pic.twitter.com/90qorVf7GL

— N I T I N (@theNitinWalke) January 23, 2022
#4
Viral Bhayani to Star Sports whenever Vamika is on the screen now. #vamika pic.twitter.com/yQZnXUPPMq

— Abhinav (@imaginethepuns) January 23, 2022
#5
Indian fans to cameraman right now#vamika pic.twitter.com/TRCudxLS7y

— Pranjaaaaal (@thamjaamishra) January 23, 2022
#6
#VamikaKohli #ViratKohli #AnushkaSharma

The next time when photographers see Virat-Anushka's daughter : pic.twitter.com/WtVS3dKcie

— JustSurajJokes (@JustSurajJokes) January 24, 2022
#7
Supersport cameraman after showing #Vamika face 😂 pic.twitter.com/OzxnskgGb7

— RAQS✨ (@rakeshhhhh__) January 23, 2022
#8
After Cameraman Showed Vamika #vamika

Anushka Right now :- pic.twitter.com/4PesCJgIfM

— Sanjeeb Parida (@Sanjeeb__19) January 23, 2022
#9
Cameraman Accidentally Revealed The face of #ViratKohli daughter :

Le me :#Vamika #AnushkaSharma pic.twitter.com/Yn1md2SVff

— sᴀʜɪʙᴅᴇᴇᴘ sɪɴɢʜ (@imsahibdeep) January 23, 2022
#10
After Cameraman Revealed #Vamika Face

Anushka Right now :- pic.twitter.com/vVSM2YEuJi

— 𝐒𝐩𝐫𝐢𝐧𝐠_S̶t̶a̶n̶🌈 (@VasantS07) January 23, 2022
#11
Virat kohli to cameraman after match#Vamika pic.twitter.com/wzRUZBUZLC

— Satyam Soni (@satyampsoni) January 23, 2022
On the other hand, there were some who criticized the celebrity couple for behaving in this manner because if they are in a stadium during a live match, it is kind of obvious for the cameraman to focus on them.
What do you think of the whole episode? Let us know your views.
Share Your Views In Comments Below