Sports
Ashish Nehra Slammed Mercilessly On Twitter For Saying "Yorkers Are Overrated In T20s"
The IPL 2020 is in its full swing and the authorities are ensuring that all the precautions are taken care of in order to save the players and staff members from the coronavirus pandemic. The tournament was slated to start on March 29 but got postponed because of the COVID-19 outbreak and now BCCI is organising it in UAE as the number of COVID-19 positive patients is still increasing in India.
The IPL 2020 is a TV-only event because the entry of spectators in the stadium may increase the spread of coronavirus. The broadcasters have left no stone unturned in hiring the best commentators for the league so that the audiences like not only what they see but also what they hear.
Former Indian cricketers such as Irfan Pathan, Sunil Gavaskar, Aakash Chopra, etc. are doing commentary in Hindi and they are getting praised for their good work as well. The former Indian pacer Ashish Nehra has also become a commentator after serving RCB as a bowling coach for 2 years.
Recently, during a match between Sunrisers Hyderabad and Delhi Capitals, Nehra said something which annoyed the Indian Twitterati and they trolled the Delhi cricketer mercilessly.
In the 14th over of the DC innings, T Natarajan tried to deliver a yorker but he missed and Rishabh Pant made no mistake in hitting the full toss for a four. After that, Ashish Nehra who was doing commentary at that time slammed the mentality of bowlers for trying to york the batsmen at an early stage. Netizens believed that Nehra called yorkers over-rated in the T20 matches and opined that bowlers should go for yorkers only in the last 3-4 overs of the innings and that too after seeing the conditions and depending on who is batting.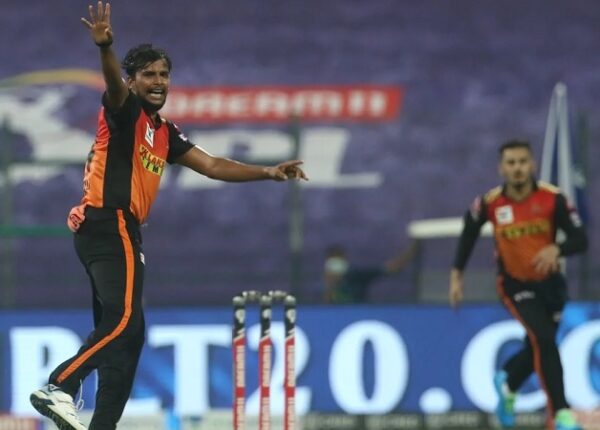 However, T Natarajan bowled around 6 yorkers in the match which was won by SRH. He was praised by the former Aussie pacer Brett Lee and former Indian cricketer Virender Sehwag for the manner in which he bowled and controlled the DC batsmen in the last overs of their innings.
Twitterati slammed Nehra big time and here are some selected tweets:
#1
According to Lord Nehra, Yorker is the most overrated delivery in T20 Cricket. 😭😭🤣🤣
Now, I realised why RCB was so poor in the death in last 2 years.

— Viru Sharma (@183Mirpur) September 29, 2020
#2
Nehra toa kal ke Match Commentry karte vakt bol raha tha jada Yorker nahi dalne ka nahi toa predicted hoa jaate he. Ish liye jada ker lenght bol dalne ka.abhi Samaj aaya Jab Nehra RCB Ka Bowling Coach tha toa RCB le Bowlers itne kyu pit rahe the.😂

— Anonymous (@Anonymo57088126) September 30, 2020
#3
Ian bishop "yorker is a very important delivery in T20 cricket"
Clown Nehra "Yorker is the most overrated delivery."

— Riyan Parag Fc (@riyanparagfan) September 29, 2020
#4
"Yorker's overrated "

Me to Ludo Nehra from commentary box.. pic.twitter.com/NC5eBAyFwy

— Puneet (@OnestoPuneet) September 29, 2020
#5
And nehra said Yorker overrated 😂

— Kirti Parmar (@kirtiparmar15) September 29, 2020
#6
But nehra smoking joint in Star Sports studio thinks Yorker is most overrated delivery. https://t.co/ltMrYGOiME

— AFC ABHI (@that_AfcAbhi) September 29, 2020
#7
Ashish Nehra was speaking nonsense in commentary box and was calling yorker as most overrated delivery in T20 cricket. Just because he couldn't bowl yorkers?

— 🙂 shalini (@__am_okay) September 29, 2020
#8
Natrajan just (hopefully) sealed this game for SRH with a YORKER but Nehra ji on Star Sports says Yorkers are overrated.

— Akshay (@Kohlify) September 29, 2020
#9
Nehra was saying yorker is most overrated bowl😂😂😂, and Nattu's 9 Yorkers Were the One of the reasons for #SRH Victory today 👍.

— Mani Kumar 🙂 (@IMBhUviAn) September 29, 2020
#10
Won't be talked about, but T Natarajan has shown the kind of skill a few T20 pace bowlers can only dream of.

Nailing that yorker bang on, repeatedly, almost as if mocking Nehra who called the yorker "overrated".#DCvsSRH

— Rohit Sankar (@imRohit_SN) September 29, 2020
#11
Ashish Nehra in commentary box was advising against Yorker, and goes on to mocking him & Khaleel but end results spells the efforts…

— #FindingGaurav © (@confess2gaurav) September 29, 2020
#12
SRH bowlers trying to bowl Yorkers after Nehra ji said yorker is overrated 🙂

Thank you Nehra ji 🙌

— Neha✨ (@NJagnani) September 29, 2020
#13
Aur aapke Charsi Dost Nehra ko Yorker overrated lagti hain. https://t.co/gbusODw4Wv

— Ayush Pandey (@imAyushPandey7) September 30, 2020
#14
Overrated hai yorker according to nehra pic.twitter.com/dB87ryJ0uq

— #RR Fan✌️ (@being_kabir) September 29, 2020
#15
nehra toh yorker ko bhav nahi de rha tha lol

— Clairvoyant (@Anachronist26) September 29, 2020
What is your opinion in this connection? Let us know your views.