News
Ashneer Grover Mercilessly Slammed For Comparing Salaried Employees To Daily Wage Workers
Ashneer Grover, the Indian businessman who became famous after getting featured in the business reality show Shark Tank India is once again in news but for all the wrong reasons. He became a household name because he used to speak out his mind in regard to the products and business model presented by the candidates who appeared on the show.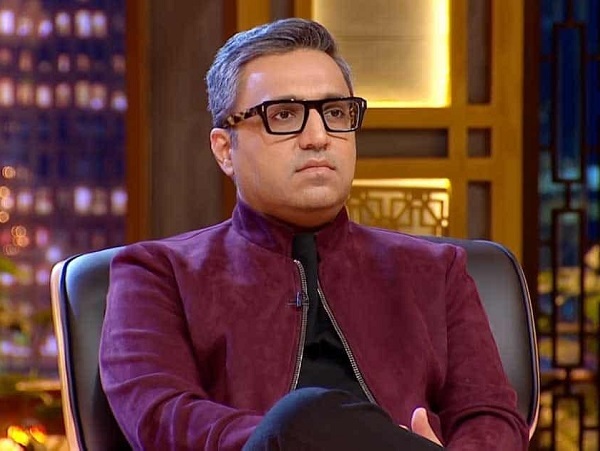 Recently, Ashneer Grover invited the wrath of online users after comparing salaried employees of any company to daily wage workers. It all started after Prashant Pitti, the co-founder of Ease My Trip, made a tweet in which he talked about a hiring issue which is faced by many as one candidate who was supposed to join EMT refused to do so on the day of joining because he received a better offer from some other company.
Check out the screenshot of the chat which Prashant Pitti had with the employee: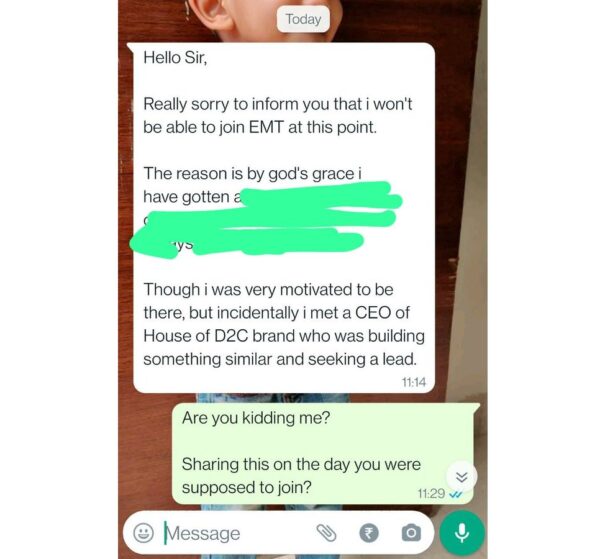 Prashant shared the screenshot with caption, "Someone pls solve this hiring issue This is hugely prevalent & ends up wasting so much time & resource Once a candidate accepts offer-letter, companies wait for months & rejects all other potential candidates But candidate decides on very last day, that they won't be joining".
Someone pls solve this hiring issue

This is hugely prevelant & ends up wasting so much time & resource

Once a candidate accepts offer-letter, companies wait for months & rejects all other potential candidates

But candidate decides on very last day, that they won't be joining pic.twitter.com/R9UfV45eMz

— Prashant Pitti (@ppitti) September 1, 2022
In response to this tweet, Ashneer wrote that in India, the contract has no value as neither he will go after someone nor anyone else because the legal system of the country is broken and expensive as well. He advises Prashant to lower down his expectations and consider that he is hiring daily wage workers in disguise of salaried workers.
Prashant – In India there is no value of contract – neither would you go after someone nor would they as legal system is broken and expensive. So in India it's – ek haath le doosre haath de. Best to tone down your expectation that you employ daily wagers in guise of salaried folk

— Ashneer Grover (@Ashneer_Grover) September 7, 2022
This tweet didn't go well with the Indians and they slammed him left and right, while some asked him how can he manage to stoop so low, there were few who taunted him by saying that just because of this low mentality he had been kicked out the company which had been co-founded by him and several others also called him unemployed and frustrated labour.
Here are some selected reactions:
#1
@Ashneer_Grover have some decency to show respect for others, be it daily wager/salaried.Everyone has the right to think about their self and make decisions accordingly, people like you anyway will not acknowledge anyone contribution.. Aap toh Akele hi Dhanda khada kar lete ho😉

— Ajay Bhatia (@Ajay1989Bhatia) September 7, 2022
#2
Sir you have to change ur perspective towards employees. Don't treat us as commodities.

We are a valuable resource,in return u will get the same respect from employees.

— Divya Akhouri (@DivyaAkhouri2) September 7, 2022
#3
Calling your staff daily wagers is the mindset of untrained managers of small scale businesses. Even after business grows, thinking doesn't.
These owners have only one look for employees:
"Employee cost per minute."

Hire a professional, Sirs, and fix the problem at source.

— Sanjeev Chhabra (@chhabs63) September 9, 2022
#4
Contract has value in India. Signing offer letter contract is valid from day employee joins company. It's not from day when he signs offer letter. If employees were 5% wrong, companies will drag them in court. don't make people fool by saying something which is not correct

— Sundar Pichai Parody (@RealPichai) September 7, 2022
#5
Whole problem is 90 days notice period. 90 days me KT last 7days me hi hota hai. 3 months notice is worse ,bring notice period down to 15 days ,add no leave /no fire clause for 6 months. Humare HR's , Unko naya employee chaiyee immediate joining & 90 days for current employee

— QuestForTruth (@R_I_New) September 7, 2022
#6
Show this tweet to all the people you hire..that is so rude Ashneer

— Sudhir (@sudhir_tuteja) September 8, 2022
#7
Krde khud doglapan Vali bat, This issue is itself created by companies. They try to offer pay below market standards and also try to gauge you on the basis of previous CTC. Then this thing is bound to happen. Person is bound to use less attractive offer as stepping stone.

— Atul Sharma (@AtulSharma052) September 7, 2022
#8
Grow up and be a leader to do what would attract talent and retain employees instead of blaming country, system…etc.

— Abijit Raghunath (@abijitr) September 7, 2022
#9
It's very easy to blame the country. I am shocked that this is the respect you carry for the daily wage workers. This freedom allowed you to switch jobs and go for better offers. when you guys abruptly sack thousands then you dont post such messages. Everyone wants a better job

— God save us all (@LD13131209) September 7, 2022
#10
Problem is mentality of people like ashneer. Treat them like a daily wagers and they will act and give results like a daily wagers do.
Firing employees in bulk no problem coz entrepreneurs have to maintain profit margin.
Employee rejecting companies offer is "no value of contract

— Prakhar Upadhyay (@defencempire) September 7, 2022
#11
Then employers now employees #karma

— Manvendra Pratap Singh (@ManvendRathore) September 7, 2022
#12
@Ashneer_Grover How do you manage to stoop so low? "Daily Wagers" that's how you treat your employees. No wonder you were thrown out of the board of the company you co-created. #boycottAshneerGrover #uninstall @PhonePe.@ppitti I feel sorry for your trouble, but not all are same.

— Ashutosh Ranjan Das (@Burninashes1212) September 7, 2022
#13
Salary offered is not fixed for position but its based on previous salary or offer you holds.
HR negotiate salary like vegetable market, if future employee get desired salary at first place he would not shop around for offers.

— Vishnu Sattigeri (@vishprass) September 7, 2022
#14
@Ashneer_Grover you only keep finding faults in India system… Sometimes with RBI, now with this.. Tell us, is the system of job hopping not prevalent outside India..

— Ajay Bhatia (@Ajay1989Bhatia) September 7, 2022
#15
This mindset of typical low class business people who feel everyone working for them are daily wage workers instead of professionals with skills eat nothing but scamming others. That's why ash has been kicked out of bharatpe. Now he is the one berozgaar labour with frustration.

— Er. Navneet Srivastava (@navi_official94) September 7, 2022
#16
Employees are not your personal slaves. Forced labor was abolished in 1947. We can CHOOSE TO not work for a company ANYTIME . That's called FREEDOM and Democracy. Grow up !

— Rajendra Chola 🇮🇳🇩🇪 (@hemant4india) September 7, 2022
#17
@Ashneer_Grover 's level is lower than low income road side sector managers. He need to learn basic etiquette when working with highly skilled professionals. @ppitti dis is also a fact whn prj doesn't gt materalize ppl's job offer get canceled. Al contracts r in favor of company

— Manish 🇮🇳 (@itsmanishway) September 8, 2022
#18
Sir, Then why do companies in India put rules like 60/90 days notice period and tieing hands of employees from finding better opportunities. Not just contract, there are many things to consider from employees pov

FYI, foreign emp have max of 15 days notice

— Adithya Thatipalli (@adi_thatipalli) September 7, 2022
#19
In India there is also no respect to employee social security, mental well being. Simple si baat hai .. ko ye sab ensure karega log wahi kaam karna pasand karenge. Loyalty one sided nahi hoti. Salary dekar khareed liya wali mentality next level hai India mein. You tweet say a lot

— ख्याली पुलाव (@meinbhitubhi) September 7, 2022
#20
Says the man who got kicked out of his own company.

— Saurav Basu (@CosmicJunglee) September 7, 2022
What do you think of the statement given by Ashneer Grover? Share with us.
Share Your Views In Comments Below