News
Ashneer Grover's Sister & BharatPe CEO's Fight Sets Twitter On Fire With Hilarious Memes
Ashneer Grover, the co-founder of BharatPe became a household name after the business reality show Shark Tank India got aired on the television. Shark Tank India gave many business owners a chance to get funding for their businesses by making a presentation about their product or business in front of the investors who were known as sharks. The show was an adaptation of an American show of the same name and Ashneer Grover was certainly the bluntest shark in the panel of the Indian sharks who gave rude remarks to those business owners whom he felt have useless products or they are wasting their time.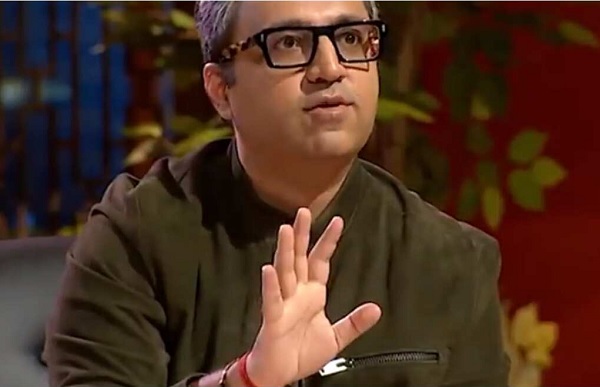 However, now the situation is a little different as Ashneer Grover has been accused of misappropriation of funds by BharatPe management and while Ashneer's wife has been sacked, he was also made to put his papers and all the titles in the company have been snatched from him.
Recently, Ashneer Grover got an opportunity to take a dig at the BharatPe management as an employee of the company Karan Sarki made a post on LinkedIn in which he requested the co-founder Shashvat Nakrani and CEO Suhail Sameer to pay their salaries of March. Karan also says that the old staff has been removed by the management without giving any reason whatsoever and their reimbursement bills also haven't been paid since December. He also states that he and others who had been with the company since its beginning are now nowhere because of the internal politics of the top brass. He goes on to allege that the staff of BharatPe is enjoying a paid trip to Goa but engraved employees like him are not even getting their salary.
Here is the post: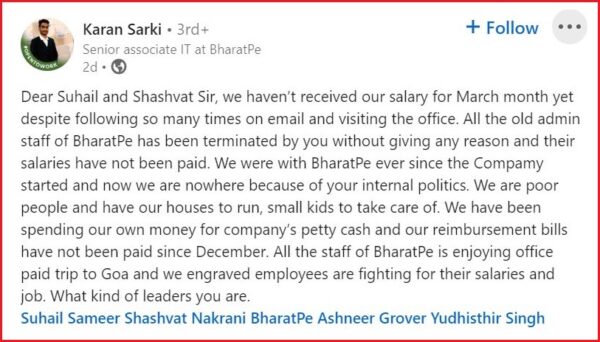 Ashneer Grover also took a jibe at the management and asked them to pay the salary of the employees before anything else:

Soon Ashneer Grover's sister also jumped into the bandwagon and called the top management a shameless bunch:

It was then that the CEO Suhail Sameer decided to respond but his style of responding was certainly inappropriate as he wrote, "Aashima behen – tere bhai ne saara Paisa Chura liya (Your brother has stolen all the money). Very little left to pay salaries".

Suhail Sameer realized that he crossed the limits and he also apologized for it:

However it was too late till then and the Indian Twitterati was already having fun at their expense. Here are some selected reactions:
#1
Is this for real ? Or a parody ? https://t.co/XgMgZzaQ7L

— Pawan Durani (@PawanDurani) April 8, 2022
#2
Oh.
My.
God! pic.twitter.com/tUaM8frIE4

— Karthik 🇮🇳 (@beastoftraal) April 7, 2022
#3
Kahan pade ho Twitter pe, next level khel LinkedIn pe chal raha hai 😁 #BharatPe
[Suhail's comment in 2nd screenshot 😬] pic.twitter.com/2YBKXO8ske

— Arti Singh (@artijourno) April 7, 2022
#4
#BharatPe management is fighting openly on social media like 12 year old kids.

And we thought our WhatsApp groups were having bad fights!!

— AnalyseAbhishek (@abhishekthakur) April 8, 2022
#5
#BharatPe feels like Big Boss of the Startup world.
Bhai kya kar rahe ho..

— Neeraj Arora (@neerajarora91) April 8, 2022
#6
When #founders become entertainers. #BharatPe #NotFake #ashneergrover #startups pic.twitter.com/qbWwhBW38g

— The Stupid Indian (@similarzz) April 7, 2022
#7
Ashneer Grover & Suhail Sameer on social media:#BharatPe #SuhailSameer #AshneerGrover #AshimaGrover pic.twitter.com/6KmHgg4c9N

— Andy (@iamandy1987) April 8, 2022
#8
Most happiest people right now #BharatPe pic.twitter.com/p5KywWnCm5

— annoying af (@Aditya32303369) April 7, 2022
#9
Bad man se panga. #Ashneer bhai aage badho, hum tumhare saath hain. #SuhailSameer #BharatPe #SharkTankIndia pic.twitter.com/AEE6fDZ1sC

— Rajender Pal | Viral & Contagious Creator (@IamRajenderPal) April 8, 2022
#10
#BreakingNews
BharatPe CEO says Grover "stole money" and now he has no money o pay salaries.

Employees to #BharatPe CEO be like:- pic.twitter.com/98gSordAUB

— Devyani Kohli (@DevyaniKohli1) April 7, 2022
#11
Ashneer & Suhail every other day#bharatpe #BharatPe pic.twitter.com/p5PhzMW334

— Rishabh shah (@Pun_Intended___) April 8, 2022
#12
#BharatPe CEO : No money left to pay salaries since Ashneer Grover stole it all

Employees rn : pic.twitter.com/P2xyNGfKin

— Tweetera🐦 (@DoctorrSays) April 7, 2022
If this was not enough, Ashneer Grover also demanded an apology from Suhail Sameer:
Ashneer Grover seeks written apology from CEO Suhail Sameer #BharatPe

Asks him to be sent on a leave of absence. pic.twitter.com/wlrcQG1cRL

— Priyanka Sahay (@priyankasahay) April 8, 2022
Let's see till when this drama will go on.
Share Your Views In Comments Below