News
Assam Guy Turns An Old Maruti Swift Into A Lamborghini By Spending Just Rs 6 Lakhs
India is full of talented people who have the capability to think out-of-the-box and come up with inventions which nobody would have even thought of. We have already told you about the person who created a fully-functional small jeep suitable to be driven by kids only and also about those who created electric bikes and super battery bikes at low cost but today we are going to tell you about a person who converted a Maruti Swift into a luxury car Lamborghini.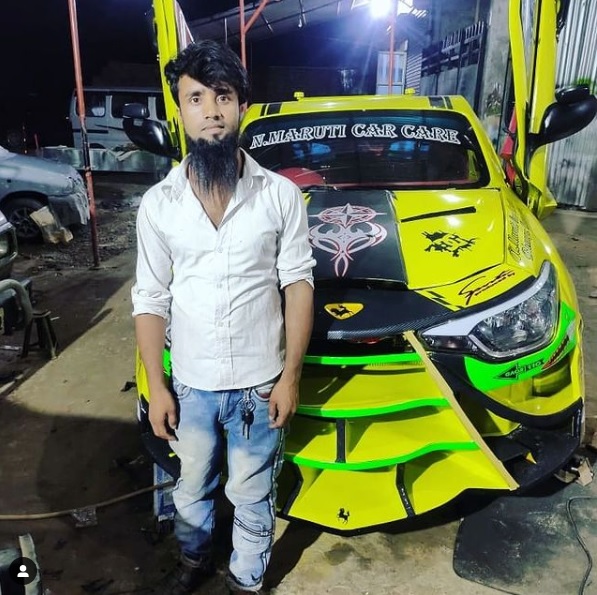 The name of the man is Nurul Haque who is a motor mechanic by profession and hails from Karimganj, Assam. Nurul is 30 yrs old and has always dreamed of owning a luxury car but as he was not able to spend the big amount for buying it, he decided to make one. He is the owner of a garage which is in Bhanga Bazaar and he thought of taking up this project during the COVID-19 lockdown as he was not having much work to do.
Nurul bought an old Swift car and started working on it; however later on, he realized that he took up a costly project as he spent a total of around Rs. 6.2 lakhs on his car. What's more surprising is the fact that he learnt how to transform an old car into a luxury one by watching videos on YouTube. The fan of "Fast and Furious" movies, Nurul may sell his modified luxury car provided the buyer is also passionate about the cars and the mechanic from Assam may take up the next project of transforming an old car into Ferrari as well.
However, his future projects will depend a lot on whether he will get the permission to legally drive this vehicle on the roads as he is not sure whether modifying a vehicle is legal or not. Nurul Haque is already a star in his city and recently he was invited by an institution for inaugurating their new vehicle. He is ready to make modified cars if he gets permission regarding this by the local administration and the government.
Great Going Nurul!!!! We wish that all his dreams come true!
Share Your Views In Comments Below