Bollywood & TV
Atif Aslam Slammed By Pakistanis For Singing Indian Song. He Had The Best Response
Atif Aslam is often targeted on social media for being Pakistani. He has been in headlines many a times; once again, he has hit the news and this time it's for singing an Indian song at New York. Well, it was a function related to Pakistan Independence Day.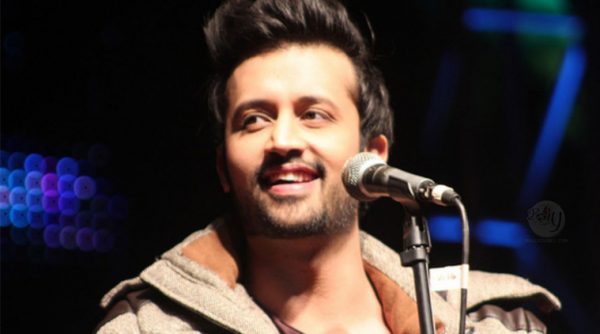 In a bid to entertain the audience, he sung his famous song "Tera Hone Laga Hoon". This one song invited a lot of hate and anger from social media users.
His patriotism was questioned by many Pakistanis. Some asked him to change religion while some said that the singer must be totally boycotted.
Here are some reactions by the fans;
Mad or what?
Lol wtf Atif Aslam sang Indian songs on Pakistani Independence Day show. Is he mad or what ? 🙄

— Sakhwa. (@sakhwa) August 7, 2018
Zero respecT!
Zero respect for Atif Aslam! 😤😤

— Sakhwa. (@sakhwa) August 7, 2018
Boycott him!
boycott Atif Aslam @itsaadee Ap Ne Dil Tor diya #boycottAtifAslam #AtifAslam#مشعل_راہ_گانے pic.twitter.com/dfgXYyGFOW

— Pakistani (@Pakistani09) August 7, 2018
Is it?
#Pakistani singer Atif Aslam refuses to wave a #Pakistani flag during Independence Day concert in New York City and insists on singing Indian songs. Apparently doesn't want to affect his business in #India, according to ARY News. Pak artists receive instructions from their hosts.

— Ahmed Quraishi – TV Team (@Office_AQPk) August 7, 2018
What's going on?
Atif Aslam refused to take Pak flag in his hand during Azadi Parade in NewYork, whats going with him.
#IndependenceDay

— Asif Afroz (@asifafroz1) August 7, 2018
Shameful!
Have heard Atif Aslam refused to hold the Pakistan flag! If true it is shameful indeed! Why wld he do such a senseless act? For commercial purposes? Disgusting! And I really liked his work too. But this act has destroyed it all.#AtifAslam #shameful

— نمرہ احمد (@Nimrah788) August 8, 2018
Boycott!
#مشعل_راہ_گانے
From day one i don't like atif aslam he is very proudy and he thinks that he is the best, no one is like him etc.
Now boycott not only #AtifAslam but also indian content.
I really feel bad to see indian content as our top trends.
This needs to be stop.

— syeda sania naqvi (@sanianaqvi_11) August 7, 2018
After receiving so much hate, Atif replied on Twitter. He had the best response;
#Nevergiveup Simply love my haters Bayshak Allah izzat denay aur rakhnay wala hai Sabz jhanda meri pehchan (cont) https://t.co/ZD7kbQA6lO

— Atif Aslam (@itsaadee) August 9, 2018
Sabz jhanda meri pehchan hai or merey fans jantay hain k mein iska ehtaram achi tarah janta hun
Mje bohat khushi aur fakhar hai k meray fans fake propaganda Ka jawab dena achi tarah Jantay hain .. I hope NAYE PAKISTAN main un sab logon kou izat dena jaan jayen gae jino ne PAKISTAN ka naam poori duniya mein roshan kia hai .. #change Hats off to #aadeez #fans kia baat hai ap sab ki – huge amount of respect for #ShafqatAmanatAli ✌
He said that "I know how to respect the flag well. Moreover, I thank the fans who know how to reply to fake propoganda. I hope people of New Pakistan start respecting those people who have made Pakistan proud all over the world."
Hope fans stop making issues of each and everything. Couldn't he sing a good Indian song just to entertain the fans?
Share Your Views In Comments Below