Bollywood & TV
Australian Open Called Anushka Sharma A Legend. Twitter Called It A Joke & Trolled Her Mercilessly
The Indian cricket team has made history by winning the Test series and ODI series on the Australian tour and it won't be incorrect to say that Indian skipper Virat Kohli led from the front and played an important role in India's historic win.
Kohli has impressed several former cricketers and some of his counterparts to such an extent that they have started calling him 'Greatest Of All Time' (GOAT) while his ardent fans call him a legend.
Bollywood actress Anushka Sharma, wife of Virat Kohli, was also in Australia when India won the ODI series and they both decided to watch an Australian Open match in which legendary Roger Federer was one of the contestants. Australian Open is the first tournament of the year in which top tennis players from all around the world participate. It was quite obvious for the couple to be treated in a special manner and they also got clicked with Roger Federer.
The official Twitter handle of Australian Open shared a photo on the micro-blogging site Twitter in which Roger Federer was standing in the middle of the Indian couple. The pic went viral for obvious reasons but the caption given by Australian Open made some fans angry.
First of all, take a look at the image: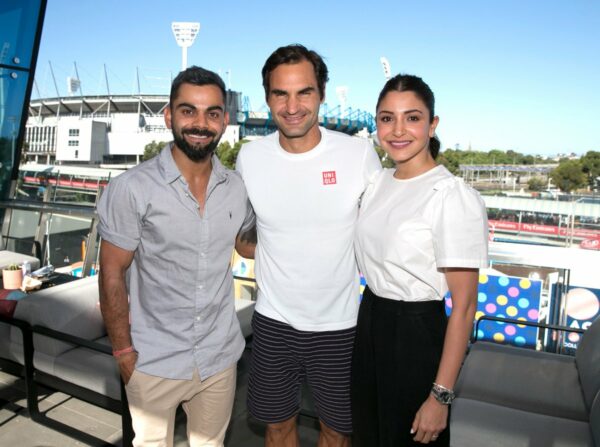 The caption of the pic read, "Three legends, one photo 🤩"
Here's the tweet:
Three legends, one photo 🤩@imVkohli x @rogerfederer x @AnushkaSharma #AusOpen pic.twitter.com/25D0rRdlZP

— #AusOpen (@AustralianOpen) January 19, 2019
Internet users were in no mood to accept that Anushka Sharma is a legend and they started expressing their opinion over it. We all know that Anushka is one of the most successful actresses of the Hindi film industry and she also has a production company but people feel that she has done nothing to be called a legend.
This is how Twitter trolled her:
#1
fixed it, since you said " Legends ".
👍 pic.twitter.com/DE5O7uaDwU

— Sunil- The cricketer (@1sInto2s) January 19, 2019
#2
Who is the third legend? You forgot to put his/her picture.

— Maya (@Sharanyashettyy) January 19, 2019
#3
If Anushka is a legend then I am prime minister of India ! 😂

— Vinayak Uttarkar 🇮🇳 (@VinayakUttarkar) January 19, 2019
#4
Ofcourse Anushka is a legend for doing movies like Harry met sejal and zero😂

— Suhas Srinivas (@srinivas_suhas) January 20, 2019
#5
Anushka Sharma a legend ?
Has she done enough in her life to be called a legend?
I don't think so, or maybe she is married to a legend in world cricket that's why the legend legacy has passed to her by default…
What do you think guys? Do comment on it. #LegendLegacy

— Nitish Saxena (@nitishh86) January 20, 2019
#6
I think third legend is taking a the picture … Right?

— Srikanth 🇮🇳 (@srikanthbjp_) January 19, 2019
#7
So next time I meet Roger and I am a legend 😀

— Girish Vasmatkar (@grv4ya) January 19, 2019
#8
Please don't insult 'The Roger Federer' by writing such captions.😡

— Richa Mohapatra (@Richa_Nicky) January 20, 2019
#9
@AustralianOpen Did Kohli tell you that his wife is a legend? Show some respect to Roger, you can't place everyone equal to the GOAT.
She is just like any other actress in indian cinema. Nothing against her and the couple but ROGER MATTERS !!!

— CINEPHILE (@rjshkumarbrwl) January 20, 2019
#10
To people who are asking third legend in the picture. It is #JohnCena and You can't see him

— Ajay Krishna L (@AjKrish17) January 19, 2019
#11
Anushka a legend? That's some hyperbole. I want what you're smoking.

— UncouthVillageYouth (@UncthVllgeYouth) January 20, 2019
#12
Legend Anushka Sharma 😍 pic.twitter.com/AZ15YuSGjn

— -CR7 PAAJI- (@Kakarla07) January 19, 2019
What is your opinion in this regard? Do you also think that it is a mistake to call Anushka Sharma a legend? Let us know your views.
Share Your Views In Comments Below