Sports
Australian Team Bus Attacked With Rock In Guwahati After They Defeated India In T20 Match
Cricket is all about winning or losing but some people don't seem to understand this at all. Yesterday Australia won 2nd T20 match as India managed to score just 118, thereby making things easier for the other side. After Aussies won by 8 wickets, they faced an attack in Guwahati. Yes, a rock was hurled at their team bus when they were returning from Barsapara stadium to their hotel in Guwahati.
Luckily the team escaped injury but whatever happened was not good at all. This incident scared the Australian team; opener Aaron Finch took to Twitter to tweet the image of the bus's broken window. Here's what he said;
Pretty scary having a rock thrown through the team bus window on the way back to the hotel!! pic.twitter.com/LBBrksaDXI

— Aaron Finch (@AaronFinch5) October 10, 2017
Here's the image if you aren't able to view the tweet;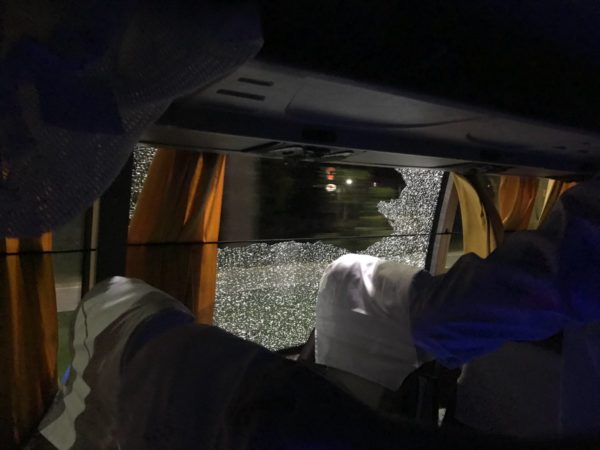 The tweet read, "Pretty scary having a rock thrown through the team bus window on the way back to the hotel!!"
The rock caused a large hole in the window but luckily, the seat next to it was unoccupied. This calls for better security measures. This was the 1st International match that was played in Guwahati in 8 years.
Here's how Twitter reacted;
Extremists!
Failed people, don't know how to protect foreigners.
Bloody extremists!

— Qamar (@qamarsayab) October 10, 2017
This is not how you treat guests!
SHOCKING.Stone Thrown At Australian Team Bus Breaks The Glass. Come On Ppl, This Is Not How You Treat Guests#INDvAUS #INDvsAUSt20 #INDvsAUS pic.twitter.com/riGhlPT6Qe

— Sir Ravindra Jadeja (@SirJadeja) October 10, 2017
Sorry from entire India!
sorry sir!!!FROM ENTIRE INDIA

— Akroor Singh Kovid (@akroor4) October 10, 2017
People should get punishment!
Did It Hurt Anyone Of U From Aussie Team Member (or) Coach !!

We Are Sorry From 🇮🇳 Side !!

But Ppl Who Did This May Get Punishment !!🇮🇳🆚🇦🇺

— Phani teja 🇮🇳 (@phani98495) October 10, 2017
Bad and stupid!
How bad and stupid these guys must be? Can't even accept defeat and especially a game in which they deserved to loose

— Shaan (@Shaan__amoes) October 10, 2017
Tch Tch!
Indians se haar bardasht kahan hoti hai, tch tch

— Federer (@MohsinDotDot) October 10, 2017
This is very wrong. If we celebrate victory, we must have the capability of accepting defeats too, right? After all, losing is a part and parcel of cricket.
Share Your Views In Comments Below