Sports
Axar & Jadeja Get Clicked With Ajaz & Ravindra In Perfect Sync & The Result Is Awesome
The Indian cricket team has given fans one more reason to cheer up as it has won the 2-match test series by 1-0 after defeating the New Zealand squad in the second test match which was played at Mumbai. After disappointing performance in the ICC T20 World Cup, the Indian side won the T20 series against the Kiwis and now it has also won the test series in which the first test match which was played at Kanpur got drawn.
While the Player of the Match award was given to the Indian batsman Mayank Agarwal, the Player of the Series award went to the Indian spinner Ravichandran Ashwin. After registering this important win, many Indian players took to their social media handles and expressed their happiness over the victory. However amidst this all, one photo is going viral in which Axar Patel, Ajaz Patel, Rachin Ravindra and Ravindra Jadeja stood in line with their backs toward the camera. What's interesting is that either the first name or the last name is shared in common by these players and this photo is bringing smiles on faces of cricket fans.
Check out the pic: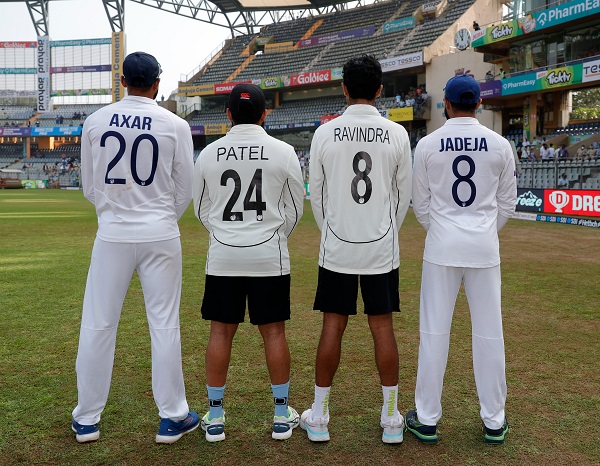 Here they are from the front: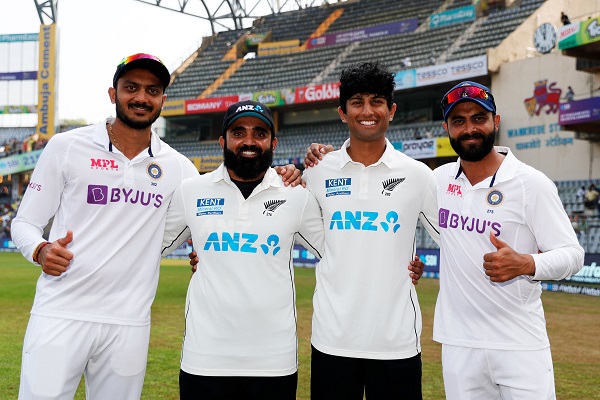 The BCCI shared the photos with the caption,
"In Sync! ☺️
How's that for a quartet! 🇮🇳 🇳🇿
#INDvNZ #TeamIndia @Paytm"
In Sync! ☺️

How's that for a quartet! 🇮🇳 🇳🇿#INDvNZ #TeamIndia @Paytm pic.twitter.com/eKqDIIlx7m

— BCCI (@BCCI) December 6, 2021
This is how Twitter reacted:
Now this picture complete the names – Axar Patel, Ajaz Patel and Rachin Ravindra, Ravindra Jadeja. pic.twitter.com/20QCSyeVEJ

— CricketMAN2 (@man4_cricket) December 6, 2021
As India dished out a dominating 372-run win over New Zealand in Mumbai to clinch the two-Test series 1-0, the BCCI on Monday posted an incredible image of Axar Patel, Ajaz Patel, Rachin Ravindra and Ravindra Jadeja standing in perfect sync. pic.twitter.com/q9HigbAweu

— Hassan (@Hassan12763410) December 6, 2021
What's the similarity between all 4 of them?

Ans: All 4 are left arm spinner & left hand batters!

Axar Patel
Ajaz Patel
Rachin Ravindra
Ravindra Jadeja#INDvNZ
📸BCCI pic.twitter.com/4vcQjyFsDm

— Nilesh G (@oye_nilesh) December 6, 2021
Ultimate sync 😉😁😎,,, Axar (Ajaz) Patel and Rachin=Ravindra=Jadeja 🔥,,, #INDvNZ
Fun fact : 4 perum Basically Indians 😎🔥,,,#INDvNZ_Test #TeamIndia #BlackCaps #Jadeja #AxarPatel #AjazPatel #Rachin #OneNimitPlzz @imjadeja @BLACKCAPS pic.twitter.com/QcZOcLWyUS

— Nithish R Yuvirosk (@OneNimitPlzz_NR) December 6, 2021
Wallahi Axar Patel & Ravindra Jadeja. Love this sight. pic.twitter.com/LMfguR9BpN

— Vivek Singh (@vvivekk_) December 6, 2021
After winning the Player of the Series award, Ravichandran Ashwin says that he thinks this is his 10th Player of the Series award and he sincerely loves playing at Wankhede Stadium, Mumbai, because every day it offers something new and he gets to challenge both the edges. Talking about the incredible performance of the Kiwi spinner Ajaz Patel who took all the 10 wickets in India's first innings, Ashwin states that it doesn't spin every day at Wankhede but he used seam in a good manner, bowled at right spots and destiny also played an important role in his performance.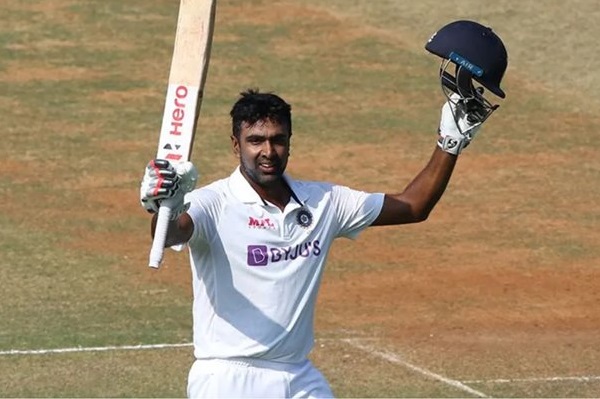 Talking about another Indian spinner Jayant Yadav who also took 4 wickets in the second innings of the New Zealand team, Ashwin says that he and Jayant share a good bond as they have trained together since 2014. Ashwin adds that he has been playing with Axar Patel since the times when they both used to play for Kings XI Punjab. At one fell swoop, he has also expressed his desire to go and win the series in South Africa.
India's South African tour will start from Dec 26 in which both the teams are going to play 3 ODIs and the same number of test matches, while four T20Is have been rescheduled for the next year.
Share Your Views In Comments Below