Videos
Baahubali Fan Tried To Recreate Iconic Scene & Climbed On Elephant's Trunk, Stunt Went Epic Wrong
Movies create a huge and deep impact on the minds of people and we have often seen individuals making an attempt to recreate popular scenes from their favourite or hit films. Well, if one tries to recreate some romantic or comedy scene with no dire consequences, there's no harm in it.
Nevertheless, imitating stunts or action scenes in the absence of a professional might land one in big trouble and that's what happened with this man who attempted an iconic scene from "Baahubali".
Remember the astonishing introduction scene in which Prabhas stands on an elephant's trunk in "Baahubali 2: The Conclusion"? A big fan of Baahubali tried to recreate this scene and as we all know that it's not an easy deal, the outcome was horrific.
A video is going viral on web and social media sites, featuring a young guy of 25 named Jinu John from Thodupuzha. He was on a holiday with his friends and they stumbled upon an elephant. In the video, Jinu John can be seen feeding the elephant bananas and then he makes an attempt of climbing on its trunk.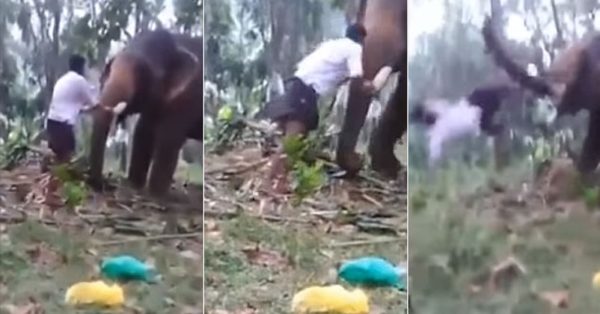 As per reports, the man did it under the influence of alcohol while one of his friends warned him continuously. The stunt didn't go as per the expectations; the elephant got mad at Jinu John and threw him in the air as he tried to climb on it, trying to use its tusks just as it was done in the flick.
Watch The Video:
For More Videos, Subscribe Us Now
Click here to watch this video directly on YouTube
The incident took place in Karimannoor and Jinu is getting treated in a hospital.
We request people to be careful and not to imitate such dangerous scenes which might have even more harmful outcome.
Share Your Views In Comments Below