Brands
Baba Ramdev Launches Patanjali Swadeshi Sim Cards. Twitter Can't Stop Trolling
Patanjali has become highly popular in the market of consumer goods. However, it is all set to capture the telecom industry as well. Yes, it has tied up with BSNL and has launched Swadeshi Samriddhi SIM cards.
These SIM cards would have unlimited calling plans & would have 2GB data as well. As of now, only Patanjali employees can avail the benefits of these cards. They are yet to announce the date on which even normal public would get the cards. It is expected that the cards would be launched in the market within the coming months.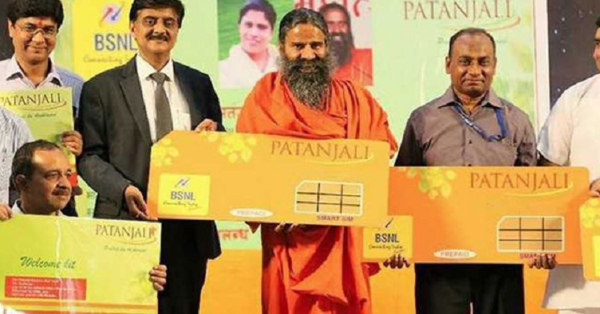 It is said that users of these SIM cards would be eligible for 10% discount on Patanjali products as well. To be able to use the SIM card, customers have to do a small Rs 144 recharge. After it is done, they will get;
1) 2 GB data
2) Unlimited calls
3) 100 SMSes
The SIM card comes with a validity of 1 month. One can get the SIM and activate it by submitting ID proof. This is indeed a good development, but meanwhile trollers are trolling Baba Ramdev over these newly launched cards.
Here are some trolls that you just can't avoid. Have a look;
Haha!
Baba Ramdev's Patanjali is launching SIM cards. Pehle hair tel ko competition diya aur abhi air tel ko.#BakwasPuns

— Bade Chote (@badechote) May 29, 2018
So true!
If you send "Hey bitch wass up!" through patanjali sim , it will be delivered as "अरे प्रिये कैसे हो?"

— डी.के. (@itsdhruvism) May 29, 2018
Anulom vilom!
अब बाबा लोंच करगे सीम कार्ड- इसमें इनकमिंग को कहेगे अनुलोम और आउटगोइंग को कहेगे विलोम!
का आसन हे!!😂😂#patanjalisim #SwadeshiSamridhhiSimhttps://t.co/FmD6Dc2lRY

— Darshan Rana (@yours_darsh) May 29, 2018
LOL!
Meanwhile Sudhir Chaudhary-
"Patanjali SIM card is totally made up of herbal elements which rules out any possibility of radiation while using it. It can also be located 250 mts. below the ground even in switched off condition and can be traced just by doing Bhramari Aasan".

— Manish Manbansha (@M_Manubansha) May 29, 2018
The ad be like!
Ad of #PatanjaliSim be like:-
It has quality of honey,which purifies your voice as #SweetSelfie to ur face.
It has high internet speed because it has virtue of neem leaf which protects it from slow down.@yogrishiramdev @Ach_Balkrishna @BSNLCorporate pic.twitter.com/0O2iaQruzf

— Ravi Bhardwaj (@ravibhardwaj96) May 28, 2018
He's taking them too seriously!
He's taking the memes made on him too seriously, hold on… #PatanjaliBeer is on the way 😂#Patanjali #PatanjaliSIM pic.twitter.com/OU44bQH4Cg

— shubham geete (@ShubhamSGeete) May 28, 2018
Coming soon
Coming Soon: #Patanjali Phone, Tablet, Laptop.

Still long wait 4 #Patanjali condom, i-Pill, Viagra https://t.co/nMxRKlPfmk

— MachineLearning (@ameershahul) May 28, 2018
Really?
Few days of suffering and than baba ramdev is launching patanjali bikes that will run on gaumutra, liberals will then start caring about gaumata.#AbKiBaar100Paar

— Narendra Godi (@TrollModii) May 22, 2018
This is what happens!
when u insert patanjali sim card in ur phone pic.twitter.com/zcoNhOtyz4

— Arun LoL (@dhaikilokatweet) May 29, 2018
Direct report!
If you try and send nudes on Patanjali sim, it directly reports to your parents.

— Rohit Shah (@rohshah07) May 29, 2018
Well, we are really waiting to buy these SIM cards. How would the experience be?
Share Your Views In Comments Below