News
Bahu Puts Ad To Seek Boyfriend For Saas Who Needs Constant Attention, Offers Rs 75K For 2 Days
There have been times when we come across incidents in which the children have observed that their father or mother after the demise of their partner are left alone and they need someone for companionship so the children start searching for their new partner. However, now a daughter-in-law has posted an advertisement for finding a wedding date for her mother-in-law but only for 2 days and the selected person will also get $1000 (Rs. 74,000 approximately).
The advertisement was posted under the title, "Wedding Date Wanted For Mother-in-Law ($1,000) (Hudson Valley)". The daughter-in-law needed a wedding date for her mother-in-law from Friday evening till Saturday evening for a wedding which is going to take place in August in Hudson Valley. She further writes that her mother-in-law will wear white and will try to escalate some dramas and the job of the wedding date will be to distract and de-escalate.
The daughter-in-law wants a person who should be good in conversation, should have experience with narcissists and should be able to give her mother-in-law complete attention. As the mother-in-law is 51 yrs of age, the daughter-in-law wants the wedding date in the age bracket of (40-60 years), he should be a good dancer and he needs to act as if he is a guest who wants to sit or dance with the old lady.
Here is the advertisement which has been deleted now: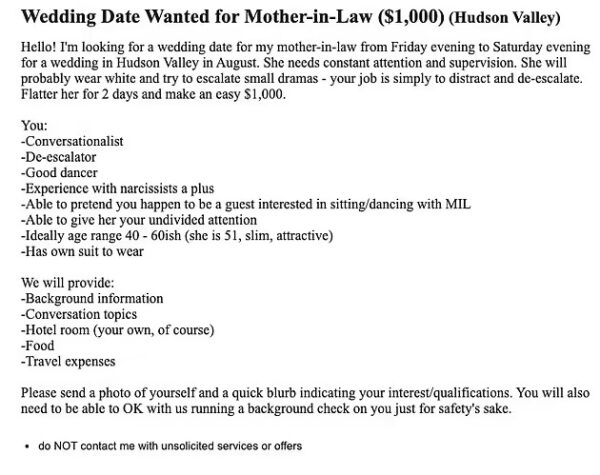 The ad also talks about the background check of the wedding date and he will also be given $1000 along with background information of mother-in-law, the topics on which he can converse and the expenses of food, travel and accommodation.
This is something very rare. What do you say?
Share Your Views In Comments Below