News
Bajrang Dal Caught A Couple Celebrating V-Day & Forcibly Got Them Married, Recorded Whole Act
The day of love, i.e., Valentine's Day was celebrated in the whole world yesterday and in India also, couples celebrated the spirit of love by enjoying it to the fullest with their partners. However, not everyone had a great day as a couple in Hyderabad was forced to get married by the Bajrang Dal activists.
Bajrang Dal has always been against celebration of the Valentine's Day as they claim that it is against the Indian culture and rather an attempt to westernize the Indians. Nevertheless, still the big question is that who gives them the right to decide what occasion has to be celebrated and what not in a democratic country? Who are they to take away the freedom of people which is given to them by the constitution of India?
It's an open secret that Bajrang Dal creates havoc on Valentine's Day and if still the local police is not able to control them, it is a serious issue of law and order. The State Convener of Bajrang Dal, Telangana, has already told a news portal that he and his activists will take bike rallies, burn effigies, catch couples who are celebrating Valentine's Day and call their parents to let them know what their kids are up to.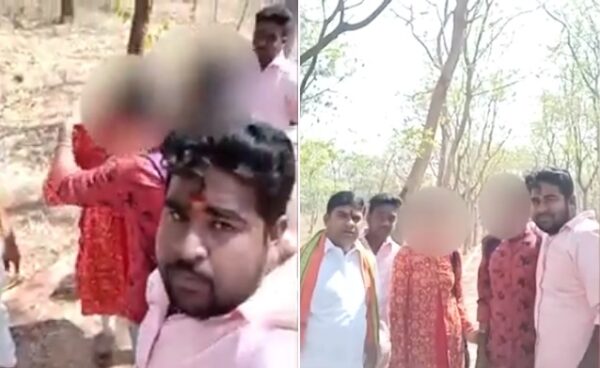 They did what they said as they caught a couple in Hyderabad's Kandlakoya Oxygen Park, forced the boy to tie mangalsutra around the girl's neck and declared them as married. If this was not enough, they recorded the whole act and shared on social media so that other couples don't dare to celebrate the day of love.
Watch The Video:
For More Videos, Subscribe Us Now
Click here to watch this video directly on YouTube
As per the reports, activists were taken into the preventive custody by the police but no complaint was lodged as the couple didn't object to get married.
What is your take in this regard? Do let us know your views.
Share Your Views In Comments Below