Fashion
Balenciaga Comes Up With Dirty & Worn-Out Sneakers At Whopping Rs 48K, Twitter Goes WTF
Footwear is of great importance as it not only helps in protecting our foot but also adds to our personality and makes us look good and classy. Usually, people like to buy new footwear/shoes when the existing ones get worn-out but what will be your reaction if we tell you that there is a fashion brand selling new shoes which are so worn-out that the shoes which you might have disposed were even in a better condition. What makes it funnier is the fact that these dirty and worn-out shoes are getting sold at an unbelievable huge price.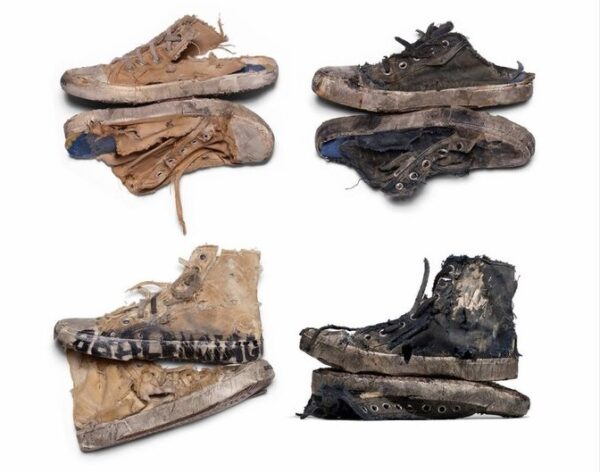 This is not the first time that fashion brands have surprised us with their weird products, if you remember we have come across many strange products earlier as well but this time, the fashion brand Balenciaga has left us in a state of shock.
This is the same luxury fashion house which earlier came up with shopping bags (priced at Rs. 1.5 lakh) which were pretty similar to pishwi (a bag usually available in Maharashtrian households and can be stitched or bought for just Rs. 100-200). Yes, we are talking about Balenciaga and this time they have come up with dirty and worn-out shoes whose condition is so pathetic that majority of us won't even wear them even if they are given for free.
The new Balenciaga Paris Sneaker pic.twitter.com/rKsNJ3RZMu

— Fashion MOEments (@FashionMOEments) May 9, 2022
These shoes have been named as the Paris Sneakers by the fashion brand and you can pre-order them by paying $625 (Rs 48,243) and $495 (Rs 38,208).
Soon Twitterati lost the cool and this is how people expressed themselves:
#1
Balenciaga is releasing a new pair of shoes, and I have to assume they are just trolling people at this point. pic.twitter.com/IsJaBxCvy6

— Joe Pompliano (@JoePompliano) May 9, 2022
#2
If you bought the $1,850 Balenciaga sneaker that looks like it was run over by a lawnmower please seek help but also please reach out to me because I would like to understand where your mind was at in that moment.

— brendandunne (@brendandunne) May 10, 2022
#3
No one:

The new Balenciaga sneakers: pic.twitter.com/AvHqJPZjc3

— Saint Hoax (@SaintHoax) May 10, 2022
#4
Alright, this is the worst sneaker I've seen today… Balenciaga has to be trollin pic.twitter.com/nmMTDePmB6

— Seth Fowler (@RealSethFowler) May 9, 2022
#5
balenciaga, u will never see heaven. pic.twitter.com/Q3PjQ4smox

— michelle (@mochshell) May 10, 2022
#6
@diljitdosanjh would you like to go with this collection? https://t.co/5vZyk68D7s

— Harpreet (@Harpree56815689) May 10, 2022
#7
Looks like what students wear to get into clubs https://t.co/xy7xbzj6Mf

— CH 🇵🇸 (@ch_ginge) May 10, 2022
#8
These are the brand new balenciaga Paris sneakers that are being sold for $1850 , mad people have been ahead of trend for years😂 pic.twitter.com/0SlhtYLQ11

— jeff (@jefff256) May 10, 2022
#9
Rich people love to look poor 😢 https://t.co/LFH0EHK0YK

— April Viernes Bosque (@Tweetoti) May 10, 2022
#10
Selling my brand new Balenciaga shoes, never been worn pic.twitter.com/edZ7MXe8ze

— Clutch's Twin Brother (@CrutchTheBear) May 10, 2022
What do you think about Paris Sneakers? Leave aside buying, will you even wish to try them?