Entertainment
Bangladeshi Bowler Did Naagin Dance After Taking A Wicket, Got Hilariously Trolled After India Won
There is one more thing special about the Bangladeshi cricket team other than their fighting spirit and that is their naagin dance. They love to do it irrespective of the fact that it has made them an object of mockery and hate too. However, people were missing it in the Asia Cup until they got a chance to see it in the finals in which Bangladesh faced its neighbour India.
The Bangladeshi bowler Nazmul Islam celebrated with naagin dance after dismissing Indian opener Shikhar Dhawan who was in a superb form in the tournament.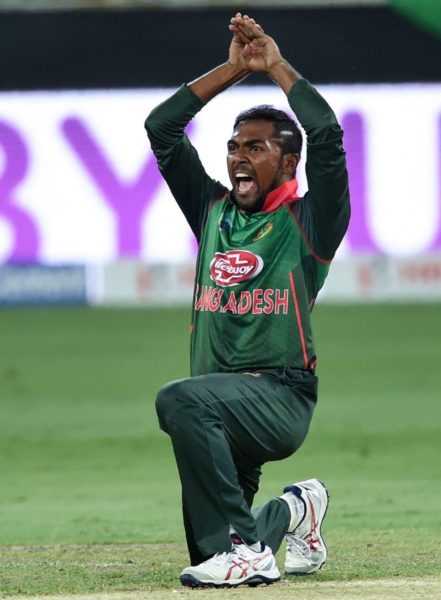 Here's the video of Nazmul Islam's naagin dance:
— Kabali of Cricket (@KabaliOf) September 28, 2018
Click here to watch this video directly on Twitter
However, Bangladeshis didn't get an opportunity to celebrate it after the match got over as they were defeated by the Indian side by 3 wickets.
This is how Twitter trolled Bangladeshis for naagin dance after India won the match:
#1
#INDvBAN Naagin dance is temporary. This is permanent. 🤣🤣 pic.twitter.com/q2oUHeHJRk

— Siddharam Allagi (@AllagiSid) September 28, 2018
#2
These bangladesh minnows will never change they just took dhawan's wicket and celebrating with nagin dance like they won the match #INDvBAN

— pinky (@Duchess_Of_Swag) September 28, 2018
#3
That Nagin dance celebration shows the level of immaturity in Bangladesh cricketers!!! #INDvBAN #AsiaCup

— North Stand-Wankhede (@NorthStandGang) September 28, 2018
#4
Missed the nagin dance because snakes were hunted by milkman jadhav pic.twitter.com/aU5R64BtfC

— Aman singh (@Amansin86429289) September 28, 2018
#5
Why Nagin dance ? when you can watch crying dance #INDvBAN pic.twitter.com/cXR6oBEjL8

— Rayeen (@sarcasticray) September 28, 2018
#6
#Congratulations to the Indian team for winning Asia Cup 7 times
And #Bangaladhi_Nagin Dance for all of you😂😂🤣🤣😁😁 pic.twitter.com/i7BDBsPT5c

— Asma Parveen (@Asmaparveen77) September 28, 2018
#7
BAN started naagin dance quite early …. Without realising that India will crush them pretty soon #INDvBAN pic.twitter.com/T8UQwcr4dh

— Firoz Khan (@Firoz_LaVi) September 28, 2018
#8
Bangladesh you really played well and gave tough time to Team India in the finals. We are snake charmers, so just Stop that fucking Nagin Dance.

PEACE ✌ #INDvBAN#AsiaCupFinal

— PhD in Bakchodi (@Atheist_Krishna) September 28, 2018
#9
Limit of Bangladesh starts with Naagin dance and ends with Sadness. #INDvBAN

— निशाचर (@nishacharr) September 28, 2018
#10
Never celebrate before you win and that too with a nagin dance😂😂 #ASIACUP #ChampionINDIA pic.twitter.com/PaarA6Mw6Z

— VISHAL ANAND (@VISHALA46454684) September 29, 2018
There was no doubt that Bangladeshis matched up almost in all the aspects with the Indian side and this match could have gone either way. Earlier batting first, Bangladesh was off to a good start with Liton Das scoring a century and adding a 120-run first wicket partnership with Mehidy Hasan Miraz. At that moment, it seemed as if the Bangladeshi team would post a huge total but as the openers departed, the middle order crumbled and just 102 runs were scored by the remaining batsmen. The whole team was out in 48.3 overs.
The Bangladeshi bowlers also troubled the Indian batsmen a lot and the meager target of 223 that seemed to be pretty ordinary score for strong Indian batting lineup was achieved on the last ball of Indian innings.
Indian wicket-keeper Mahendra Singh Dhoni also achieved a personal milestone in this match. He became the first Asian wicket-keeper to cross the mark of 800 dismissals. Dhoni is on third spot with Mark Boucher (998) and Adam Gilchrist (905) on first and second spots, respectively.
Undoubtedly, the Indian team won the Asia Cup but we have to admit that Bangladeshis also played like champions.
Share Your Views In Comments Below