Entertainment
Bangladeshi Fans Are Saying India Won Match By Cheating And Liton Das Was Wrongly Given Out
Yesterday was the day of celebration for Indian fans as India won the Asia Cup by defeating Bangladesh by 3 wickets. Despite the fact that India won the finals, the Bangladeshi team needs to be praised for the efforts that they made for giving tough competition to the Indian team. The Bangladeshi bowlers did a great job in defending a small total of 222 and they didn't let the Indian team win the match till the last ball of the innings.
Bangladesh had a good start as Liton Das scored a century and also added 120 runs as first wicket partnership with Mehidy Hasan Miraz. However, the middle order of the Bangladeshi team was not able to do much and the whole team got out at 222 runs. Liton Das' dismissal was a huge setback for team Bangladesh and soon after he got out, Bangladeshi fans started accusing BCCI of cheating in the match.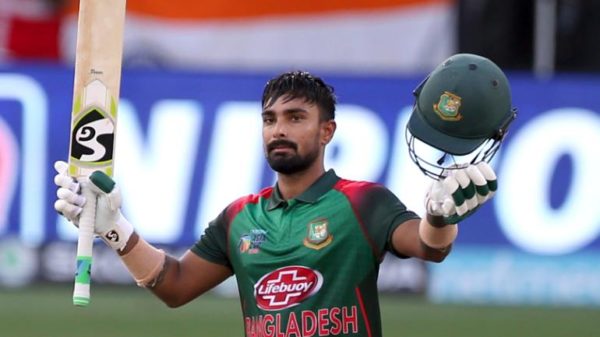 When Liton was batting at the score of 121, while trying to play Kuldeep's delivery, Liton's foot went out the crease and Dhoni removed the bails with a lightning speed. The appeal was referred to the Third Umpire as it was a close call. The decision was tough one as Liton's foot was on the crease while the bails were removed but the Third Umpire gave the decision as out. He was given out because as per the rules, batsman's bat or any body part should be behind the line of crease while stumping.
Here's a video in this connection:
Hello umpire, HOW WAS IT OUT? I know the reason. The reason is this is bangladesh Cricket Team. Ok. This is not gentlemen's game.#BANvsIND #LitonDas pic.twitter.com/YBhA7gX4XR

— Fakhrul Miazi (@FakhrulMiazi) September 28, 2018
Click here to watch this video directly on Twitter
The decision didn't go well with the Bangladeshi fans and they called it a case of cheating. They started expressing their anger on Twitter and went to the extent of saying that ICC is Indian Cricket Council and not International Cricket Council while some trollers posted that ICC = BCCI.
Indian cricket fans did try to educate Bangladeshi fans by telling them about the Law-39 as per which Liton Das was clearly out.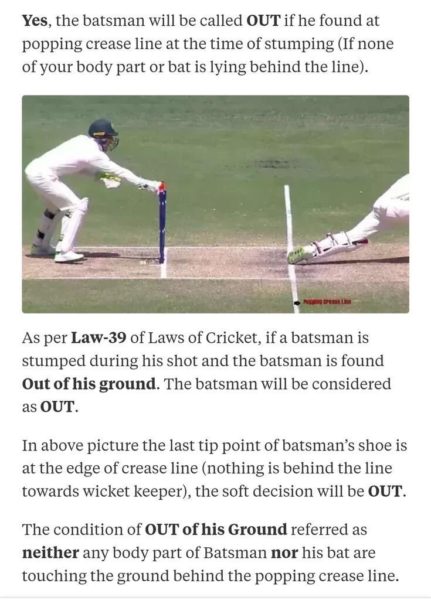 Bangladeshis should read this law before slamming Indians, ICC & BCCI pic.twitter.com/B844Bp0AyQ

— Shivam Aks (@AksShivam) September 29, 2018
However, Bangladeshi fans were in no mood to listen and this is how they reacted:
#1
ICC = BCCI ☑️

We can see clearly from this angle Liton Das, the man who was playing after scoring centuary his foot was behind the line but the umpire gave him out cauze he knows if he don't gave him out this match may be his last match as umpiring. #INDvBAN #AsiaCup2018Final

— Tanib Imtiaz (@tanibimtiaz) September 28, 2018
#2
Well done Rod Tucker , Cricket doesn't ruled by ICC its ruled by BCCI. India and their so called brought umpire striking once again. Only extraordinary bowling n fielding can save Bangladesh#INDvBAN #AsiaCup2018Final pic.twitter.com/oKAm0t16ez

— Tanib Imtiaz (@tanibimtiaz) September 28, 2018
#3
"MATURE" is a big word for these games. pic.twitter.com/YCoYoNthKd

— Sagor Miah🇧🇩 (@sagormiahs) September 28, 2018
#4
@RJohri @BCCI thief icc i mean indian cricket council

— BaBu (@BuBu14124575) September 29, 2018
#5
What's going on with icc and bcci pic.twitter.com/NyJK69D4y1

— Naimat Ali Khan (@naimatpti) September 29, 2018
#6
india did not win play
icc help india win pic.twitter.com/mzjbaOhQy6

— Mamun Al Islam (@MamunAlIslam3) September 29, 2018
#7
I am drawing attention to Bangladesh BCB. It is a fate that you take a system. It is not a system or it will be very bad in the future because India's brokerage does not do it again. The ICC Board of Control for Cricket in India (BCCI) will not be a part of the ICC Cricket Board pic.twitter.com/IjVV9PwKsO

— MD BorhaN (@MDBorha12891010) September 29, 2018
#8
I pissed the Indian broker @ICC @BCCI @msdhoni #AsiaCupFinal @TheAsiaCup2018 @Rodtucker
. I do not think you can run an organization with brokers like you. I have a question on whether there was an illegitimate child, how many people gave birth to your cousins. pic.twitter.com/1ibm7ZZB1J

— Anwar Hossain (@Jany1434) September 29, 2018
#9
again it's come to light that's ICC=Indian Cricket Council@ICC @BCBtigers @BCCI @Asiacup18 @ESPNcricinfo @StarSportsIndia pic.twitter.com/ZpSf5W7gRx

— SOROWAR RAHAMAN (@RahamanSorowar) September 28, 2018
#10
It's unacceptable umpiring against @BCBtigers. Shame on @ICC & @BCCI pic.twitter.com/XTDQkpn32o

— Mainu Maruf (@MainuMaruf) September 29, 2018
#11
@ICC Shame on you ICC.
Are you representing Hegemony of BCCI in cricket??
That was surely a Not out!!! pic.twitter.com/SbiUCULNXR

— utkarsh vatsyayan (@utkarsh333333) September 29, 2018
#12
Rip #ICC
Rip #BCCI
Rip #RodTucker #AsiaCupFinal #INDvsBAN pic.twitter.com/Sg0zDppox0

— Wadud Tanvir (@wadud_tanvir) September 29, 2018
#13
Today Bangladesh hasn't lost, Cricket has lost so Remember this day MR. ICC/ BCCI pic.twitter.com/hvBBJDQvWN

— Md. Selimuddin( Manik) (@MdSelim74052287) September 28, 2018
#14
India can't beat Uganda cricket team without umpire help #Icc = #Bcci#Cricket #INDvBAN pic.twitter.com/W6WbddUgTV

— MahMood (@_Mahmoodalikhan) September 28, 2018
We leave it up to you to decide whether Liton Das was out or not; however, we still feel that accusing BCCI and ICC of cheating is a bit too much and Bangladeshis should accept their defeat with respect.
Share Your Views In Comments Below