Sports
Barmy Army Got Trolled For Tweet On 68-Yr Anderson Taking Jr. Kohli's Wicket On First Ball In 2050
The second test match of the India-England 5-match test series will be played at Lord's starting Aug 12 and hopefully rain won't be affecting the game in the remaining series as the first test match which was played at Trent Bridge and ended in a draw due to the rain.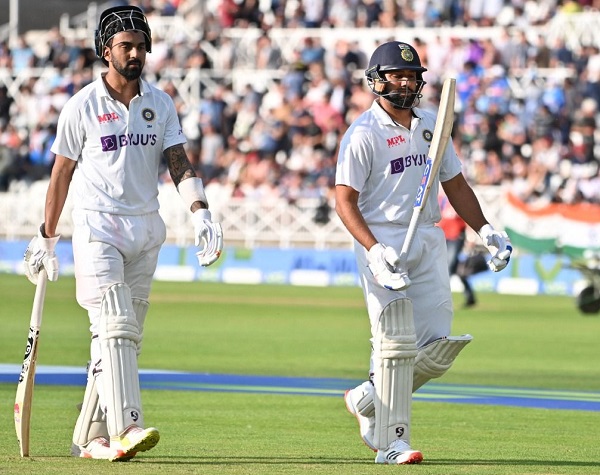 This series is not just a contest between the two teams but it is also a contest between the Indian skipper Virat Kohli and England pacer James Anderson who is still going very strong despite reaching the age of 39 years.
They both are quite competitive cricketers and while James Anderson troubled Virat Kohli a lot in 2014 as he dismissed the latter four times in five test matches, in 2018 when India visited England, the tables turned upside down as Virat Kohli made big scores in that series and James Anderson was not able to get him out even once.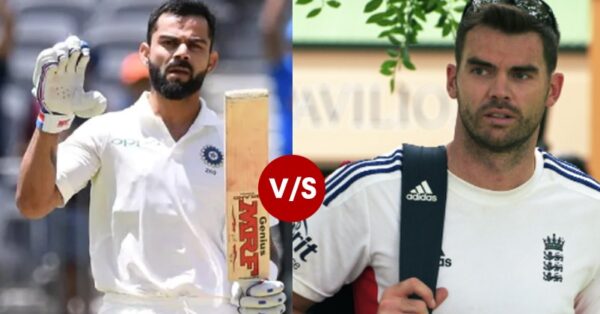 However in the first test match of the series which was played at Trent Bridge, James Anderson won the contest against Virat Kohli as the English pacer sent the Indian skipper back to pavilion by getting him out for a golden duck.
England's Barmy Army, the group which actively supports the England cricket team whether they play in England or overseas, took this as an opportunity to take a jibe at Virat Kohli.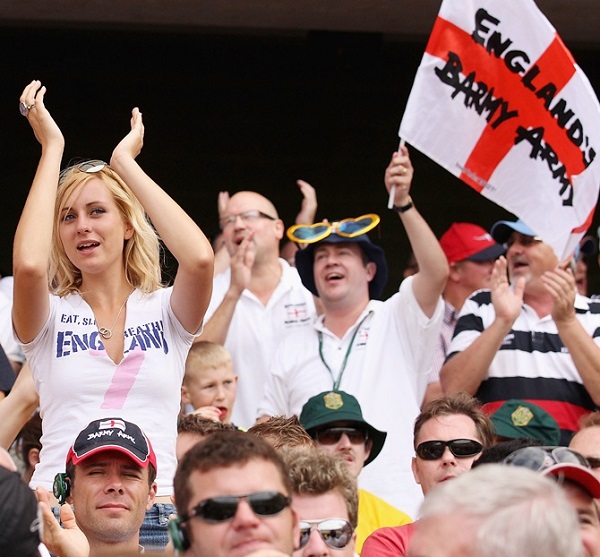 Barmy Army made a tweet in which they posted a photo of 68 years old James Anderson, stating that he would be playing in that age as well and in the year 2050, he will dismiss Virat Kohli's son on the first ball.
Barmy Army's tweet read, "The year is 2050 and a 68 year-old Jimmy Anderson has taken his 1,500th Test Wicket snicking off Virat Kohli Jr first ball."
Take a look at the pic tweeted by Barmy Army: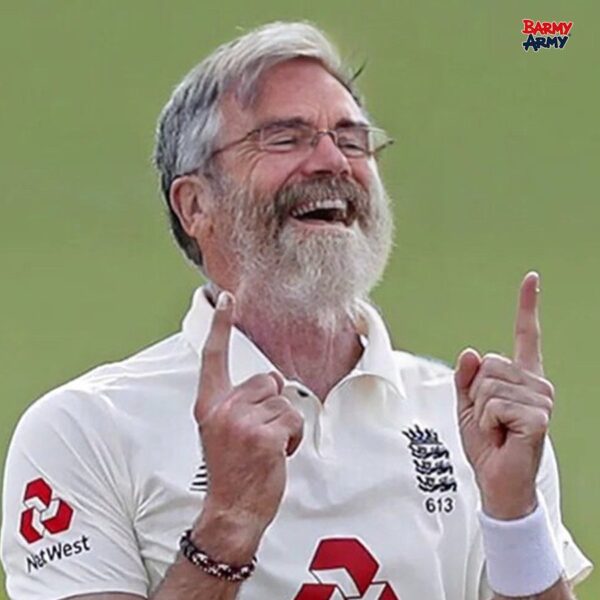 Here is the tweet:
The year is 2050 and a 68 year-old Jimmy Anderson has taken his 1,500th Test Wicket snicking off Virat Kohli Jr first ball. pic.twitter.com/JwKQhataCY

— England's Barmy Army (@TheBarmyArmy) August 9, 2021
The Indian cricket fans were quick to respond and they trolled Barmy Army in a perfect manner for trying to roast Virat. Here are some of the selected reactions:
#1
Clouderson only gets wickets in cloudy conditions 🤣

— Aqeel Mughal (@aqeelkhan50000) August 9, 2021
#2
This year is 2050 and a 18 year old pant jr has hit 3 consecutive sixes to 61 year old Jimmi Clouderson on reverse sweep…India is 4-0 in this tour but rain might save Eng from from cleen sweep in 6 consecutive tour

— Muhbola Boyfriend (@funnyDrugDler) August 9, 2021
#3
The 61 year old Virat Kohli has made his 200th century.This is his 50th century against England. It is raining runs at the Lord's.

— Vanshikaaaaaa (@18_vanshika) August 9, 2021
#4
Virat kohli jr will smash James Anderson jr's ball out of the stadium 🖕

— Alok 🏏 (@CricCrazyAlok) August 9, 2021
#5
Mean while anderson Jr will be praying 4 clouds

— Gos (@Gos89507324) August 9, 2021
#6
This tweet suggests how great batsman virat kohli lives in minds of his rivals.And virat kohli wicket has biggest price tagged with it
… That's how kohli becomes greatest batsman of this generation because greatest bowler Anderson feels kohli wicket is most expensive for him

— np 🐯 (@npnp1989) August 9, 2021
#7
The year is 2050 and a 68 year-old Jimmy Anderson still doesn't have a fifer in India 🤣

— Dexter↗️ (@MunnaKaTunna) August 9, 2021
#8
In the same match, a 53 yr old Rishabh Pant reverse swept Anderson for a four to bring up another Test century #ENGvsIND

— Indian Cricket Fan (@Indiancricket90) August 9, 2021
#9
In the same match, @RishabhPant17 little son will hit @jimmy9 a reverse ◀️ six 🕡 like this. Start crying now 😂😂😂 pic.twitter.com/wPQtUOcyH2

— Harish Prabhu (@harish_jona) August 9, 2021
#10
An yet again England team was saved my rains. Holly Molly

🤪🤪🤪#IndvsEng #ENGvsIND @cricbuzz

— Ankit Dhasmana (@DhasmanaAshu) August 9, 2021
#11
— 𝑺𝒂𝒏 (@SparklingSan_) August 9, 2021
#12
Plz sir think about English weather conditions..If it is raining conditions Continue like this , then you will not have international Machas in 2050 in England.
And be happy watching your county cricket…

— Hi10 (@hiten888) August 10, 2021
#13
Jaa na bey Virat Still avg 45+ Avg against him And he owned him 2018 and Still 9 innings left in 2021 forgot this ??? pic.twitter.com/2ToHHrOjXb

— 𝓱𝓪𝓻𝓼𝓱𝓲𝓷𝓲 (@harshiniii_) August 9, 2021
#14
68 year old Jimmy is still looking for his first ICC trophy. What a champion! 👏

— Ankush Pandit (@AnkushPandit7) August 9, 2021
#15
Cook has average of 45 in test and he is Legend in England
Anderson has 621 test wickets in 163 matches while Kumble just take 132 matches to get 619 wickets
And this Cook fans are trolling King Kohli who has 50+ Average in all Format🤣🤣

— P R A B H A T (@iPrabhatRanjan) August 9, 2021
There is no denying the fact that James Anderson is playing very well at an age when most of the pacers choose to take retirement and recently he has also become the third highest wicket-taker in the test cricket by crossing the 619 mark of the Indian spinner Anil Kumble but expecting him to play till 2050 is just like seeing a dream which will never come true. Agree?
What is your take on the tweet made by England's Barmy Army?
Share Your Views In Comments Below