Sports
BCCI Calls MS Dhoni Indian Captain On Its Official Site. Gets Badly Trolled By People
Virat Kohli is trying to give his best as the captain of Indian Cricket team but BCCI has still not got over MS Dhoni. It has been 2 years since Dhoni left captaincy but BCCI didn't update its website with the latest info.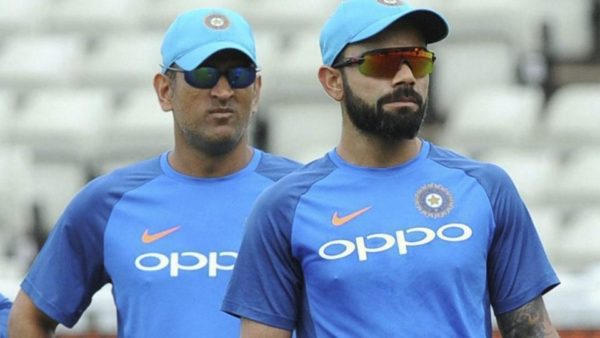 Till a couple of days back, the website of BCCI was showing MS Dhoni as the captain of Indian team and that really surprised followers.
Many of the BCCI followers took to Twitter and brought the goof up in the notice of BCCI.
Some of them trolled BCCI for a silly error like this while others praised MS Dhoni calling him the eternal boss. Have a look at how people reacted-
#1
He left Captaincy 2 years ago & still BCCI thinks he is the Captain of Team India
.
This is #BCCI's official App 👇

All r Temporary captain but..
Captain Cool is Permanent captain of Team 🇮🇳#MSDhoni pic.twitter.com/wArwHs0V8z

— Rinki Singh Dhoni (@RinkiMsd7) July 19, 2018
#2
@BCCI dear bcci, please remember current captain of indian cricket team is king virat kohli not ms dhoni so please repair your mistake. pic.twitter.com/67U59wKpUJ

— Pravin Badgujar (@PravinBadguja16) July 19, 2018
#3
Well BCCI 😂😂😂 now dont tell me MS Dhoni forced them to do so or his fans are doing it 🙊 pic.twitter.com/XticFc4isp

— MS Dhoni Fanclub🏏 (@msdiansworld) July 19, 2018
#4
It feels like BCCI wants its previous captain(@msdhoni) to take charge again or they might have forgotten to update their website. However, as fan of MSD we appreciate BCCI for remembering MSD as a captain(Masterofstrategy)#MSDhoni #ViratKohli #BCCI #Indiancricketteam #Captain pic.twitter.com/UbcNm4F8Zf

— Chandra Mouli Tummala (@mouli127) July 19, 2018
#5
Dhoni has got over his captaincy but @BCCI hasn't!!! Maybe @imVkohli still is u-19 captain pic.twitter.com/btTnGn8qYI

— Abhilash Mahajan (@MahajanAbhilash) July 21, 2018
#6
Somethings remains Forever,
Just like Our Captain Cool!😉🇮🇳
Credits : BCCI 😎 pic.twitter.com/hrzMCYdgnz

— MS Dhoni Fans #Dhoni (@msdfansofficial) July 19, 2018
The mistake was then noted by BCCI and changes were made. Have a look-
All is well that ends well. Isn't it?
Share Your Views In Comments Below