Sports
BCCI Chose Rishabh Pant & Not Dinesh Karthik For ODI Against Australia, Fans Call It Dirty Politics
Rishabh Pant is clearly living the dream since he has been picked by the BCCI for both the ODI and T20 home series against Australia. On other hand, Dinesh Karthik has been denied such an opportunity.
Dinesh Karthik, who fans say, has proved himself over and over again and in the past one year he has achieved enough to make him qualify for the ODI series.
However, Karthik was selected only for the shorter format, the T20 series. His performance in the last match against New Zealand may have something to do with it.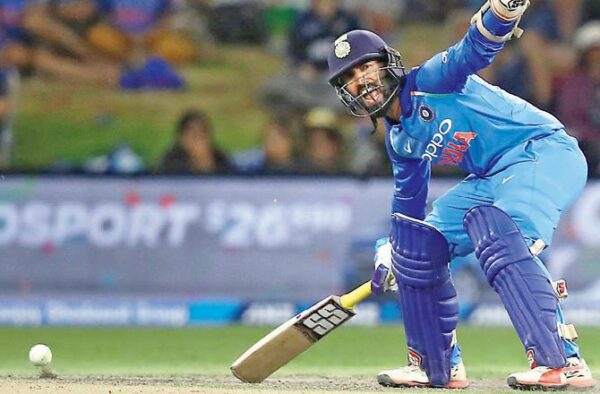 In the crucial deciding match against New Zealand, Karthik refused to take a single against the Black Caps and a lot of people felt that this decision may have contributed to India's loss.
However, this has still resulted in a lot of hue and cry on Twitter with a lot of fans saying that the decision has been unjust and unfair.
In fact, many are saying that dirty politics may have had a hand in it. A lot of people are also questioning the decision to bring back KL Rahul to the squad and they're asking why he deserves this more than Karthik.
Check out what they have to say:
#1
Now that Rishabh Pant has been picked, and needs game time to be assessed for a World Cup spot, I wonder whose place he will get. Jadhav? Or Rayudu? Irrespective of that, I hope this is not a final decision on Dinesh Karthik because that will be very hard on him

— Harsha Bhogle (@bhogleharsha) February 15, 2019
#2
Really surprised to see Dinesh Karthik dropped for the Australia series!

He's been pretty good in recent times. The knock v Australia in Adelaide where he really let Dhoni do his thing in the run chase was superb.#INDvAUS #INDvsAUS

— CricBlog (@cric_blog) February 15, 2019
#3
@DineshKarthik sir…I m extremely disappointed for u..u have extremely bad luck with u along with extremely gifted batting..I hope & pray like a #GullyBoy u also have #ApnaTimeAyeega moment…@BCCI couldn't understand this call

— Sunny Nandi (@SunnyNandi5) February 15, 2019
#4
@BCCI your politics and partiality is so bare for everyone to see. Presenting Pant with an opportunity to play on Indian pitches, is a clear strategy to bury and eliminate DineshKarthik from the world cup squad. School boy politics! #whereisdk #dineshkarthik

— Joe Praveen (@Mystiquerealms) February 15, 2019
#5
No @DineshKarthik in the squad for last ODI series before World Cup. He did what all has been asked of him still his place in the side is not confirmed. Very very hard on him after performing his duties successfully #IndvsAusSquad

— Maharshi (@vmadhavm) February 15, 2019
#6
This is totally unfair our captain has recall his friend #KLRahul and left out #dineshkarthik DK has paid back to team whenever he got chance #politicbcci

— MD SAWOOD (@syed_sawood) February 15, 2019
#7
Why #KLrahul and why not #dineshkarthik https://t.co/PYTLOh7Rf7

— MR. SINGH (@Chauhanvishal64) February 15, 2019
#8
Both @BCCI & Indian cricket team selectors are gone bonkers poor #DineshKarthik once again made scapegoat…. #MSDhoni's selection is understandable but #RishabhPant ahead of #Karthik is unimaginable..put both of them under pressure #Pant will fail 99.9% of times #bcci #Virat

— Harshad parmar (@Harshad9Parmar) February 15, 2019
#9
👎👎👎👎👎👎👎
Reason for not selecting #dineshkarthik in the squad
His average is around 50 in past 1.5 years….
And on what basis #KLRahul and #shankar is in the team.
Very bad politics#INDvAUS

— 🌀 SAND€€P SUR¥AWANSHI 🌀 (@The_Last_Alien) February 15, 2019
#10
#DineshKarthik once again added value to the Indian middle order. I strongly feel he needs mention in the ODIs as well. Top innings last evening. One of the most underrated batsman in the Indian side. Well played @DineshKarthik #INDvsAUS

— Mikkhail Vaswani (@MikkhailVaswani) November 22, 2018
What do you think? Do you think this was dirty politics at play? Share your opinions with us!
Share Your Views In Comments Below