Bollywood & TV
BCCI Shared Pic Of Team India With Kohli's Wife Anushka Sharma; Twitter Is Angry
The Indian cricket team is on a tour of England and presently, they are in London as the second test match of the series will begin on Thursday.
On Tuesday, team India made an official visit to the Indian High Commission and the official Twitter handle of BCCI posted a photo of the Indian cricket team and support staff with the diplomats of the High Commission.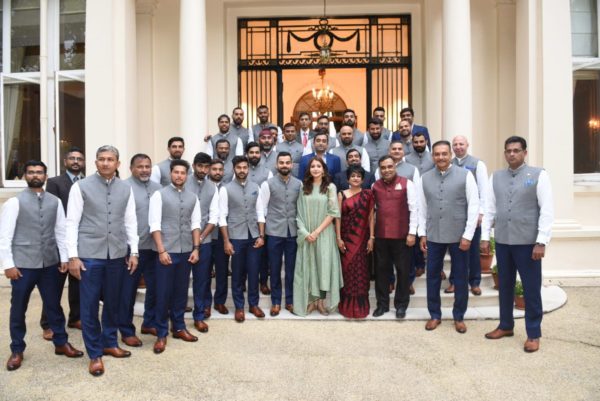 However, this photo was not liked by most of the Twitter users, the reason being the pic's caption that read, "#TeamIndia members at the High Commission of India in London."
#TeamIndia members at the High Commission of India in London. pic.twitter.com/tUhaGkSQfe

— BCCI (@BCCI) August 7, 2018
Nevertheless, Indian skipper Virat Kohli's wife Anushka Sharma is also seen in the photo posing in an Indian attire.
Twitterati immediately started thrashing BCCI for allowing Anushka to be in the frame despite the fact that she is not a member of Team India but her husband is and she is also not a diplomat.
Netizens were also aggravated because the vice-captain of the team Ajinkya Rahane was made to stand in the last row and he was not even visible properly, while Anushka was standing right in the middle of the group.
Some users also said that if wife of one cricketer is allowed to get clicked with the group, each cricketer's wife should be permitted to be a part of the photo while one user made a very interesting observation as he asked BCCI to either write Anushka's name separately with Team India or write nothing.
Here are some selected reactions:
#1
No Hard feelings but I heard recently BCCI denied players from having their wives around when on tour in England. WTH is Anushka doing among Indian team?? Rules are meant for Team and captain should lead from front in every aspect. Just saying

— The Cricket Guy (@ambade_akash) August 7, 2018
#2
Why @BCCI allows someones wife at official tour…. Please confirm Is your team mens are at work or on honeymoon

— Nishant (@NishNishantkr) August 7, 2018
#3
Amazing. Vice captain in last row (actually not clearly in seen in the photo itself) and middle of attraction is someone else. By the way where are other players wives then.

— Shaik Dawood (@iamshaikdawood) August 7, 2018
#4
Vice captain of the team in last row and that too face half cut…. and captain's wife in the middle of the front row.
Grow up @BCCI or should I say @imVkohli

— Karan Choksi (@KaranChoksi6) August 7, 2018
#5
Ye Anushka BCCI ki chairman bangai kya🤔😂

— abdullahkunda🇮🇳 (@abdullahkunda) August 7, 2018
#6
why is anushka sharma there? she's not a part of team india. this isn't acceptable

— Kate and Kate's dirty sister (@FutbolML) August 7, 2018
#7
Is captain wife more important than vice captain? Where are other players wife's? Don't divide team for the sake of captain or Bollywood please

— Sanjay Tank (@SanjaySTank) August 8, 2018
#8
Who is this new team india squad member in green? The actual players arent to be even seen properly but an actress who has nothing to do with criket is in the front! Wow.

— Maya (@Sharanyashettyy) August 8, 2018
#9
Is @AnushkaSharma part of Indian cricket team now? And @imVkohli are you whipped to tell your wife that she shouldn't be accompanying you on all work tours. Don't tell me she will be joining you on the cricket pitch soon 😱 ps: I'm a fan of both of you bt this doesn't seem right!

— Kapil Garg (@im_kapilgarg) August 8, 2018
#10
Sorry is Anushka Sharma an official of bcci or team management or staff ?WhT business she has being On a Official invite for the team , if that's the case WAGS of all players shd hv been there, this is gross misconduct or abuse or position by captain @rawatrahul9 @vikrantgupta73

— Rana Pratap Singh (@RanaPratap_17) August 7, 2018
#11
I just realise of Anushka Sharma being a part of #TeamIndia as well or Captain's Captain😏few days ago #BCCI were like no wives no girlfriend or family bt surly all these rules doesn't apply to Captain n his wife🙄Hypocrites😐 #ViratKohli #AnushkaSharma

— P a l l a v i (@pallzie) August 8, 2018
#12
Either write #TeamIndia and @AnushkaSharma or dont write anything.

— gau (@gau78196489) August 8, 2018
What do you have to say about the presence of Anushka Sharma in this photo? Let us know.
Share Your Views In Comments Below