Sports
BCCI Shared Video Of Fans Singing 'Vande Mataram' At Guwahati Stadium, Twitter Got Goosebumps
The first T20I match of the three match series between India and Sri Lanka which was scheduled to be played at Barsapara stadium, Guwahati, got abandoned due to rain and it was quite a disappointment for the huge number of fans who came to see the match in the stadium.
The officials of the stadium are also to be blamed for the call-off of the match as the covers used by them to cover the pitch had leakage and water reached the pitch through the holes. However, the officials tried a lot to dry the pitch as they were seen using hair dryers and steam iron for this purpose but it was of no use in the end and the umpires were not happy with the conditions.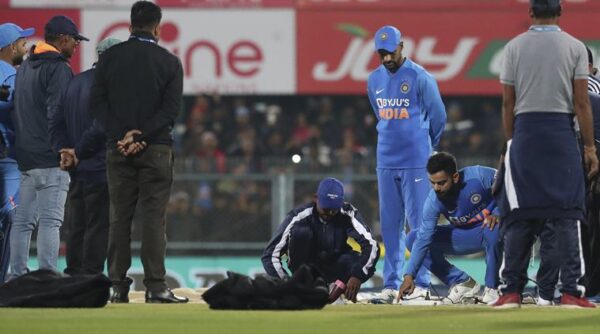 The cricket board can also avoid such situation by making sure that the matches are scheduled only after checking the weather forecast of that particular location, considering the fact that we are so technologically advanced that we can get almost perfect forecast of the weather.
However, one positive thing that has come out of this disappointing situation is the beautiful singing of Guwahati public which sang, "Vande Mataram" in complete coordination. Despite the fact that the stadium was full, the crowd sang in sync and the video was shared by the official Twitter handle of BCCI with the caption, "Guwahati, you beauty 😍".
Here is the video:
Guwahati, you beauty 😍#INDvSL pic.twitter.com/QuZAq7i1E3

— BCCI (@BCCI) January 5, 2020
Click to watch this video directly on Twitter
This video was loved by Twitterati and people tweeted how they got goosebumps after watching it. Here are some of the selected reactions:
#1
Goosebumps 🔥

— R A T N I $ H (@LoyalSachinFan) January 5, 2020
#2
Whenever I hear this amazing voices I am damn sure I always get Goose bumps uncontrollable love my india💕❤️

— RAVI (@RAVI45144731) January 6, 2020
#3
Damn 😍
This is the same Guwahati that was at flame few days ago but see this delectable scenery , appealing one😍😍
Whatever the issues have been there but Guwahatians reflected that India Stands tall …🇮🇳#JaiHind #JaiBharat
❤️

— Mohit Dwivedi 🇮🇳 (@MohitDw8601) January 6, 2020
#4
This the spirit of game, spirit of cricket. Award us with a venue of IPL. But, ACA must replace the present cover. Joy Aai Asom. Jai Hind 🇮🇳🙏

— মৃদুল ফুকন 🇮🇳 मृदुल फुकन 🇮🇳 Mridul Phookan (@justphookan) January 6, 2020
#5
Come on @BCCI . They deserved more matches including tests. Look at their energy & enthusiasm 😍❤️
Atleast arrange 6-7 matches here for 2023 world cup.
Plz Arrange IPL Play off matches in Gauhati. @BCCI#respect #INDvSL #gauhati #vandemataram

— Thewarrior553 (@srinidhi553) January 5, 2020
#6
It's an awsm feeling.. It gave goosebumps and a refreshment.. If anyone gets this or experiences the same then.. This shows the true spirit of being an Indian!!! Love u to all the public for this wonderful gift of nationality.. @AmitShah @narendramodi @PMOIndia @BJP4Assam

— Ishan V (@IshanVe21510875) January 6, 2020
#7
Separated by language,religion….united by india❣️☺️….#vandematram

— Sri_AK_60 'ᴺᴷᴾ' (@Srinath44574214) January 5, 2020
#8
jai hind …Goosebumbs while seeing and hearing this…i am proud of my nation ,proud of my ppls🇮🇳🙌💪💪

— Name cannot be blankᶜᵒᵇʳᵃ (@BalaMp10) January 5, 2020
#9
My goosebumps level when watch this video pic.twitter.com/742SDu8GvZ

— Anandu K.S (@AnanduSyam) January 5, 2020
#10
That's the beauty of unity in diversity….Vande Mataram

— Mansukhani Kavita (@MansukhaniKavi1) January 6, 2020
#11
What a beautiful Stadium. #TeamIndia should play matches here more often but by keeping the weather conditions in check. #INDvSL

— Aditya Saha (@adityakumar480) January 5, 2020
What do you have to say about the video? Do let us know.
Share Your Views In Comments Below