Sports
BCCI Shares The Details Of June Payments, Kumble Receives 48 Lacs, Rohit & Rahane Above 1 Crore
A lot has happened in Indian Cricket in the month of June. From the IPL 2017 coming to an end and whole Champions Trophy to the resignation of Anil Kumble, the month has seen a lot.
The Board of Control for Cricket in India (BCCI) has now come with the details of payments they made in June 2017. In the detailed table that has featured on BCCI's official website bcci.tv, they have opened up about each and every payment exceeding 25 lakhs along with its purpose.
As per the information in the table ex Indian Coach Anil Kumble got the total payment of 48,75,000 i.e 48 Lakhs 75 Thousand as a professional fee for the month of April 2017.
Among the players, Rohit Sharma got a payment of Rs 1,12,55,167 i.e 1.12 crore as share of gross revenue 2015-16 international tournament played in and outside India. In the same period, Ajinkya Rahane received Rs 1.11 crore while R Ashwin received Rs 1.36 crore.
Bhuvneshwar Kumar features on the list with a sum of Rs 96,65,656 i.e. 96.66 lakhs approx while Umesh Yadav got Rs 83,63,214 i.e 83.63 lakhs.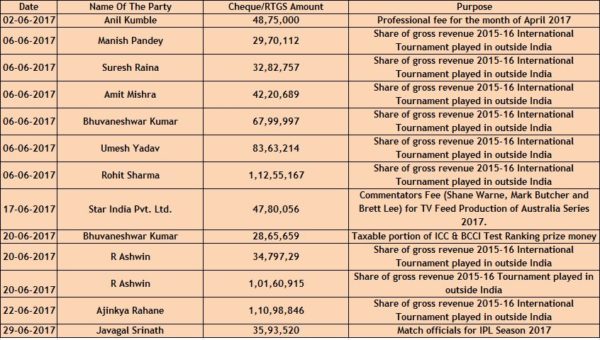 Check out complete details here.
Noticeably, players like Virat Kohli, Yuvraj Singh and Mahendra Singh Dhoni didn't feature in the list.
What do you think about it? Share your thoughts with us.
Share Your Views In Comments Below