News
Bengaluru Authorities Slap Fine Of Rs 500 For Spitting On Road, Challan Pic Goes Viral
There is no denying the fact that majority of the Indians need to learn basic civic sense because a number of people don't follow the traffic rules, park their vehicles in no-parking zones or outside anybody's house, throw garbage on road, pee in public places, spit on the roads and so on.
Though people praise the foreign governments for maintaining cleanliness in their cities, they never think of following their own duties and fulfilling responsibilities as a citizen. Spitting on the road especially while chewing tobacco is a pretty common scene in many cities of the country despite the fact that each one of us knows it is unhygienic and it also makes the place dirty. In the times of the COVID-19 pandemic, spitting was made a legal offence as it increases chances of spreading infection but still majority of such persons who spit haven't learned the lesson and this calls for a strict punishment.
Recently, a person from Bengaluru was fined Rs. 500 by the authorities for spitting in public place and the copy of the challan was published by an online user on Reddit.
Check out the photo of the challan in which it is clearly that the fine has been paid for spitting: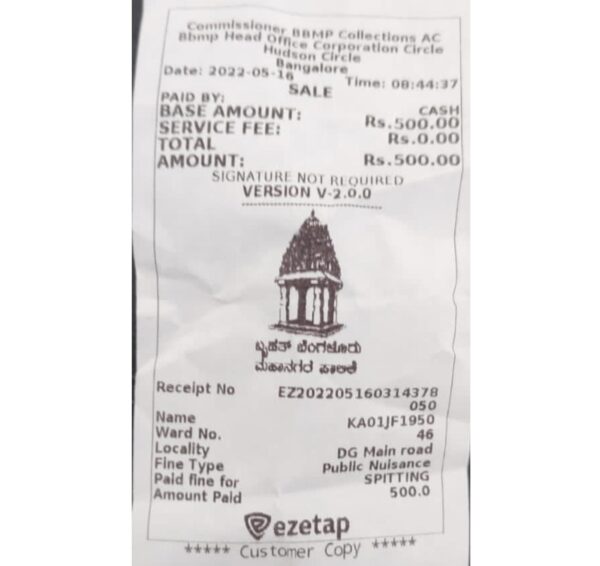 Undoubtedly, a correct example has been set by the Bengaluru authorities and it is high time that it should be followed in other Indian cities as well. What's more, such punishment should also be given to those who pee in public places as it not only creates nuisance but also makes people uncomfortable.
Great move Bengaluru authorities!
Share Your Views In Comments Below