Bollywood & TV
Big B Jokes About Cricketers' Daughters Forming Women Cricket Team, Gets Roasted For Nepotism
The Bollywood actor Amitabh Bachchan is pretty active on the social media networks and he has a huge fan following too. The megastar is one of the most talented, popular and successful actors of the Hindi film industry and it is surprising to see that even at the age of 78, he is not thinking of taking rest as he has been ceaselessly working and that too with extreme enthusiasm and dedication. In fact, it won't be incorrect to say that he is one of the reasons behind the huge viewership and popularity of the quiz show Kaun Banega Crorepati. However recently, he found himself in the center of a controversy just because of a post which seems to be a forward on WhatsApp.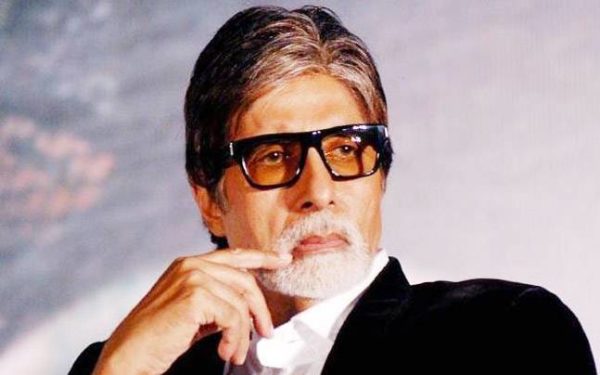 Recently, the skipper of the Indian cricket team Virat Kohli and his wife Anushka Sharma have become proud parents of a baby girl. It was obvious for social media to be flooded with congratulatory messages and the legendary actor Amitabh too made a post which was in connection with Virat Kohli being blessed with a baby girl. Big B talks about the Indian cricketers (present and former) who are fathers of daughters and asks whether the future women's team of India is getting ready.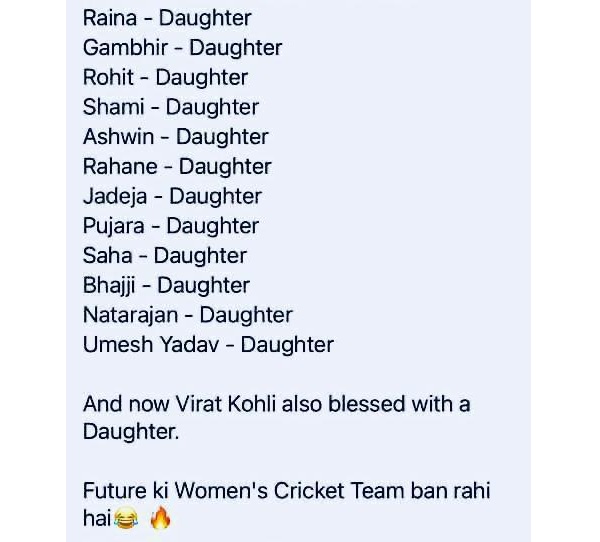 Big B makes an addition as he writes that former Indian skipper MS Dhoni is also father of a girl and further asks whether she will be the captain.
Here is the post:
T 3782 – An input from Ef laksh ~

"… and Dhoni also has daughter .. will she be Captain ? 🙏'' pic.twitter.com/KubpvdOzjt

— Amitabh Bachchan (@SrBachchan) January 13, 2021
While Big B forwarded the screenshot in a lighter mode, the Indian Twitterati didn't like it and started slamming Senior Bachchan for promoting nepotism in cricket.
Here are some of the selected tweets:
#1
महानालायक जी की नालायकी का 1और सबूत। यहां पर भी नेपोटिस्म की ही बात कर रहे हैं।
पर महानालायक जी, ज़रूरी नही जिस तरह से बॉलीवुड के बच्चे मानसिक रूप से कमज़ोर और नालायक होते हैं वैसे ही बाक़ियों के बच्चे भी कमज़ोर और नालायक हों।
और इंटेलीजेंटइंसान कहीं भी अपना लोहा मनवा सकता है।

— Always Right (@AlwaysR65922829) January 13, 2021
#2
You want have nepotism even in cricket? This sports where only talents speaks unlike bully wood (bollywood)

— Arindam Roy (@arin_roy1) January 13, 2021
#3
Amitabh – Son – Actor
Akshay – Son – to be actor
Sohail – Son – to be actor
Salman – koi bharosa nahi – jaan pehchan mei sabko hero bana rha hai
rakesh roshan – son – Actor
Saif – Son – to be actor
Saif – Daughter – actress
list lambi hai janaab is tarah toh.. #NEPTOSIM ki hadh

— Amit Rawat 🇮🇳 (@amitrawat85) January 14, 2021
#4
With due respect, it's a National cricket team. The players, whether men or women, are selected based on their talent. Selection is not done based on who is their father or mother. Kindly, don't confuse it with Bollywood entertainers and Nepotism🙏🏻

— Aakash (@aakashski_) January 13, 2021
#5
क्रिकेट में कहा नेपोटिज्म जो अच्छा खेलेगा वहीं टीम में रहेगा, फिल्मों की तरह बार बार फ्लॉप होने के बाद भी चांस मिलता रहे ऐसा नहीं होता।

— कलुआ उस्ताद😎 (@badrinath___1) January 15, 2021
#6
Nepotism ke aage kuchh nhi soch sakte……
Great Sir 😌 🙏🏻

— Nishigandha (@NishigandhaDare) January 14, 2021
#7
No sir, cricket isn't like bollywood to promote nepotism.

— Shetty🧚 (@Rajju_Shetty) January 14, 2021
#8
Apne ghar ka dekho…kisne acting ke झंडे गाड़ diye hain 😆😁 बेटे ne ya बेटी ne…
Cricketers ko nepotism ka gyaan baad me dena🤣
इनका बस चले तो ये दुनिया की सारी jobs Bollywood को ही दे दें 🙄#Roar4SSRJustice

— God_is_great 🌺🌺🙏🔱not a bot but proud SSR fan🔱 (@privin07) January 14, 2021
#9
Esa jaruri thodi he dhoni captain tha to uski daughter bhi captain ho … Example apne ghar se le sakte he 😓

— Nefeliii (@nefelibataa__) January 14, 2021
#10
You think like Bollywood now cricket will also be ruled by nepotism let the talent come in do whatever you are doing in Bollywood because cricket needs dedication

— Lokesh Parwani (@lokeshparwani) January 13, 2021
#11
Cricket me nepotism ni chalata sir Ji very few cricketer's son/daughter came n failed. Like gavaskar's son. Btw apne apni beti ko heroine kyu ni banaya aur to aur kind of bal vivah kar diya uska. Putra moh putra hi utradhikari banega wo bhi bechara ni chala😥

— Manisha Rajput ⚔️ (@manisharajput55) January 14, 2021
#12
Cricket is not bollywood & politics that dynasty culture will build their career ! Have you seen your son movies ,does he looks an actor any angle? But it work Sir! As he is son of Big B, is Rahul gandhi looks poltician ,any angle,force yourself if you can find 1% !

— Prasant Mohapatra🇮🇳 (@Kaamdar_prasant) January 13, 2021
#13
Bas kijiye. Bohot ho gaya WhatsApp pic.twitter.com/BSdTa5kBh4

— Mini🐭🌻 (@Minniie_Mehra) January 13, 2021
#14
cricket me bhi nepotism laaa dijiye @SrBachchan jii..

— rupendra singh (@singh_rupendra) January 13, 2021
#15
There are many girls outside who want to join Indian cricket team. Don't crush their dreams. Bollywood mein to aane ke dreams to sabke aap logo mein shattered kar diye.. Don't include cricket in that.

— Kanika Modi (@Kanika_mt) January 14, 2021
Nepotism is one of the most talked about topics in Bollywood and it was discussed more after the sudden departure of the Bollywood actor Sushant Singh Rajput as many felt that SSR lost a lot of work due to nepotism because of which he went into depression and took his own life.
Do you think that people are unnecessarily slamming Amitabh Bachchan as he just shared a WhatsApp forward which he might have found funny or you feel that he should make a sensible post keeping in mind that he is a celebrity and many people consider him as their idol? Share your opinion in this regard.
Share Your Views In Comments Below