Bollywood & TV
Bigg Boss 11: Hina Wrote 600 Instead Of 60 & Got Trolled On Twitter In The Most Epic Way
Hina Khan has emerged as one of the most controversial contestants of Bigg Boss 11 and she has earned the ire of audiences for doing things which were never expected from her. In fact, some of her fans are completely shocked after seeing the new face of the "Yeh Rishta Kya Kehlata Hai" fame actress.
She has made contradictory statements, fought, abused, accused and made fun of other contestants and her rivalry with Shilpa has specially damaged her image.
Once again, she has become the target of twitterati but this time not because of fighting with anyone but for not knowing how to put 60 in three digits on the scoreboard.
Recently, contestants were needed to impress their relatives by doing well in the tasks and the winner of the first round, which was related to cooking, was Shilpa Shinde. The three-digit scoreboards were kept in the lawn area and Bigg Boss asked Hina, who is also the captain, to put 60 on Shilpa's board. But Hina put 600 instead and returned to her place which made Bigg Boss take her name and say, "It's 60, not 600."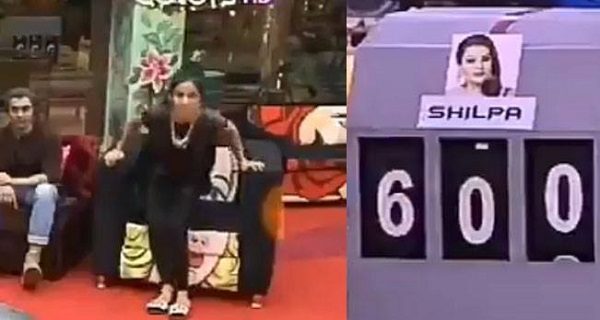 Hina went back to correct it but she was not able to understand how to rectify it until Luv and other contestants told her to put a zero before 6.
Watch The Video:
BestMoment from today's Task.

Didn't #PriyankSharma looked cute?#HinaKhan 600 to 60

Shilpa's Aashu, Hina's @JJROCKXX & #puneeshsharma @BandgiK

All moments in one video.#BB11 #BiggBoss11 #MTVExtraDose #ShilpaShinde pic.twitter.com/r6U7FLHIOi

— Maggi😎 (@roars_loudly) December 26, 2017
Click here to watch this video directly on YouTube
This incident was more than enough for Twitterati to react and here is how they trolled her mercilessly:
Slow claps for Hina's Maths:
What is this yarrrr today Hina don't know the difference between 60 & 600…. How dumb she is? Is she really had her education? This is not first time even she is weak in basic mathematics.
Today Shilpa got 60#BB11 #BiggBoss11 #BiggBoss

— Rekha 💥 ShilpaShindeFTW (@REKHAVT) December 26, 2017
Hina thought the next task is comedy:
My TOP 2 #ShilpaShinde & #HinaKhan won today's points

Shilpa help in cooking task was so generous of her. Won ❤ as well as task

Hina's instinct z strong she guessed next task z comedy so instead of 60 wrote 600😂#BiggBoss11 #BB11#MTVExtraDose

— Maggi😎 (@roars_loudly) December 26, 2017
Mentally disturbed:
#Hina was told to change #Shilpa's score from 0 to 60 & she changed it to 600!😂

This happens when someone is disturbed mentally😂#BB11 #BiggBoss11 @shilpashindee @UsMeTah @shilpashinde24

— Reality Post📨 (@therealtiypost) December 26, 2017
Dumb:
If x = 60 and y =600
According to hina x=y

So 60=600
Hence proved hina is dumb#BiggBoss11 #BiggBoss11 @TheKaranPatel

— Jay Upreti (@Jayupreti) December 27, 2017
She is trolling herself:
When BB asked her to display 60 as shilpa score, she gave 600 & assuming it as 60🤦‍♂️🤦‍♂️🤦‍♂️. In these day's Hina is trolling herself 😂😂😂😂

— Arul Khanna (@Arulkhanna53) December 26, 2017
Uneducated:
https://twitter.com/lulildiia/status/945797294154305536
LOL 😀
60 aur 600 mein koi difference nhi lol…😀😀
I must say hina has all qualities to b the winner lol
Oye @ColorsTV hina ko winner bana hi do . 5000000 k bdly 500 dene pade ge … hihi #HappyBirthdaySalmanKhan @BeingSalmanKhan @BiggBoss

— Jhonny Jhonny💥✌ (@jhonny5316) December 27, 2017
Hina did 600 instead of 60

I was like Chalo koi na.

Explanation to baad me Mila, math me 4 baar fail Hui Hai.

— Pranjal 💥 (@pranjal2018) December 26, 2017
Kheloge kudoge banoge kharab padhoge likhoge banoge nawab hina ki maths dkh k aaj iska mtlb achhe se smjh a gya😨SCHOOL CHALE HUM😊#BB11

— Monila singh (@SinghMonila) December 26, 2017
Solid insult:
https://twitter.com/05Afsha/status/945710365400219649
How did she survive in the industry for so long?
And this scene proved #HinaKhan is the dumbest person, she doesn't know how to write 60 in three digits

Hadd hogi yaar, aise-aise bnde 7-8 saal tak industry mai survive krgaye#BiggBoss11 #BiggBoss #BigBoss11 #BB11

— Virat Kohli (@Chiku_Kohli) December 26, 2017
Have you ever been to school?
@eyehinakhan hahah she is so dumb and she proved it again. 60 ko 600 likh ke justify bhi kar rhi ho mam, school gayi ho kabhi ya bas aiwe hi..#dumbohinakhan #hinakhan #hahahaa

— Vinay Tomar (@VinayVtomar) December 27, 2017
What do you have to say in this regard? Let us know.
Share Your Views In Comments Below