Food
"Biryani Hi Bana Lete," Reacts Angry Twitter On Chai Of Coconut Milk, Maple Syrup & Lots Of Spices
Tea or chai holds a special importance in the lives of Indians and it is not just any hot drink or beverage for them. In fact, Indians have an emotional connection with the tea and people also show respect to the guest by offering tea when somebody comes at their house. Many people may think that tea is just a refreshment drink but in reality, it is also used as a medicinal drink. Adding Tulsi, ginger and cardamom not only increases the taste of tea but also adds medicinal value to it.
Well, while the tea has such a special place in our lives, the majority of the Indians hate to see someone experimenting with their favorite drink. For a couple of days, a video is going viral on the Internet which is teaching people how to make chai latte with maple syrup, unsweetened coconut milk and a good variety of spices which are absolutely unnecessary as far as tea is concerned.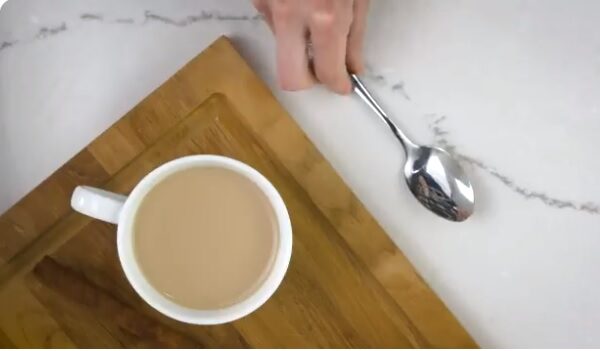 The video has been posted by WedMD, an online publisher that focuses on issues related to human health, on the micro-blogging site Twitter with caption, "Learn how to make a chai latte — without the coffee shop price tag."
Here is the video:
Learn how to make a chai latte — without the coffee shop price tag. pic.twitter.com/pVZTEBXyL3

— WebMD (@WebMD) September 27, 2020
Click to watch this video directly on Twitter
After watching the video, the Indian tea lovers were horrified at the crime committed in the name of their favorite drink. Some of them even advised WebMD to prepare biryani because of the unnecessary spices that they have used while few others said that whatever WebMD made can't be called chai because of the bright color that it has.
Check out some of the selected reactions:
#1
Coconut milk and maple syrup in chai …? How about you add some apple juice, vinegar and chicken stock and enjoy the beverage. pic.twitter.com/OhjCve7KID

— Rajesh Seshadri 🇮🇳 (@rajesh_seshu) September 28, 2020
#2
Bhai itna kardiya hai toh tadka bhi laga dete?!!!! https://t.co/IeXsDNpDN2

— Padmaja Venkataraman (@PadmajaVraman) September 28, 2020
#3
What in God's holy name is this abomination?! First of all it's "masala chai" and not "chai latte" and who puts coconut milk and maple syrup in their masala chai? Finally, add the masala 1st then add milk, only put tea in right at end as more the tea steeps the stronger it gets! pic.twitter.com/G1uw8wry5p

— KingAceSuited (@mightymoosh7) September 28, 2020
#4
This video is just unbearable it's literally a mockery of Chai pic.twitter.com/zo4cYaFqDq

— Devendra Panday (@DevendraPanday7) September 29, 2020
#5
not webmd posting this hot milk with spices which is a cup of rice away from biryani and calling it chai
no one puts that many spices in their chai white people are you gonna force us to gatekeep fucking chai https://t.co/HIWAltVIru

— raf | gatekeeping emily fields era he's mine ミ☆ (@lesbianIopez) September 28, 2020
#6
Did you mistakenly named it Chai instead of witch soup? This does not resemble Chai preparation even close. One should not use the name of what they have no knowledge of. What's next? Will you make pasta and call it pizza. Even a google search for recipe would have sufficed.

— Perfectly Pixel (@perfectly_pixel) September 28, 2020
#7
Dear Angrezo, this is an assault on sentiments of Chai Lovers😭 pic.twitter.com/YxHkVdiAIo

— Dr. Vedika (@vishkanyaaaa) September 29, 2020
#8
What is this colour?! This is dhoodh mein chai, not chai mein doodh. https://t.co/OwHmUMsfPV

— Anushree (@AnushreeJairath) September 28, 2020
#9
Stop! The amount of spices you added is just insane, you ought to give just a bit of aroma and flavor to it not dump this whole load of spices in it!
If i ever made chai like this my family is going to literally disown and kick me out.

— Nothin' On me❤ (@NajafRimsha) September 28, 2020
#10
u mean to say Chai????

This is absolutely Wrong of Making Chai

with the spices kept u can make a mini Biryani

— Un-Employed scoooby (@sc0obyd0) September 29, 2020
#11
ये बन क्या रहा है वैसे….??

हमारे यहाँ इसी में नमक और कद्दू डाल के सब्ज़ी बना लेते है…
मस्त पूरी के साथ खाते है…

चाय तो नहीं कहते कम से कम…

— रोमसा शुक्ला (@RomasaShukla) September 28, 2020
#12
They missed out the part where you throw this in the sink and have a cup of coffee instead. https://t.co/X7pfA3ESeK

— Hamza Lakdawala (@hamzamlakdawala) September 28, 2020
#13
Coconut milk and … maple syrup?! 😳 pic.twitter.com/URejRHTsol

— faranaaz⁷ (@faranaaz) September 29, 2020
#14
Add rice instead of tea bags and this will be biryani👌 pic.twitter.com/ZmvmFM5i5E

— J for Joke; J for Judiciary (@snorlaxisbored) September 28, 2020
#15
itni safed chai kon peeta hai. also if you have the budget to buy the proper spices then why the fuck did you use tea bags https://t.co/CC84eac8rb

— ' (@csyprnt) September 28, 2020
What is your reaction after watching this video? Will you dare to take this tea?
Share Your Views In Comments Below