Humour
BJP MP Paresh Rawal Again Shared Photoshopped Tweet. Twitter Trolled Him Left & Right
Paresh Rawal is among the most talented actors the Hindi film industry has ever had. His comic timing is simply excellent and no one can match his acting skills which are second to none.
However, he doesn't have the same image when it comes to real life, thanks to the series of fake news and photoshopped tweets that he has been posting on the micro-blogging site Twitter.
Once again, the BJP MP did the same as on May 24, he took to Twitter and posted a fake tweet screenshot according to which Rahul Gandhi used KG (Kilogram) as the unit of measuring petrol instead of litre.
The tweet read, "Petrol has gone up to 80 rupees per kg, and the government has no concern about the public!!"
Here's the tweet screenshot: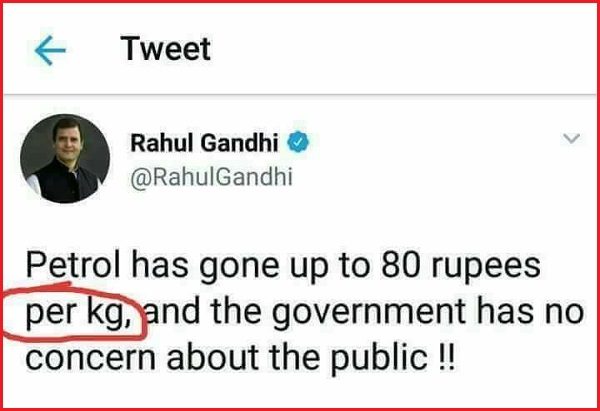 Check out Paresh Rawal's tweet:
— Paresh Rawal (@SirPareshRawal) May 24, 2018
This gave enough fodder to Twitterati to troll the "Hera Pheri" actor mercilessly. Check out some selected tweets:
#1
बाबू भैया के सर पे भक्ति का हेलमेट चढ़ा हुआ है। pic.twitter.com/I8YvvhKaYH

— क्रूर सिंह (@yakku_kroorsing) May 24, 2018
#2
Babu bhaiyya kab babu chutiya ban gaye tum pata hi nahi chala 😂😂😂😂😂😂

— [email protected]$er (@__y_a_s_e_r__) May 25, 2018
#3
@SirPareshRawal pic.twitter.com/laPSlOj4xt

— Sunil Dubey (@sunil_wrt) May 25, 2018
#4
Fake hai, Rawalji! pic.twitter.com/htk3Qa8yAY

— Hasiba B. Amin (@HasibaAmin) May 25, 2018
#5
Hello Twitter, Sir Paresh Rawal wants to learn basic Photoshop, Plz help him with your creativity and fill this empty template for him. pic.twitter.com/yP3gl9VyY5

— History of India (@RealHistoryPic) May 25, 2018
#6
WhatsApp university professor @SirPareshRawal again fell for fake photoshop tweet. 😂😂

— SupariMan™ (@amitshaah_) May 24, 2018
#7
Are sir, Ye sab likhne ki jaroorat nahi thi, aisa kuch nahi hai ki aap donkey ho, thoda dimag use karo, sab thik ho jayega, aap ek number actor ho aur do kodi ke human, get well soon, bhagwan aapko sadbuddhi de😅 pic.twitter.com/FaswnpyeRR

— Siona Gogoi (@AtomicBlow) May 24, 2018
#8
— Cow Momma (@Cow__Momma) May 24, 2018
#9
Shame on u for sharing a photo shopped tweet….. Or u may have been recruited in IT cell of BJP which is famously known as Dirty Tricks Department

— Narasimha Murthy G K (@GKNarasimha) May 25, 2018
#10
Ye dekho andhe bhakt fake aur real ka pata nahi chale duniya gyaan baatne.sir ye to paka joke ban gya…bhaktoooo

— Naved Khan (@Khan07naved) May 24, 2018
#11
क्यूं परेश चाचा??? अब फेक पोस्ट का सहारा ले के नमक की दलाली में लग गए क्या???😂😂😂

— Amit Singh (@Amit_4_rajput) May 24, 2018
#12
Agar thodi bhi sharam baki hai zameer me to delete kar de fake tweet … tumhare jaise log gumrah karte hain

— Sarfaraz Alam (@AlamSa60201) May 25, 2018
What do you have to say with regard to Paresh Rawal's fake tweet and his habit of not verifying facts before posting it on social media? Let us know your views.
Share Your Views In Comments Below