Politics
BJP Spokesperson Couldn't Sing Vande Mataram Even After Reading Lyrics From Phone, Got Trolled
BJP is trying hard for making Vande Mataram compulsory in many places like legislatures and schools; however, it's a matter of extreme displeasure that the party's spokesperson and leaders are not making much effort in this direction. In short, they themselves are not well-acquainted with the lyrics of the poem written by Bankim Chandra Chattopadhyay and they want others to recite it. What an irony!
A video of a debate on Zee Salaam is going viral on the Internet and social media in which Mufti Ejaz Arshad Qasmi, member of AIMPLB (All India Muslim Personal Law Board) challenged Navin Kumar Singh, the spokesperson of Bharatiya Janata Party, for singing Vande Mataram for giving a proof of his patriotism.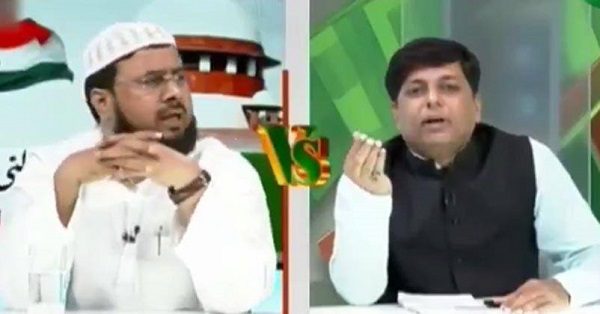 However, it seemed that Navin Kumar Singh himself didn't know the lyrics of Vande Mataram and that's why, he read the poem from his phone and even then, he sang it miserably.
It was hard to get what he actually sang but his words were like:
"Vande Mataram
Sujalam Sufalam
Malayaja Sheetalam
Sansayaam
Malyaam
Subhrat Jotsam
Pulkityaam
Vande Mataram
Pulkistan
Sumita
Dumal Tsunami (?)
Suhasin
Sumantra Bulshumaani
Vande Mataram"
Watch The Video:
#BJP spokesperson makes a fool of himself trying to sing #VandeMataram. Don't blame me if you laugh too hard and get hurt. 😂 pic.twitter.com/psH2dqMo1P

— Subin Dennis (@subindennis) October 30, 2017
Click here to watch this video directly on Twitter
It was natural for the BJP spokesperson to get brutally trolled after this. Check out some tweets:
Nobody knew, in fact:
some new words added in #VandeMataram ….oh i didn't know that..

— Saif (@ksaif0070) October 31, 2017
He deserves an Oscar:
Ye to oskar pane ke layek hai is bjp prabakta ko dal preserve karke raken .

— Tridib Roy chowdhury (@TridibRoyCHOWD8) October 31, 2017
Shame:
WOW..!!!. Shame. Even after reading National song from a piece of paper. His pronunciation is bollocks @BJP4India sack this spokesperson

— Anup (@anup_jeppu) October 31, 2017
Such a fool he is:
Navin kumar couldnt even sing it by heart. He was actually looking down to a sheet. And he expects qasmi to sing after him. Such a fool 😂😂

— 🔥 (@covert_khaleesi) October 31, 2017
A sensible comment:
Pity even leaders can't read it properly, leave alone reciting; #VandeMataram is sacred to us all! Let's not expect only BJP guys to know it

— Jayarama Korikkar⛳ (@korikkar) October 31, 2017
Anganwadi student:
Navin Kumar acting like Anganavadi Student in front of Media 😑

— Rafeeq SM (@rafeeq4sm) October 31, 2017
That's epic:
Now new bjp and rss meet will be held and everyone will be taught and memorized #VandeMataram. #Pulkistan are Rahman ke songs Dekha leta?

— STRANGER (@syedahm2002) October 31, 2017
Ek hi bhool:
Sir, it is not less but NEGATIVE……
एक ही भूल, #कमल का FOOL

— Mayur S Kulkarni (@mayurvsk) October 31, 2017
They are true politicians:
This is why they are politicians , the can say anything and everything , but look at how he is doing in real…!!! 🙂

— partha Malik (@partha_malik) October 31, 2017
It's actually sad:
This is totally sadness. Every person supporting this notion should know Vande Mataram by heart!

— KP14 (@Chai_Pe_High) October 31, 2017
Fake bhakts:
Maro saale chutiye ko jhoothi desh bhakti badbole saale

— safiuddin siddiqui (@safiuddinsiddiq) October 31, 2017
India is in their hands for 5 years:
& we have handed over entire Country to them to rule for 5 yrs!!

😈😈😈😈😈😈 #SayNoToBJP #Jumla 😈😈😈😈😈😈https://t.co/LSeUYZSK6c

— Mayur S Kulkarni (@mayurvsk) October 31, 2017
It's not the first instance of its kind when a BJP member faced criticism for not being able to sing Vande Mataram. Earlier a similar situation developed when anchor Rahul Kanwal of India Today channel halted a newsroom debate in middle and demanded that Baldev Singh Aulakh, the UP Minister of State for Minority Welfare, should sing four lines of Vande Mataram. However, Baldev Singh tried to avoid singing by giving excuses.
A PIL was rejected by the High court bench last week which demanded that Vande Mataram should be treated on the same level as the national anthem Jana Gana Mana. The bench stated,
"Though we agree with the petitioner that 'Vande Mataram' be recognised by the respondent as equal to 'Jana Gana Mana'. We are of the view that we are unable to grant the relief sought in the petition."
What do you have to say in this regard? Let us know your views.
Share Your Views In Comments Below