Bollywood & TV
Bollywood Celebs Wished Sonali Health, Luck & Courage To Fight Cancer. She Even Replied To All
A couple of days ago, Bollywood actress Sonali Bendre left her fans upset with the sudden news of her high-grade cancer in a Twitter post. It was pretty shocking for the actress too as she also got to know about it recently.
Needless to say, Bollywood fans were already distressed with Irrfan's neuroendocrine tumor and this further broke their hearts.
In a statement on Twitter, Sonali wrote,
"Sometimes, when you least expect it, life throws you a curveball. I have recently been diagnosed with a high-grade cancer that has metastised, which we frankly did not see coming. A niggling pain led to some tests, which led to this unexpected diagnosis. My family and close friends have rallied around me, providing the best support system that anyone can ask for. I am very blessed and thankful for each of them.

There is no better way to tackle this than to take swift and immediate action. And so, as advised by my doctors, I am currently undergoing a course of treatment in New York. We remain optimistic and I am determined to fight every step of the way. What has helped has been the immense outpouring of love and support I've received over the past few days, for which I am very grateful.

I'm taking this battle head on, knowing I have the strength of my family and friends behind me."
Here's her tweet:
— Sonali Bendre Behl (@iamsonalibendre) July 4, 2018
Twitter was flooded with good luck wishes soon afterwards and not only common people and fans but also Bollywood celebrities wished the actress a speedy recovery. In fact, Sonali loved this gesture from her friends in the industry and replied them all too!
Check out some of the tweets:
Dia Mirza

Manisha Koirala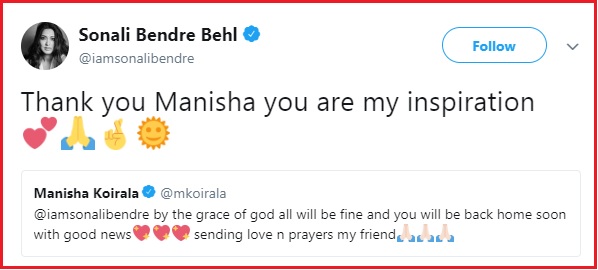 Anil Kapoor
Karan Johar

Rishi Kapoor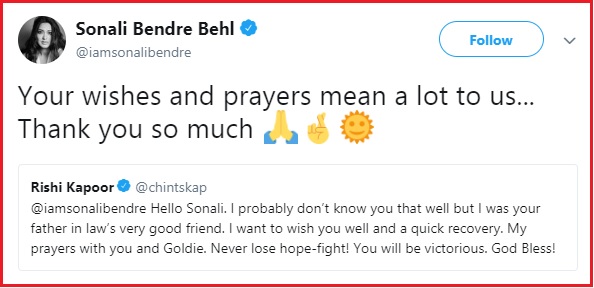 Anupam Kher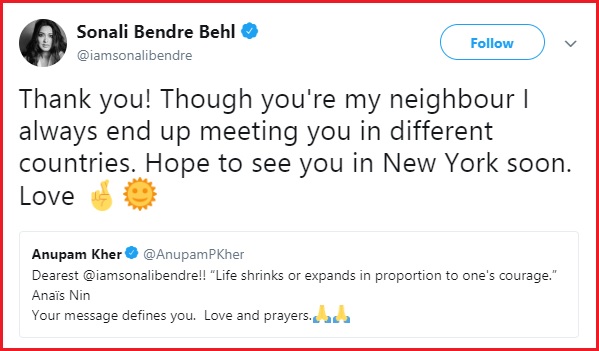 Riteish Deshmukh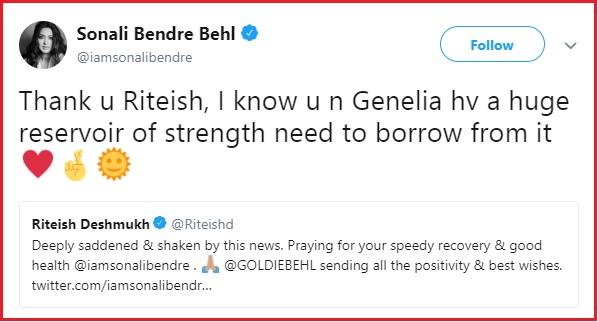 Arjun Kapoor

Richa Chadha

Hrithik Roshan

Abhishek Bachchan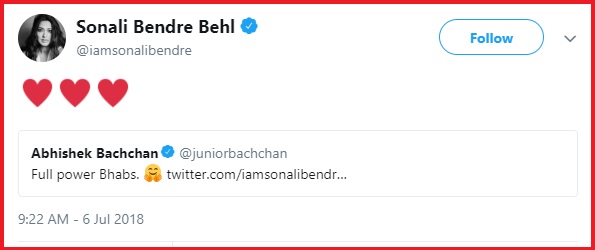 Farah Khan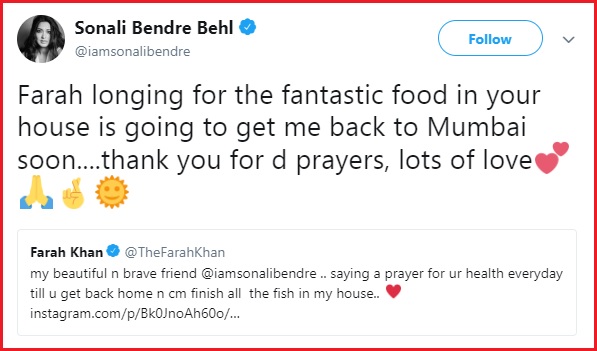 Vivek Anand Oberoi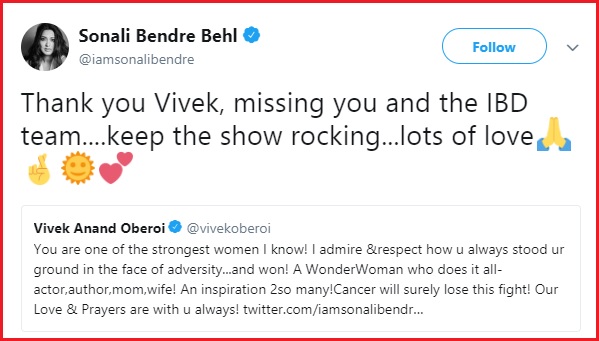 Rajkummar Rao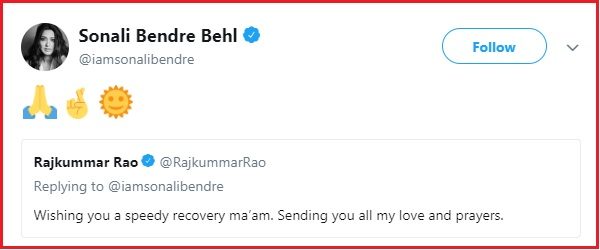 Farhan Akhtar

We also wish her health and luck along with strength to fight this disease. Get Well Soon Sonali.
Share Your Views In Comments Below