Sports
Bowler Turns 360 Degree Before Delivering The Ball. Umpire Cancelled The Delivery. Watch Video
Cricket is a game full of wonders and wonderful players. Normally we stay busy watching the game of international players but even domestic players are no less entertainers.
Recently during a domestic game between the state teams of Uttar Pradesh and West Bengal, a UP bowler did something which has left all the cricket lovers in confusion.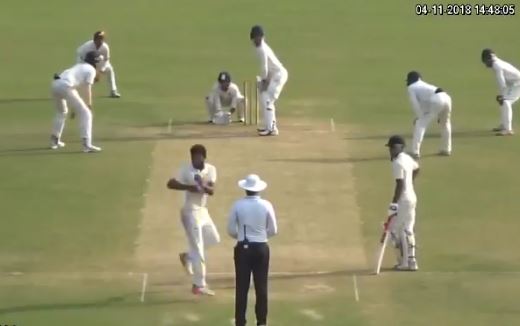 The bowler named Shiva Singh was a part of UP's under 19 team. While bowling, he threw a big surprise as just before delivering the ball he turned 360 degrees. This left everyone including the batsman confused and the umpire had to declare it a d*ad ball.
The video is all over the Internet now and even veteran cricketer Bishan Singh Bedi shared it on Twitter. Calling the bowler "Weirdo", he shared the video with his followers. Have a look below-
Weirdo…!! Have a close look..!! pic.twitter.com/jK6ChzyH2T

— Bishan Bedi (@BishanBedi) November 7, 2018
Click Here to watch the video on Twitter.
Here's how people reacted to the video-
#1
Bowler turning 360 degrees in his run-up is a sure distraction to the batsman. The umpire was right in declaring it a dead ball.

— Dinesh Bajaj (@justaname99) November 7, 2018
#2
Clearly that's unique and must be appreciated. That takes some tough practice to keep it in line after that twist and turn . If Modern day batsmen can play all kind of scoops , @ICC should allow this kind of bowling talent too.

— Binu Kumar (@v2bikum) November 8, 2018
#3
Batriarchy it is.

— Prādhyāpakaḥ S.Venugopalan (@Gopalee67) November 8, 2018
#4
He took Spin Bowling literally

— Ashwin Nair (@ashwinskn) November 8, 2018
#5
Simply unbelievable. Umpire is right.

— Mazhar Abbas (@MazharAbbasGEO) November 8, 2018
#6
The bowler changed his bowling arm thus the announced bowling side is also changed without informing the umpire therefore it was a dead ball. Decision from the rules book by the umpire 🙌 deserves congratulations.

— Abhishek Mathur (@_AMathur) November 8, 2018
#7
— Aly (@imspidermonkey) November 8, 2018
#8
A batsman can do such kind of stuff like staying far from stumps or switch shots or holding bat in unorthodox way. But when a bowler does something like this the umpire will call it dead ball
Where's equality ?

— Spartan (@BigchunkSpartan) November 8, 2018
Don't you think it's really crazy?
Share Your Views In Comments Below