Sports
Boxer Kisses Journalist During Post Match Interview. Gets Slammed On Twitter
It's obvious to get overwhelmed when you achieve something big but there's something called "control" which helps you stay away from the controversial zone.
Bulgarian boxer, Kubrat Pulev had a great victory against his opponent Bogdan Dinu in a fight recently. But more than the victory, he made headlines because of a controversial act.
Post match, Kubrat was being interviewed by Vegas Sports Daily reporter, Jennifer Ravalo. Everything was normal but soon after giving an answer to the reporter's question, Kubrat kissed her right there in front of everyone.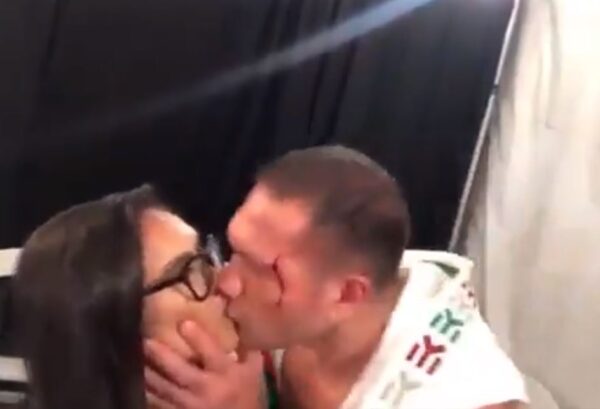 The moment was recorded by cameras and went viral on social media. Watch the video below:
@SuSheArt Do you have anything to add?

— Jai Bednall (@jaibednall) March 24, 2019
Click Here to watch the video on Twitter.
While Kubrat was slammed heavily by the Twitterati, even reporter called the action of boxer as strange. Have a look at her reaction-
Iil embarrassing. Strange

— SuShe Art (@SuSheArt) March 25, 2019
And this is how Twitterati reacted-
#1
No. Unwelcome advance. Not to be applauded

— 🇮🇪LBC M1Ö🇪🇺🌈🥊🏉⚽️ (@leftybearcub) March 24, 2019
#2
He would be sued all over the place in America.

— Premium Boxing Tips (@TipsBoxingMoney) March 24, 2019
#3
Bruh wtf is this interview man lmao! Pulev is alpha af. (Watch until end) pic.twitter.com/sUoiqFprhi

— NBT BOXING (@BoxingNbt) March 24, 2019
#4
This isn't funny

— . (@heyguapo_) March 26, 2019
#5
That's fucking gross

— 604 (@beautBC) March 25, 2019
Seeing the negative response from all over, Pulev responded and wrote a note on Twitter. This is what he wrote along with the note-
For the most commented kiss in the world!
For the most commented kiss in the world! pic.twitter.com/T1Ktlprff4

— Kubrat Pulev (@KubratPulev) March 26, 2019
His note read as saying-
To my fans:
You may have seen a clip of me kissing a female reporter following an interview after I won my fight Saturday night. The reporter, Jenny, is actually a friend of mine, and after the interview, I was so elated, I gave her a kiss. Later that night, she joined me and my other friends at my post-fight celebration. On the video, after our kiss, we both laughed about it and thanked each other. There really is nothing more to this.
Kubrat
What are your thoughts on this?
Share Your Views In Comments Below