Sports
Brendon McCullum Making Notes While KKR Lost Against RCB Sparks Hilarious Meme Fest On Twitter
Virat Kohli-led Royal Challengers Bangalore is on a roll this year as they have secured the second position on the points table after winning 7 matches out of the 10 that they have played. The last match that they played was against Kolkata Knight Riders and the manner in which RCB defeated KKR was no less than a massacre.
The Kolkata team decided to put up a target on the board after winning the toss but it was certainly a pretty bad decision. Mohammed Siraj of RCB bowled brilliantly in the match which was played at Sheikh Zayed Cricket Stadium. While bowling the second over of the innings, Siraj took two wickets of Rahul Tripathi and Nitish Rana without even giving single run and his next over was a maiden as well. Md. Siraj became the first pacer to bowl two maiden overs consecutively in the history of IPL and at the end of the match, he went back with 3 wickets in his four overs conceding only 8 runs for which he was adjudged as the player of the match.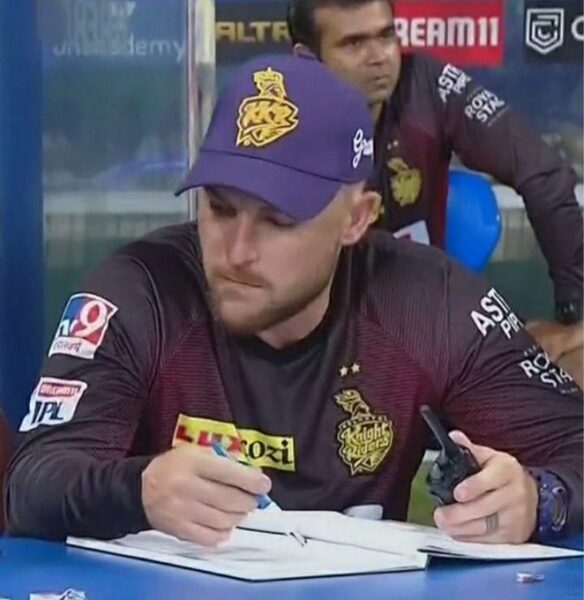 However other than Mohammed Siraj, another person who was noticed the most by netizens was KKR coach Brendon McCullum who was busy making notes while his batsmen were returning to the dug-out in small intervals.
Twitterati took this opportunity to have some fun at the expense of Brendon McCullum and soon he became a meme material. Check out some of the selected reactions:
#1
When you prepare for wrong paper in the exams 😟 pic.twitter.com/N8opW2sD4h

— Godman Chikna (@Madan_Chikna) October 21, 2020
#2
Brandon mccullum is making more notes in one match than I've made in my entire engineering life😂#RCBvKKR #IPL2020 pic.twitter.com/hx5C9ZoRGP

— _.ayan18 (@ayan_shaikh_18) October 21, 2020
#3
SRK reading McCullum's notes today. pic.twitter.com/tQzGVcTI3O

— Trendulkar (@Trendulkar) October 21, 2020
#4
Brendon McCullum during every KKR match: 😂😂#RCBvsKKR pic.twitter.com/ylSU2AiRdM

— Parshva Sheth (@ParshvaSheth3) October 21, 2020
#5
A Rare pic of Brendon McCullum with his writings during IPL 2020 pic.twitter.com/z12QNcFAUj

— Yogiraj Giri (@badshah_29) October 16, 2020
#6
Aap notes kaise likhte ho?

McCullum se. #RCBvKKR pic.twitter.com/6pfl50mf7d

— Shridhar V (@iimcomic) October 21, 2020
#7
McCullum Writing his Resignation Letter pic.twitter.com/BBh05gxDXL

— Pranjal (@Pranjal_one8) October 21, 2020
#8
E Brendon McCullum flames kar re kya 😂😂😂😂 ….
Fantastic bowling by Lord siraj bhai💥💥💥👏#RCBvsKKR pic.twitter.com/PPKbWY3eHf

— Walter white😎 (@walterwhite121) October 21, 2020
#9
David Hussey and other staff reading McCullum Notes after the match pic.twitter.com/HNQC8W60Ur

— Rahul (@Ittzz_Rahul) October 21, 2020
#10
#RCBvsKKR
Brendon mccullum is one of those kids jo notes banate hai lekin kabhi unhe padhte nhi… pic.twitter.com/8U47iBkxmR

— Knownboychandler (@Chandu_bing) October 21, 2020
#11
Undoubtedly Brendon McCullum was a first bencher in his school life,
Humeshaa notes banaate rehtaa hai.. pic.twitter.com/UYZ735Sp0h

— N I T I N (@theNitinWalke) October 21, 2020
#12
McCullum drawing rangoli with dots played by KKR batsmen today. pic.twitter.com/fAPMSurXCF

— 🎮ᴉuɐɥԀ (@nsptsaiphanitej) October 21, 2020
#13
Mccullum Writing Love letter to his ex 😂 pic.twitter.com/CBB8WXnC0f

— TARUN REDDY VIRAT (@tarun_reddy409) October 21, 2020
#14
3-3 ho gaye, iss hisaab se 10-10 honge😛 pic.twitter.com/c2JpO1frc3

— भटका हुआ देवता🙂🙃🙂🙃 (@MSrana888) October 21, 2020
#15
Thissss…. pic.twitter.com/zlkEl7jx6Q

— Sumit Kumar🎭 (@MeSumitKumarr) October 21, 2020
KKR was not even able to cross the 100 run mark as the whole team was out for 84 runs in the 20 overs after losing 8 wickets. RCB easily chased the target at the loss of two wickets with 6.3 overs remaining in their innings.
RCB has a pretty good chance of winning the IPL this year. What do you think?