Videos
Bride Makes Dhamakedar Entry To Wedding Venue, Dances To Saiyaan Superstar While Walking To Groom
Many weddings take place every year in India, especially in the last 2-3 months of the year; however, there is no denying the fact that the celebration style has changed a lot due to the coronavirus pandemic. The government has asked the authorities to make sure that people keep on wearing mask and maintain social distancing during the functions as well. A limit has also been imposed on the number of guests in weddings and other functions because the situation of the COVID-19 outbreak is still not in complete control and some Indian states are registering good number of coronavirus positive patients.
Nevertheless at one fell swoop, it is equally true that marriage is one of the most important events of a person's life so he/she should enjoy to the fullest. A video of a Maharashtrian bride is going viral in which she is seen making a grand entry at the marriage venue by dancing to the tunes of "Mere Saiyaan Superstar".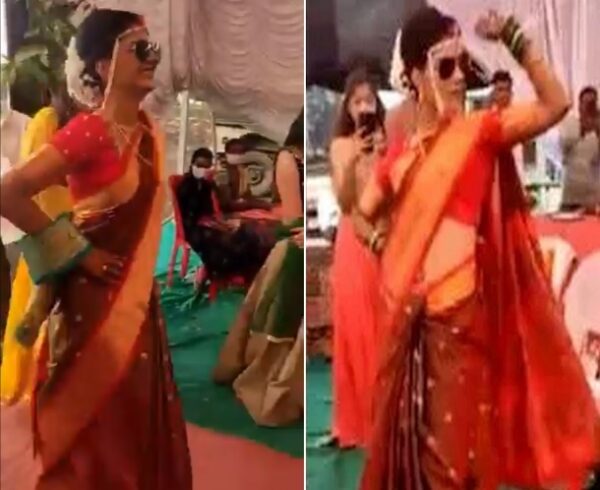 The beautiful bride was dressed in a traditional attire and the black goggles that she sported all the time made her look more gorgeous. She danced elegantly and amazingly while walking towards the stage where her would-be husband was waiting for her and when she reached and greeted him, the groom made an action of protecting her from evil eye (nazar na lage).
Here is the video of chirpy bride:
For More Videos, Subscribe Us Now
Click to watch this video directly on YouTube
Usually we have seen that the bride and the groom are sitting silently on the stage and smile whenever someone comes on the stage and congratulates them. But the times are changing and people have stopped worrying about what the others will think. Now they focus on enjoying the biggest moment of their lives to the maximum and try new ideas to make it more interesting.
Do you know about someone who has also done something grand like this? Share with us.
Share Your Views In Comments Below